Semrush is by far the best online content research tool available for website owners. It makes it simple for you to look for new topics on the internet. The platform is quite popular among people who own a website. Content creators, bloggers, and online sellers make use of their services. They offer one of the most interactive and informative environments for research. Search engine optimization is hard for most people. A service like Semrush gives you room for automation and great results. Today we will show you how to use Semrush for content ideas. The guide will help you get topics from scratch and implement them for more clicks and views.
Semrush: The Research Process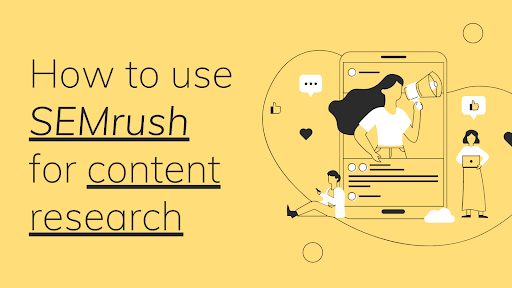 Research plays an essential role whenever you are venturing online. Engagements are a must for users who want to explore their online options. There are many ways to ensure that you get good ideas for content. It is a step-by-step process that is made simple with tools like SEMrush. There is no specific guideline that will give you great content ideas. It all depends on the time and effort you put into finding the right sources and stories. Online content creation is one of the most profitable forms of the profession. As you might expect with any lucrative job, it requires a lot of skill. Your first step is going to be working on SEO skills.
Create a Strategy in Semrush:
It is crucial to have a strategy in place whenever planning out your content. When you have a system, goal, and purpose in mind, it becomes simple to follow them. It will also give you a great idea of what niche to work on for the website. Once that is clear, the keywords will start coming to you automatically. SEMrush also has its keyword tools to give you specific topic ideas.
Semrush – Steps to Research Topics
The steps to research topics are quite simple. We are going to prepare a timeline for you to make things easy. Follow the given below guide to get amazing content ideas using SEMrush.
1. Use the keyword Magic Tool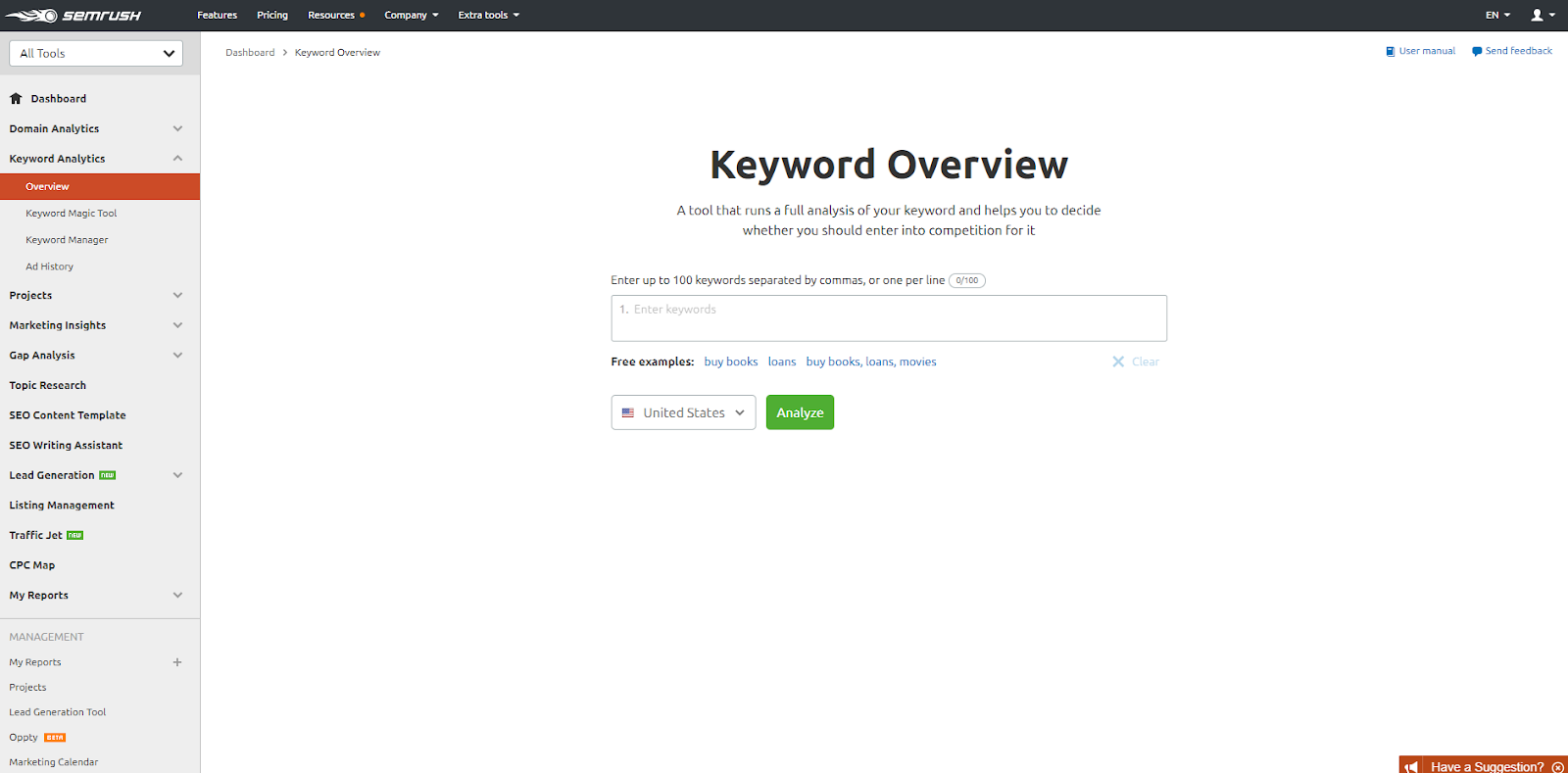 SEMrush offers the keyword magic tool to users who need new campaigns. The service helps you find a unique keyword that is worth competing for on the internet. You can set up your website around this keyword and get great views and generate revenue through Ads. It is quite easy to find low-competition keywords using this amazing addition on the platform. We highly recommend it because you get data backing the claims from the website. Users can find the keyword difficulty, daily search volumes, and competitive density of the keyword.
2. On-page SEO checker
The on-page SEO checker tool helps you make progress on existing content. If you are a well working site, then this can be quite helpful. The tool enables you to find the best content ideas instantaneously. They have a huge database of all the top-performing sites on the platform, and you can easily get your strategies sorted. All you need to do is add your domain link to the site.
3. Topic Research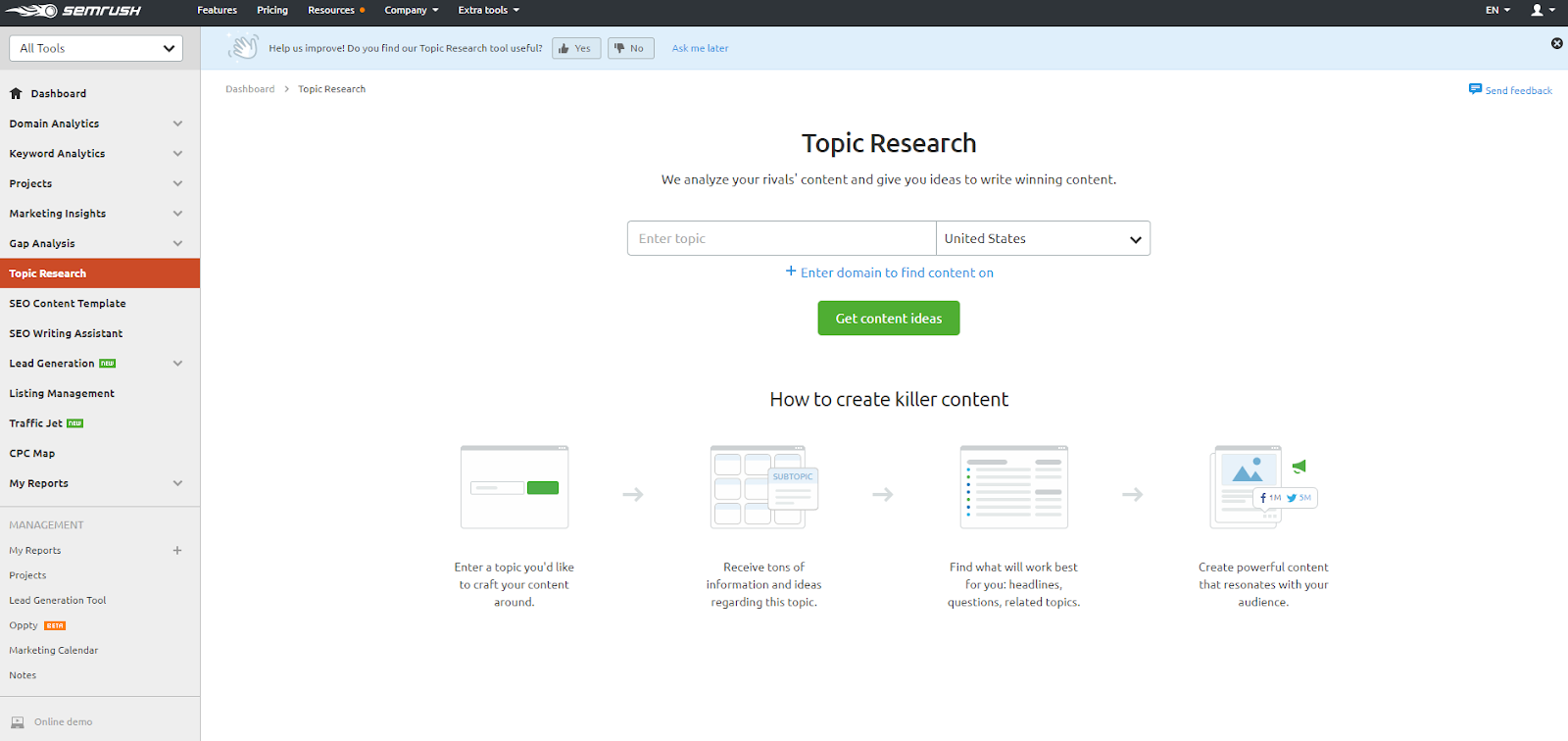 SEMrush has a unique topic research column available for in-depth analysis. Users can utilize this feature to do better management and get more data. We recommend our readers to try this service for amazing results. It helps you from scratch and lets you create premium content for the readers. It is effective for finding topics that resonate with the audience. You can efficiently increase the engagement of your readers using this service.
Content ideas using Semrush:
Content ideas are only possible when you know what's the objective of your website. It is important to only work on topics that are relevant to your audience. A technology website cannot offer entertainment or relationship advice. Hence as an online creator, you need to limit your horizons and become specific. Content is the key to online success these days. No one can deny the fact that the number of posts also plays a huge role. As an online business owner, you need to have multiple content ideas every day. You can do niche research on SEMrush with the following steps.
1. Market Insights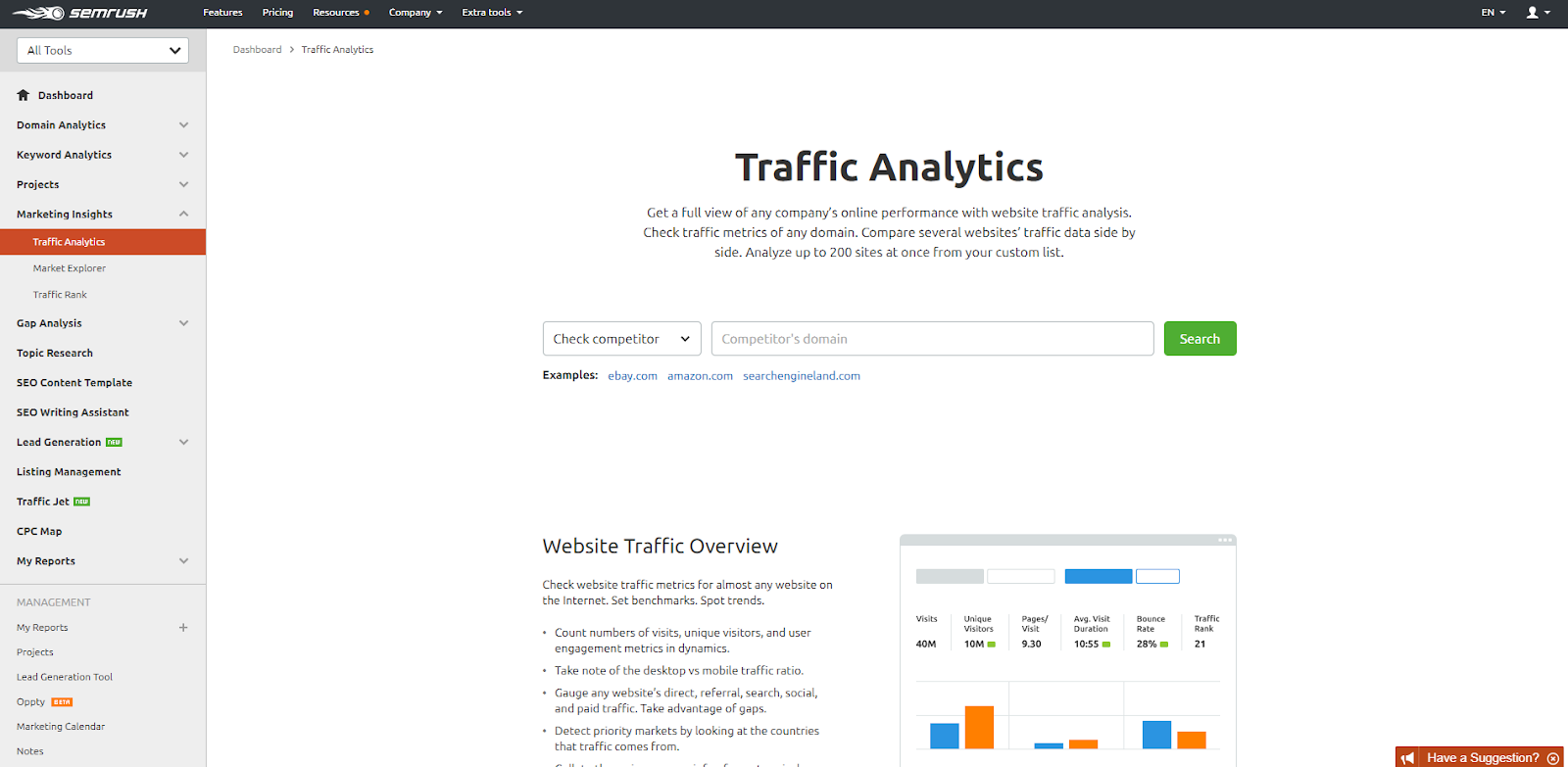 The market insights tab on the site enables users to research the currently trending content. It gives you a sneak peek into the competition that is performing well. Users can take inspiration from this and then work on their content. Traffic analysis is a great tool in this section, which helps you do more thorough research.
2. Organic Research
Domain analytics also plays a huge role in determining your competition. The initial niche research gets its necessary help through this section. You can get accurate figures for your game. It is simple to find the keywords from your competitor using organic research. They also provide you the best performing content available online.
3. Keyword analytics

Keywords are crucial for users who want Search Engine Optimisation. Users can get their websites on the top of search engines using this simple skill. A keyword analysis is a precursor to content ideas. If you do not have a specific keyword ready, then writing content for a website is useless. The current state of the internet is highly competitive. Everyone is hoping to be a top provider for their data.
4. Questions What People Ask Most: 
Now what people ask most, so using the headline with questions is usually more clickbait. The content which answers a specific question is more engaging and has more chance of hitting the Featured Snippet.
It should always be in your mind what is the common question people are asking on your topic. So if you want to adjust your content for your specific search intent, you can sort out your question in a card view.
How to Improve Your Content?
Ideas are great, but implementations make things perfect. I am someone who loves reading up crucial information online. There are many more like you who use the internet for knowledge and me. A site owner must add quality to their content. SEMrush helps you perfectly implement content ideas.
1. SEO content templates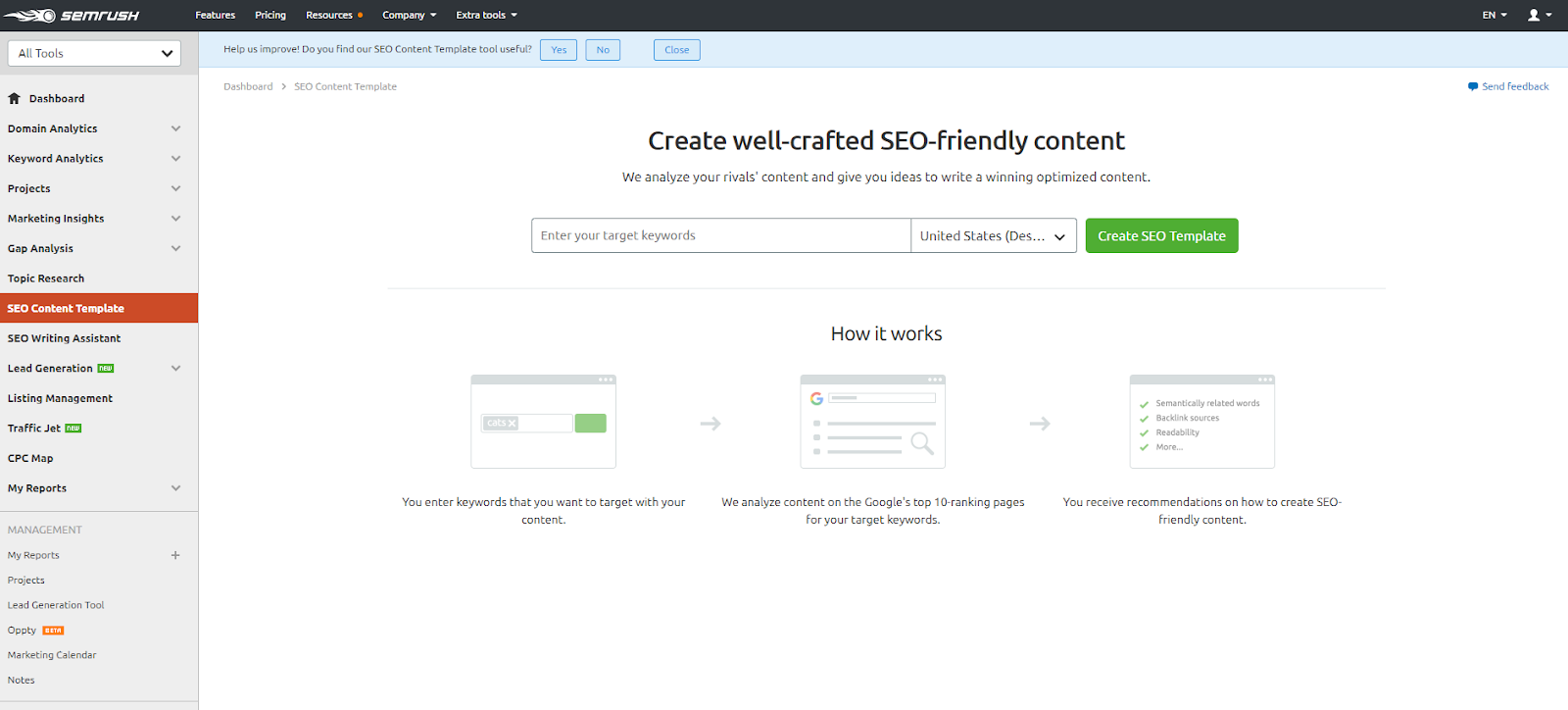 It is great to have a content template ready for you. Many spend hours arranging their content. SEO is a must on the modern-day internet. We recommend that you try this service to get amazing results on search engines. You can enter a few keywords, and the site will give you content template suggestions. Arrange your write-ups in these ideas to drive more views.
2. SEO writing assistant
Creating original content every day can be a tough task. The SEMrush SEO writing assistant makes the job easy for readers. It integrates well with writing software like google docs. Users can optimize their content according to SEO standards in real time.
3. Gap Analysis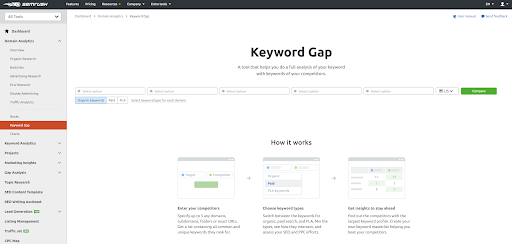 The Gap analysis feature is an effective method of doing some necessary research. Keyword gap analysis helps you stay ahead of the online competition. It gives you results on how poor or better your content is performing. Website owners can make changes according to these results.
4. Related Search Queries
The search term is frequently searched at the time analyze topic which helps you to solve user intent. Address the searcher's review in your content to boost its accessibility and grab the possibility to earn top search engine ranking or you can click a related keyword to revive the topic research for them. This type of browsing comes in handy if you are efforting to generate ideas with an empty mind.
Related Read:
Conclusion:
SEMrush is a great tool that is essential for online research in the website business. As a site owner, you need to invest time in a service like this for great content ideas. We hope this guide helps you get more performance and increase Ad revenue.