Still, figuring out which Semrush alternatives to go with? Well, you're not alone in the chaos of choosing the best SEO tool for your online venture. If so, we have got your back. In this post, we have carefully handpicked a list of the best free & paid alternatives to SEMrush to help you pick the right tool for your venture.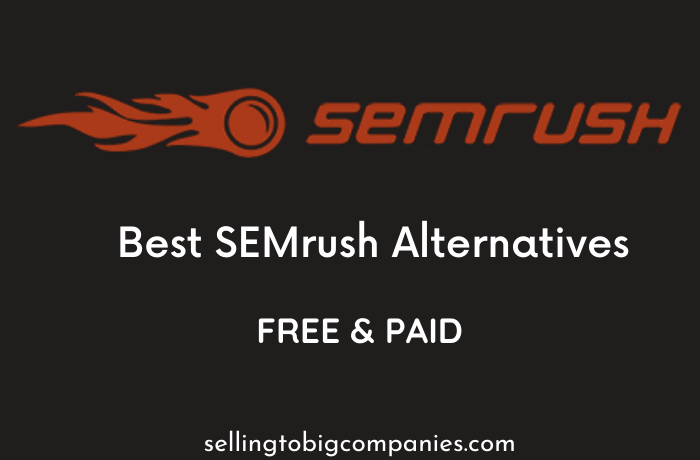 Semrush has been a great SEO tool, no doubt, but you can get look-alikes and less-priced tools for the same features. Our SEMrush alternative picks have been chosen after doing an in-depth analysis and hefty testing of the tools. SEMrush alternatives will not only give you better features at a lesser price but also ease the tool useful for you.
Let's have a look, at where does SEMrush lack, and why should you look for SEMrush alternatives.
Best Semrush Alternatives: In A Nutshell 
If you are in a hurry or don't have time to read the entire article then you can check this Semrush alternative chart. 
| | | |
| --- | --- | --- |
| S. No. | Semrush Alternative | Best For |
| 1. | Ahrefs | Market leader in backlinks and keyword research. |
| 2. | Spyfu | Great beginner tool for keyword research |
| 3. | Moz | Most Elite SEMrush competitors with an easy-to-use interface. |
| 4. | Serpstat | Cost-effective feature-packed tool for effective SEO campaigns. |
| 5. | Monitor Backlink | Best backlink tool |
| 6. | SEO Powersuit | The ultimate one-stop solution for all your SEO needs. |
| 7. | Search Metrics | The best domain analysis tool for doing competitor analysis. |
| 8. | Raven Tool | One of the finest and in-budget SEO tools available. |
| 9. | Majestic | Majestic has all to help build successful SEO campaigns. |
| 10. | Web CEO | The best tool for traffic analysis and growth. |
Top 15 Semrush Alternatives You Should Try In 2023
Here are listed some 15+ best Semrush Alternative
1. Ahrefs
Note: Check out our detailed Ahrefs Review here.
Ahrefs is an excellent tool for backlinks and research. It has been SEMrush's direct competitor ever since its launch in 2011. AHrefs is a great all-in-one tool that provides you with a complete package. With more than 2.3 trillion backlinks, AHrefs is one of the top SEMrush competitors and the top 3 in my best SEOs. One might consider AHrefs overpriced since it does not offer a free trial. However, it has all features to consider purchasing.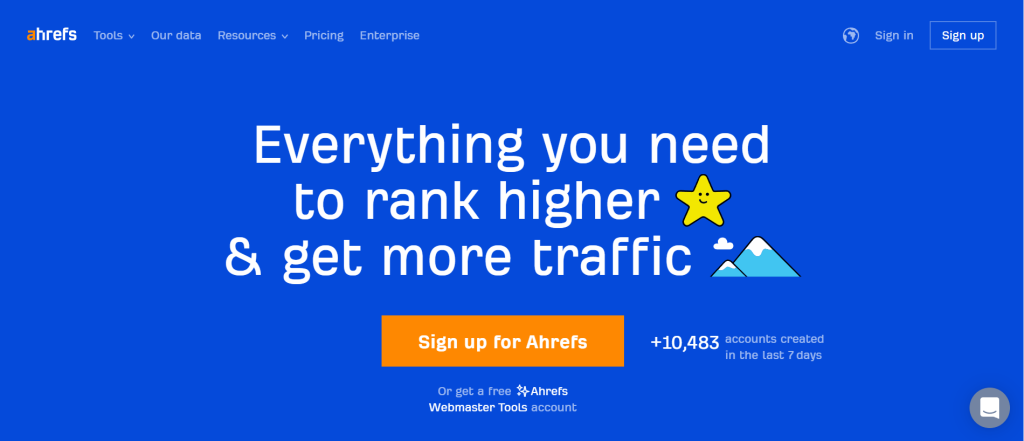 Not only is it a close competitor to SEMrush, but the features and overall functionality of the tool are also similar. One of their main features is the Ahrefs rank; it ranks websites based on the traffic generated on a particular website. Ahrefs is mainly used to search keywords for the three top search engines Google, Youtube, and Amazon. The other features of AHrefs are
Ahrefs Key Features:
Domain comparisons

Instinctive dashboard

Reports in charts

14 trillion live backlinks

Search engine tracker

SEO audit to hunt SEO issues

Backlinks and search traffic 

Content explorer with advanced support

Monitors over 150 million keywords

Fastest backlink crawler

Lightning-fast and lightweight WordPress plugin
Ahrefs Pricing Plan:
AHrefs is an elite tool, and its pricing is quite elite as well. Their basic plan starts at $ 83 per month annually. This is the recommended plan if you wish to check out the app for testing as they do not provide a free trial.
They have a standard plan priced at $ 166, an advanced plan at $ 333, and an agency plan priced at $ 833 annually. All the plans have different features and limits; you can check out their official website by clicking here for a more detailed explanation of their pricing.
Pros:
Will find out all your competitors for the keywords for which they are ranking.
Provides a user-friendly save data dashboard
You can do keyword research for 9 additional search engines, including Amazon and YouTube.
If you can also see how many backlinks will be required for a particular keyword.

In this, you can make full use of SEO add-ons in Chrome browser and Firefox.
Cons:
You can't see the Keyword Matrix and SERP on Ahrefs, unlike SEMrush.

You can't enjoy whole projects until you pay extra.

If any of your sites have a bad backlink from anywhere, then you will have to upload it to Google Search Console's disavow tool and get it out.
The web traffic stats aren't as accurate as other platforms – Ahrefs' web traffic stats are usually 4-5x lower than those reported in Google Analytics and Google Search Console.
Best For: Ahrefs is great for those who want to track keywords across multiple client accounts and projects.
2. Spyfu
Spyfu is no doubt a great SEO tool and one of the top competitors of SEMrush. After its launch back in 2006, it has been improving consistently. You could simply call it a great budget SEO alternative to SEMrush. SPYfu has a great keyword research planner and an ample keyword planner space, and it is an excellent tool for beginners who want to get started with SEO and digitalize their business. It is known to have a straightforward user interface, and they make SEO simpler for its users.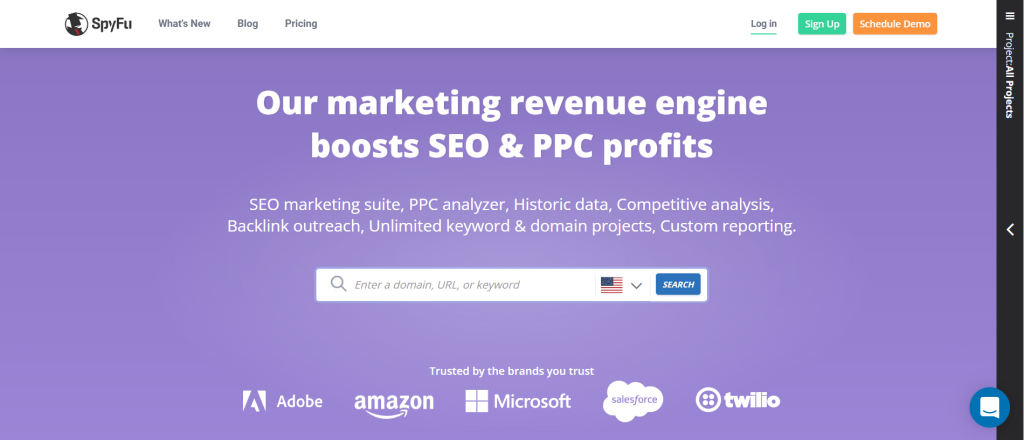 They have a great guide that takes you through the various tools present on SPYfu and let you get started with the tool. You can feel free to ping them on chat for queries. Spyfu mainly focuses on reducing your stress by allowing you to do tasks with fewer clicks.
Spyfu and SEMrush highly resemble each other with similar features, but the significant impact that SPYfu has is due to its pricing. It is priced at almost half the rate of SEMrush and is an excellent alternative if you want similar features at a great price.
SpyFu Key Features:
Keyword tracking

SEO research

Robust tool

Affordable

Ads history

Backlink analysis

Great User interface

Competitive analysis

PPC analysis
SpyFu Key Pricing Plan:
SPYfu has sorted its pricing plans into a basic plan, a professional plan, and a team plan. You can also check out their pricing plans on their official website.
The basic plan starts at just $33 per month when you pay for it annually; this is significantly less compared to the prices of SEMrush, and anyone would choose it over SEMrush for the price.

Their professional plan is ideal for freelancers and start-ups who want to digitalize themselves and is priced at $ 58 per month annually. You can see they have additional features compared to the basic plan. The most ultimate plan is the agency plan; it is made for great corporations who want a complete package. It starts at $199 per month and is an excellent deal for more giant corporations.
Pros:
Traffic and top-ranking keywords and their Google Ads and backlinks can get in-depth information.
The results of high-priced searches are unlimited. While limited on the SEMrush.
You can see 20 years old data compared to the SEMrush.

Absolutely comfortable and easy to use.

The best platform to access resources.
Cons:
Pays less attention to analyzing own domains.

SEMrush is not your traffic analysis tool.

There is no recommended keyword research tool like in SEMrush.

This ad spend is only an estimate.
Ranking It is very difficult to tell from where the ranking is coming.
3. Moz
Moz is a top SEO tool in the market with elite pricing. It has been a competitor to SEMrush from the very beginning, and it has gained user trust ever since it launched back in 2004.
The main reason for it to be an alternative to SEMrush is that it offers unlimited features to its users. The standout feature of Moz is its domain metric authority. This feature is so useful that it is used as a standard in the industry. Moz specializes in higher rankings, quality traffic, and measurable results.
Moz Key Features:
Prominent keyword research

Promotes rank tracking

Accurate site crawler

Attracts quality links

Sorted analytics and reports

domain analysis at no cost

advanced marketing resources
Moz Pricing Plan:
Moz has its pricing sorted into four plans. The standard plan begins at $99, and the pricing is at the same range compared to SEMrush. Though much more expensive than SEMrush, Moz has an advantage over SEMrush with its medium plan. This plan suits freelancers and growing businesses who want to digitalize, it fits their pocket easily, whereas SEMrush does not have any pocket-friendly plans.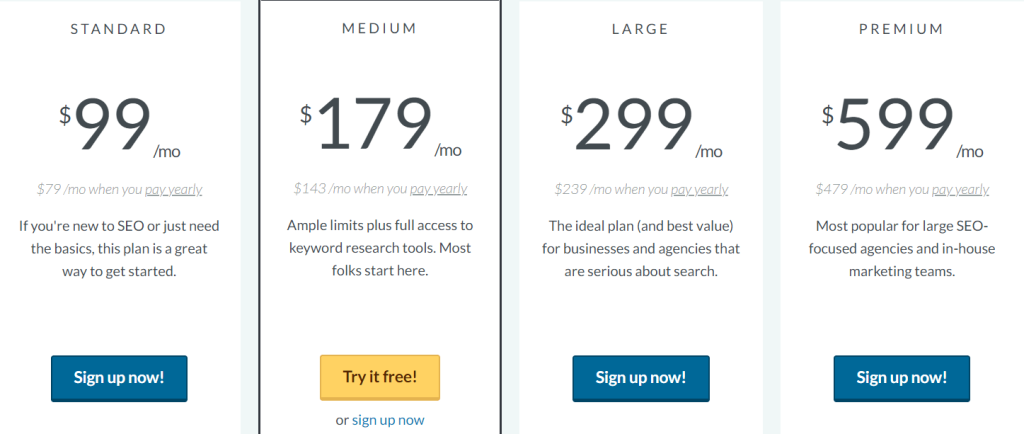 The large plan is priced at $ 299, and their premium plan for large corporations is priced at $ 599 per month, with top-notch features and no limits. Click here to check out more about the pricing. Unlike SEMrush, Moz offers you a fantastic 30-day free trial, click here to know more about the free trial.
4. Serpstat
Serpstat is considered one of the most cost-effective alternatives to SEMrush; it offers excellent features at a low price. Not only can you avail it at a low cost, but you can also use its free version. However, you know that the free version has limits to usage.
Serpstat is a very user-friendly tool you can do tasks at ease with this app by just typing the keywords or domain name in the search bar to get results. If you compare this to SEMrush, they have a very upgraded dashboard, making usage quite complicated for beginners.
You can quickly call it the most affordable all-in-one SEO tool. You can hunt for long-tail keywords, find broken backlinks, and conduct great site audits with this tool.
Serpstat Key Features:
Keyword research

Multiple users

Accurate on page auditor

Search for PPC ads

Analyze your competitor's strategy

Hunt profitable longtail keywords

Keyword clustering

Has a free version
Serpstat Pricing Plan:
Serpstat has sorted its pricing mainly into four categories. The lite plan starts at just $ 69, and it is much more affordable if you choose to pay annually. This plan gives you a lot of the basic SEO features with limits. The Serpstat standard plan is priced at $ 149 per month; this plan is ideal for marketing agencies. However, it only allows for simultaneous usage of up to 3 users at once.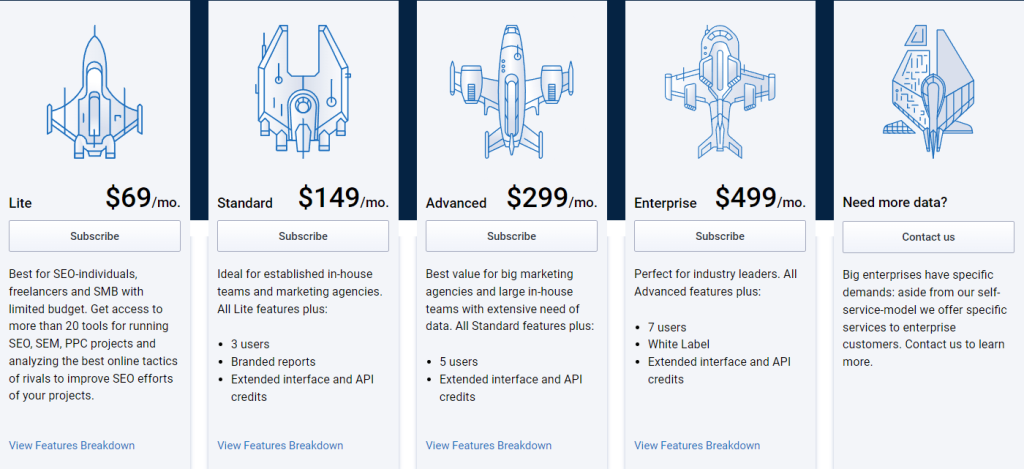 The advanced plan is heavily priced at $ 299 per month, suitable for larger in-house teams and marketing agencies with the usage of up to 5 devices at once. The most ultimate plan of all is the enterprise plan that is luxuriously priced at $ 499 per month for the industry leaders with highly advanced features and an extended user interface.
5. Monitor backlinks
Monitor backlinks is a great backlink tool; its name itself explains what it specializes in, backlinks. Low-quality backlinks can cause penalization, and that is why you will extensively find the need to monitor backlinks.
Not only does it help you maintain health backlinks, but it also lets you analyze your competitor's backlinks and find out their source. Monitor backlinks, compared to SEMrush, provide about 300 backlinks at once, this is a great advantage.
Monitor backlinks Key Features:
They also have a free tool for users who do not want to spend. However, this free tool is limited to two reports per week. Because it specializes in backlinks and provides other basic SEO features, it has been priced relatively low. They have features which you must know, they are
Easy navigation

Great keyword comparison feature

Exclusive add tags features

Handy disavow tool

Automatic verification

Data visualization and custom reports

Logfile analysis

Affordable in comparison to SEMrush
Monitor backlinks Pricing Plan
Monitor backlinks have sorted its plan into three. The start plan is the most basic; it starts at just $ 25 with one monitored domain, 2500 links, and 50 keywords.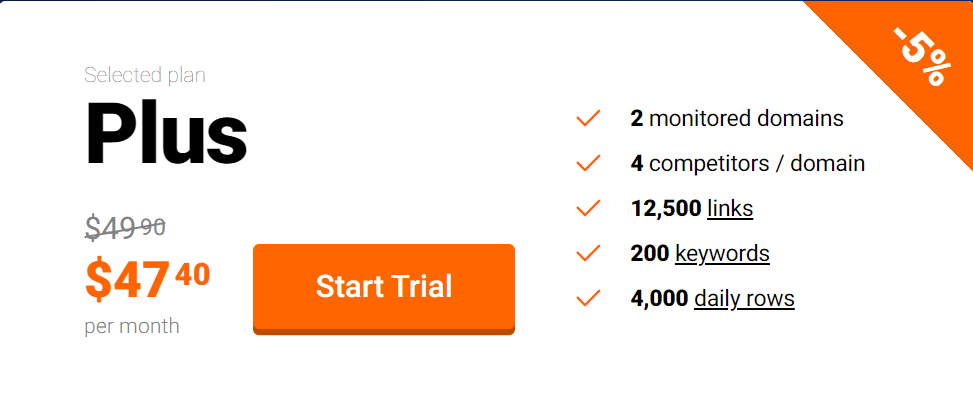 For more advanced features at a cheaper rate, you can go for the plus plan at $ 47.40, this plan has two monitored domains, two competitor domains, and about 200 keywords. The ultimate plan is the professional plan priced at about $ 90. This plan offers more additional features than both the plus and start lan combined.
6. SEO Powersuite
If you are looking for a SEMrush alternative at an affordable price, then this is the one for you. It offers all the necessary SEO tools such as keyword research, rank tracking, backlink analysis, site audit, and much more at a great price.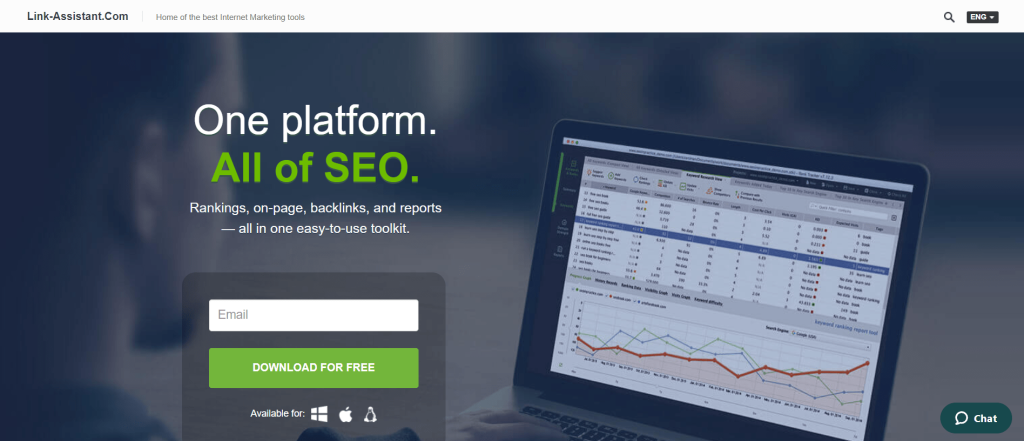 It claims to have all the necessary features expected from an SEO; they offer an excellent user interface and are easily usable for newbies and experts. They provide a great free trial as well for users.
SEO Powersuite Key Features:
It is known to be called a 4 in 1 tool. With over 500,000+ users, they have an excellent customer base set up, and you must give the tool a try. They have features like
Local and Global SEO

Advanced rank tracking

In-depth competition analysis

Awesome customer support

Accurate backlink research and audit

Quality link builder

Safe search engine

Profound keyword research

easy user interface
SEO Powersuite Pricing Plan:
Unlike a lot of SEO tools, SEO powersuite has only two plans, they have kept it very simple. They have a professional plan priced at just $ 299 per year; this suits professionals, individuals, freelancers, and start-up agencies who want to digitize their business. It's significantly priced and is much more affordable compared to SEMrush.

They have an enterprise plan for larger corporations; it is priced at just $ 499 per year; this is an excellent deal for enterprises. To know more about the SEO power suite pricing plan.
They have a great pricing plan, no doubt, however, they offer a fantastic free tool as well. If you want to get started with the free version before purchasing the plan, you can click here.
7. Search metrics
Searchmetrics is an underdog of all the domain analysis tools in the market. It is straightforward to use, and you can get started by just going to their official website and creating an account. Yes, it is as simple as that.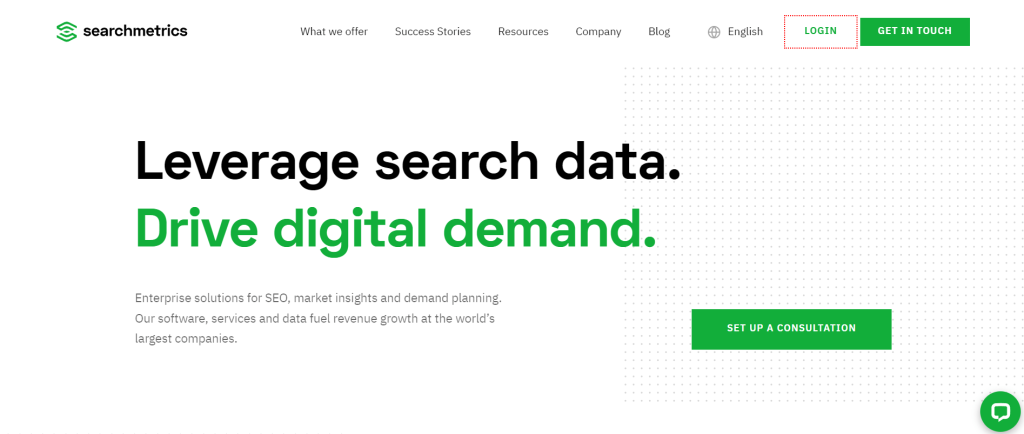 They have a great free tool, this tool gives you useful features, but as you know, free tools always come with limits. However, if you want to get started with the tool and use it without paying, you may do it.
They offer you spectacular analysis and outstanding performance, they have a lot of features about which you must know about.
Searchmetrics Key Features:
Unlimited keyword queries

Data-driven content management

Customizable dashboards

Great research cloud

Meaningful results with unique data

Comes with training and certification or users

Successful SEO consulting
Searchmetrics Pricing Plan:
Search metrics has three plans, the national pack starts at 89 Euros, this is a basic plan for the users.

The research cloud international pack is priced at 159 Euros, this is their bestseller, and it is highly recommended. They have a suite version; it is entirely customizable and will be priced accordingly.
8. Raven tools
Raven tools are a tremendous SEO tool that focuses mainly on keywords, backlinks, social media, and PPC ads. The best thing about Raven tools is that its data is sourced majorly from all reliable sites.
It also has an excellent ad reporting feature, which you must try. It has a great free version; you can try it out free. The primary purpose of providing a free trial is to let users test and adjust to the tool before purchase. They have features like.
Raven tools Key Features:
Marketing reports

Accurate site auditor

Provides website analytics report

Accessible data from 30+ platforms

Explore limitless backlinks

Link building opportunities from competitors

Simplified social media management
Raven tools Pricing Plan:
They have five plans, and their pricing plans are well sorted as per user needs. The small biz plan starts at just $ 39 per month, offering all necessary features. They have a start plan after that which is planned at $ 79 per month; this provides you with nearly 20 domains and four users at once.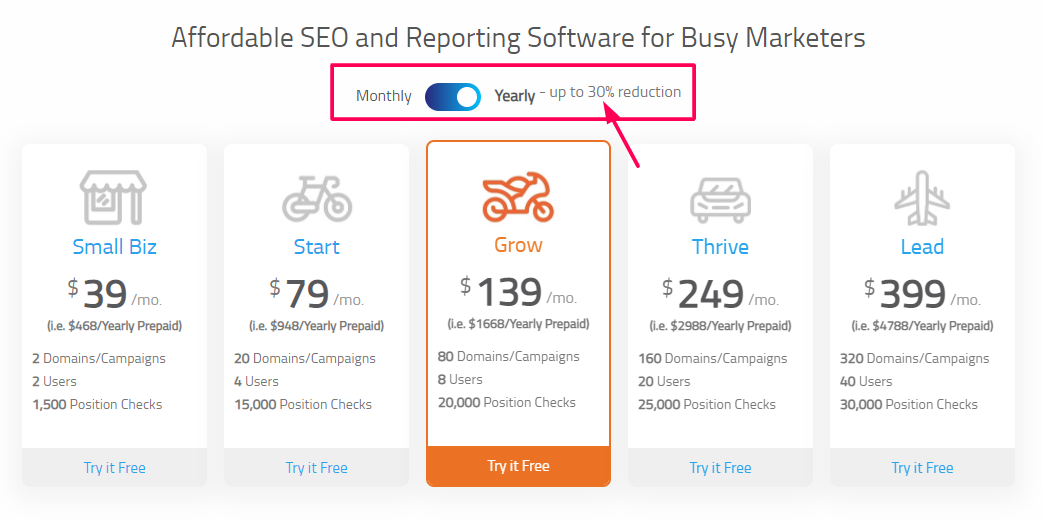 The recommended plan is the growth plan; this plan offers a free trial as well. If you want to test and analyze the tool, you can get started with this plan.
The last two plans are the thrive plans and lead plans; both these plans have different limits but are suitable for larger corporations and agencies.
9. Majestic SEO
Majestic is another big-time competitor of SEMrush, and we suggest you consider it. they can crawl over a million URLs and have a vast backlink database.
You could consider it as a SEMrush look alike; this tool has exactly similar features like SEMrush. It offers a great site explorer for you to get any domain detail. You also get in-depth information and report through this.
Majestic SEO Key Features:
Huge database

Easy to install plugins

Offers in-depth reports

Create campaigns

Backlink history checker

Easily create campaigns

Affordable pricing
Majestic SEO Pricing Plan:
They have sorted their pricing into three. The lite plans begin at $ 49.99. They offer basic features to users. When you compare this to SEMrush, it is quite affordable. They have a pro plan that starts at $ 99.99; this is an excellent option for marketing agencies. They have an ultimate API plan as well that starts at $ 399 per month with top features.
10. Web CEO
Web CEO is a fast-growing SEO tool in the market; you can do site audits and all necessary SEO tasks. It is an excellent SEMrush alternative, especially when you want to grow your traffic.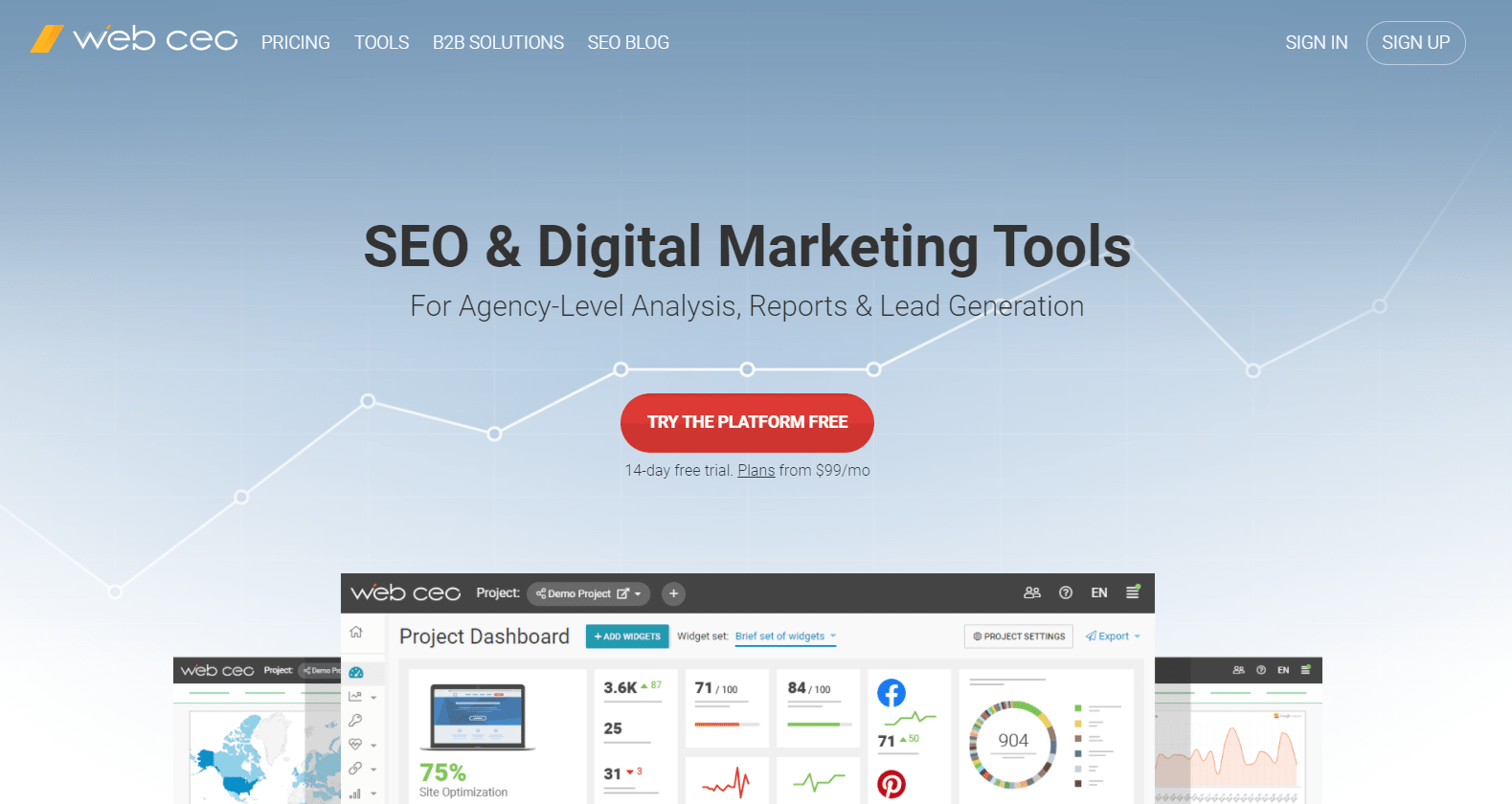 Web CEO also has a great keyword explorer; you can hunt and find the best keywords for you with this tool; you also get local keyword suggestions, competitor keyword analysis, etc.
Web CEO Key Features:
Their pricing is also much lesser than that of SEMrush; they have some cool features about which you must know. They are,
Technical audit feature

Great competitor backlink spy

Exclusive SEO analysis

Reliable traffic analysis

Free trial

Affordable pricing

Helps analyze competitor metrics
Web CEO has their pricing sorted into four. The solo plan is for individuals; this plan is for individuals and starts at just $ 39 per month. They have a start-up plan, which is for recently started agencies starting at $ 99 per month. The corporate plan is priced at $ 299 for larger corporations, and the ultimate agency unlimited plan is designed for agencies at just $ 99 per month.
Their pricing is quite reasonable as they have named the plans based on whom they suit.
11. SE Ranking
SE Ranking is one of the best SEO software to check how well are you doing SERPs (Search Engine Result Page). With SE Ranking, you can have an eye on your competitor's campaign, detect SEO problems on your website, generate new leads for your business, and monitor your search visibility and traffic. It offers 100% accurate keyword rank tracking.
It has the best backlink checker feature, which offers all up-to-date, relevant data that helps you to focus on building a backlink profile. SE Ranking helps you to create automated reports for the customers, which saves your resources and time. You can send these reports on demand or set up an automated schedule.
SE Ranking Key Features:
Keyword Rank Tracker
Backlink Checker
Competitive Research
Website Audit
White Label
Report Builder
Lead Generator
On-Page SEO Checker
SE Ranking Pricing Plan:
SE Ranking offers three different types of pricing plans for all its users. The Essential plan comes for $18.72 per month, with 10 projects, 30000 pages per account, and 100 reports per day.
For more advanced features, you can go with $42.72 per month with 100 SERP analyzers, 5000 reports daily, and 5 leads generated daily. The Business plan is best for professionals and costs you $90.72 per month.
12. RankWatch:
RankWatch is a cloud-based online marketing tool that has its own AI. It helps the website owner and all SEO agencies similar to point out the key region where the website falling in traffic and the area where it can boost traffic by tracking fields like backlinks, ranking, competitor, and analytics then it analyze and provide intelligence data to work with and increase revenue.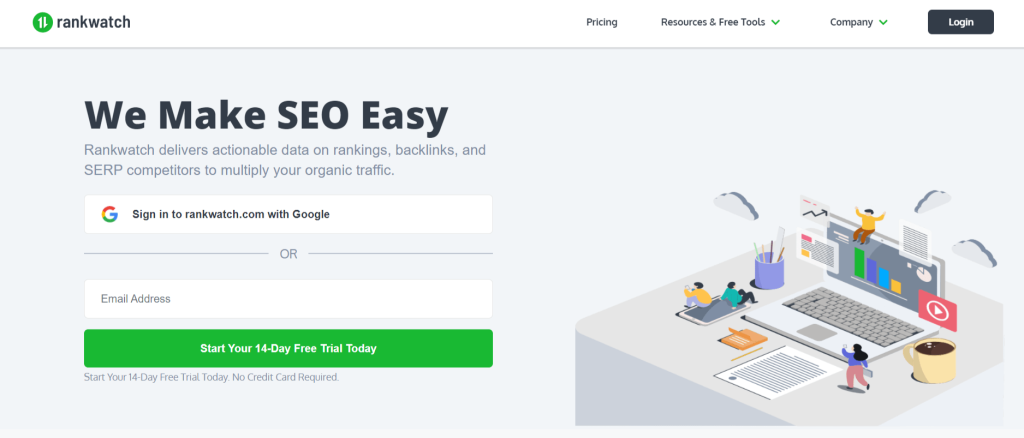 Nowadays RankWatch is the best platform and is expanding rapidly each and every year. Its client is increasing day by day and crossed thirty thousand users and still expanding.
RankWatch Key Features:
Website Analyzer
Mobile Friendly Checker
Backlink Analyzer
Google Updated Timeline
Infographics
Case Study
Expert Interview
RankWatch Pricing Plan: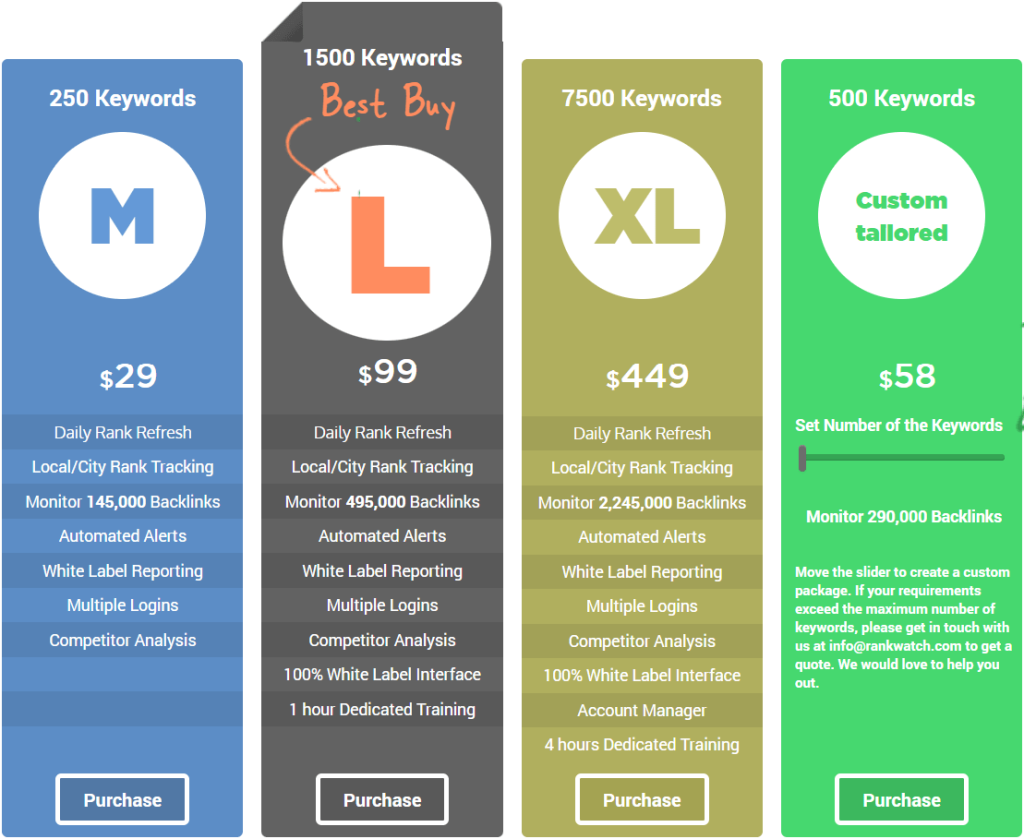 RankWatch is offering four different types of pricing plans. The M plan will cost you $29 per month to search 250 keywords, the L plan cost you $99 per month to search 1500 keywords, the XL plan will cost you $449 per month, and the custom-tailored cost you $58 per month for 500 keywords.
Top 3 Best Free Semrush Alternatives In 2023
It has been described as some free SEMrush alternative.
1. Ubersuggest
Ubersuggest is one of the greatest and highly recommended free SEO tools. If you are looking for a great keyword tool for free, this tool is your ideal tool.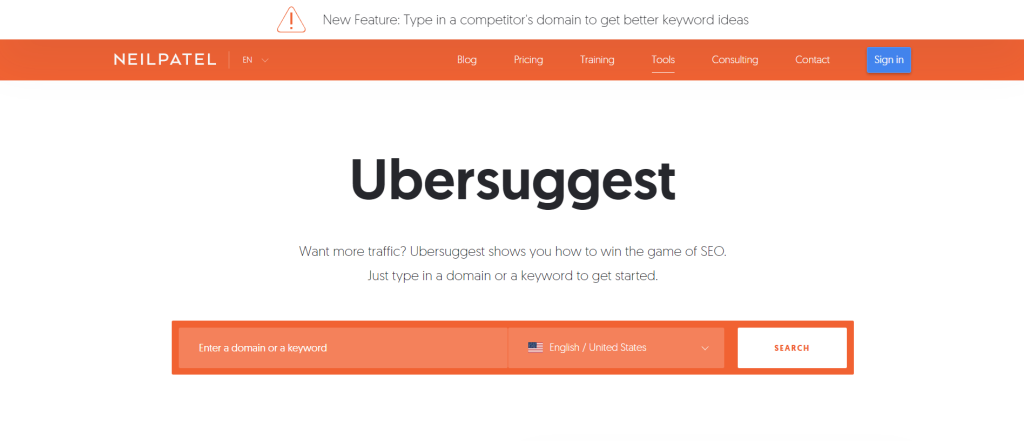 Ubersuggest is highly recommended to newbies, who want to get their hands on SEO tools and get started with it. They don't compromise with features; you even get a great site auditor.
Features –
Provides top SEO pages report

Free of cost

High accuracy

Hunts backlinks

Supports as a chrome extension

Suggests content ideas
2. Keyword planner
The keyword planner is known as the grandpa of all the keyword research tools. It is no doubt one of the oldest tools, and the best part is it comes free of cost. You don't have to create an account; you can just get started on their official website.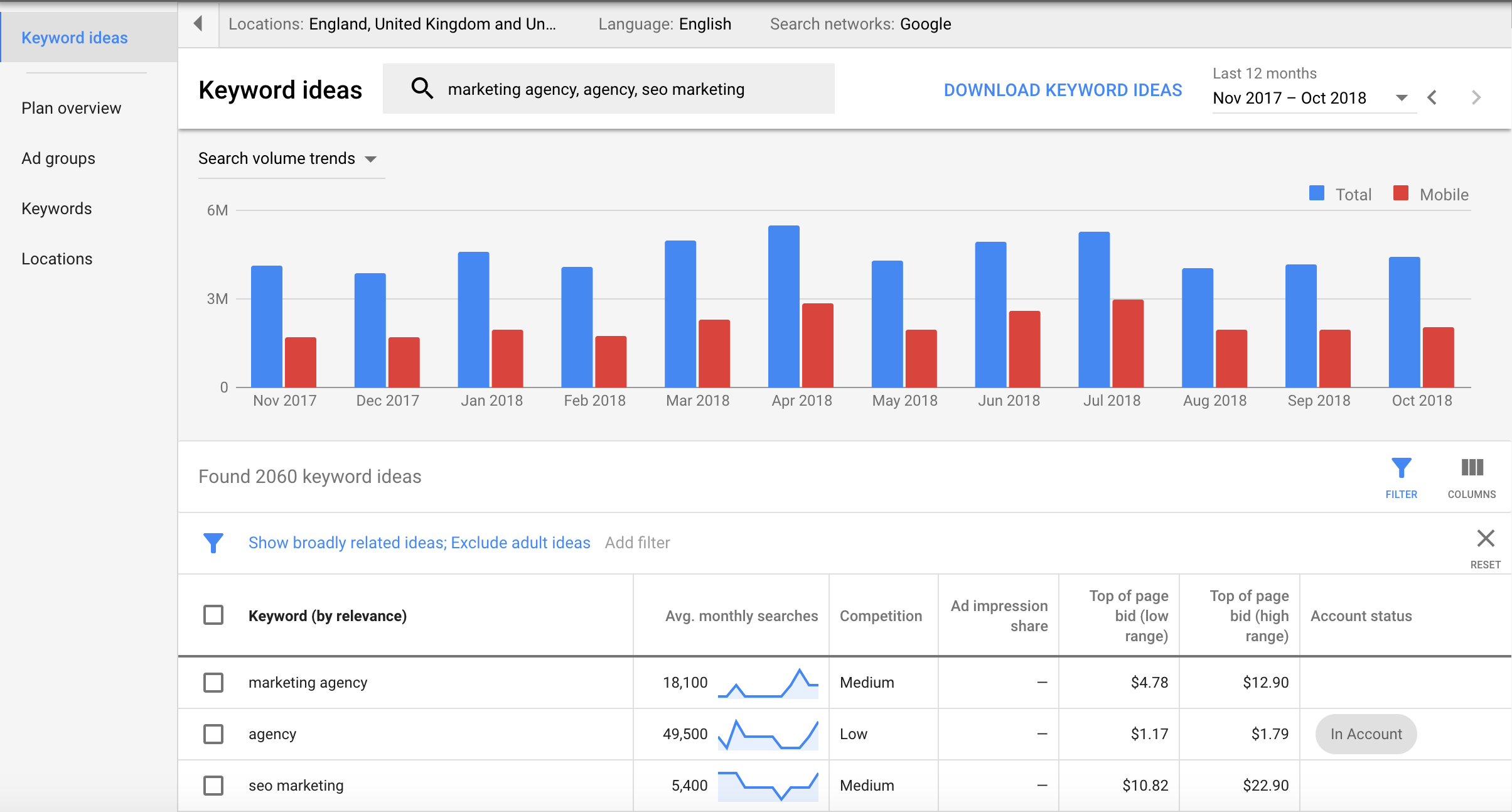 It is highly used for google ads. Along with keywords, you get other metrics such as monthly searches, related keywords, keyword bid value, and much more.
Features –
Increases traffic

Partnered with google

Free of cost

Easy user face

Great customer support
3. Keyword finder
Similar to UberSuggest, this is another keyword research tool. You can use this tool as a wonderful SEMrush alternative. What differs is the number of keyword options available in this tool.

The keyword finder has additional features compared to Ubersuggest; they have excellent longtail keyword suggestions. Similar to the keyword planner, you don't need to create an account to use this tool.
Features –
Great local keyword research

Accurate SEO metrics

Bulk keyword imports

Hunts hidden longtail keywords

Deletes toxic links

Free tool
Why We Choose Semrush Alternatives?
1. Complex interface
A majority of the users especially beginners have complained that they are unhappy with the user interface, that it gets confusing a lot of times, and it is not very easy to memorize how to use all the features present in the tool.
2. Unreliable keyword difficulty score
Many users have given negative feedback specifically about SEMrush's keyword difficulty tool. They feel their score isn't a very reliable one, and I hope SEMrush makes improvisations to their current algorithm.
3. Poor customer support
When you are a top SEO tool charging hefty prices, you must ensure you maintain customer satisfaction by giving them the best support. However, this is not the case with SEMrush as they take more than a day to respond to queries, not only that, sometimes the wait can go up to 3 days. These factors trouble the users.
4. Luxurious pricing
SEMrush has been luxuriously priced for larger corporations to purchase; it is quite a luxury tool for beginners as they will not budget the tool. It does offer great value to money, but they could increase their user base quickly if they had a plan for smaller corporations who want to get started with SEO.
5. Overly burdened with features.
Being an all-in-one SEO tool with heavy features is an accomplishment, but many users feel they pay for tools they will never use. This affects all the users' buying decisions. A lot of users may specifically want a tool with one particular feature and may not prefer to have a tool that is a combination of several other features.
6. Inaccurate website traffic results
The traffic forecasts made by SEMrush have turned out to be inaccurate on several occasions; the same has been tested and found to be true. Users do complain a lot about this flaw of SEMrush.
Points To Keep In Mind Before Choosing A Semrush Alternative:
When you purchase anything, you want something that benefits you and removes your workload. Similarly, with any SEO tool, you must ensure that it offers you an excellent user interface and you can use it easily without much confusion and stress using the least number of clicks,
Keyword research is the main backbone of SEO; without keywords, your tool is a waste. The most noticeable impact any tool can make is through its keyword hunter and keyword research tool.
Backlinks are essential as they generate a significant amount of traffic and let your website grow. Backlinks are a must; not only do you need a useful backlink tool to create backlinks but to find toxic backlinks and report them to fix broken backlinks and much more.
The results shown by your site auditor always determines your website's health, the site-auditor projects how your website ranks and what changes need to be made about your site as improvements. This is much needed as it lets your website grow and rank higher.
Pricing is a significant factor you must consider; we all know that pricing is regarded as a factor in buyer decisions by most users. You must first analyze and see if what you are spending on a tool gives you the right value for your money.
You must always get your reports and analysis well sorted. If your results are messed up, then you will also have to sort it out. If a tool can sort out data for you, then it is easy for you to use.
You May Also Like:
Final Words: Best Semrush Alternatives (2023)
Semrush alternatives are many as the market has growing competition. We have sorted the best ten premium alternatives for you and three free alternatives based on our research and testing.
These SEMrush alternatives are excellent tools, and most of them provide great features at an affordable price. We hope we could suggest the best SEMrush alternatives, and you were able to get going smoothly. For further doubts and queries, please feel free to ask us in our comment box and we will get back to you in no time. Drop your suggestions and feedback well.
FAQs
What are some alternatives to SEMrush?
Here are some best SEMrush alternatives Ahrefs, Spyfu, Moz, Serpstat, Monitor backlinks, SEO Powersuite, Search Metrics, Raven Tools, Majestic, WebCEO,
Is there a free plan for SEMrush?
SEMrush Does not provide any free plan there are only paid plans available SeMrush – Pro plan ($99.95 monthly ) Guru plan  ($161.72 ) and Business plan ( $374.95 )
Is there Free SEMrush Alternatives?
  Google Keyword Planner is the best free SEMrush Alternative. Using this tool, you can search your keyword by domain or service.
Which is Better- Ahrefs Or SEMrush?
When it comes to deep data analytics, both are not less than each other, but if we talk about the price department then Ahrefs is very far ahead. The annual membership of Ahrefs is much cheaper than that of SEMrush.
Are You know which is the best SEO tool?
List of the some best SEO tool
Ahrefs: SEO keyword tool
Google Search Console: Top SEO tool
SEMrush: Marketing SEO tool
KWFinder: SEO keyword tool
Moz Pro: SEO software
Ubersuggest: Keyword tracking tool
Answer The Public: Free SEO tool
SpyFu: Free SEO tool