Ahrefs vs SEMrush is one debate that would probably never end. No matter how much you compare, you will be confused when you see different reviews on other websites because all of them have different views about different features. The more in-depth you go into this topic, the tighter it becomes to choose a winner.
As you know, these two tools dominate the SEO landscape. Not only are they dominating, but they are favorites of most SEO analysts. SEMrush has had the advantage of being the older tool and being a market leader for a much more extended period. However, the way Ahrefs has gotten itself to the top is tremendous.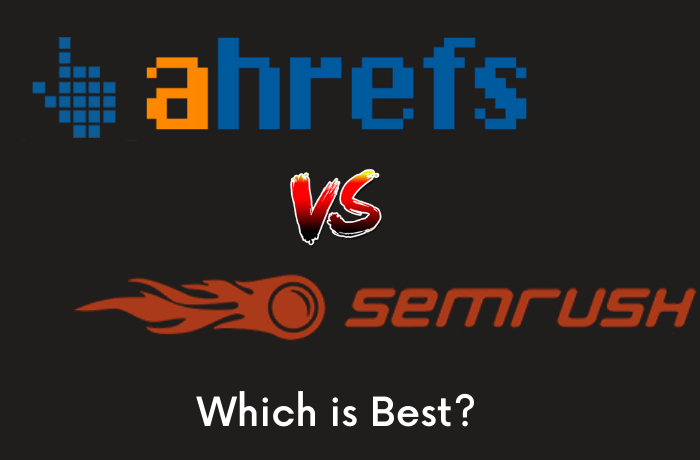 The best suggestion any SEO professional would give you about these two tools is that you use both of them. However, many wouldn't have the budget to go for both the tools. Both the tools combined monthly would cost you around $200 that too just for the basic plan. So in case you don't have the budget to have both of them, you will need to go for one, and this is where this comparison will guide you through.
A lot of people use SEO tools for various purposes, and you specifically need to know why you are going to need this SEO tool to find out who the real winner is. Both the tools have their advantages and disadvantages; however, if you know precisely what you are looking for in your tool, choosing the right tool for you becomes much more straightforward.
To help you choose among the best SEO tool — Ahrefs vs SEMrush, we have featured an in-depth comparison. We have done a comparison of these tools on various aspects including — keyword research, backlinks analysis, SEO auditing, pricing, customer support, and so on.
Read on to know, which one is the SEO tool for your online venture among SEMrush and Ahrefs.
Ahrefs vs SEMrush – Best Comparison
Ahrefs Overview:
Founded in 2011, Ahref proudly presents itself as a market leader in backlinks and keyword research. Having approximately 2.3 trillion backlinks, it places itself on the top 3 SEO tools in my list.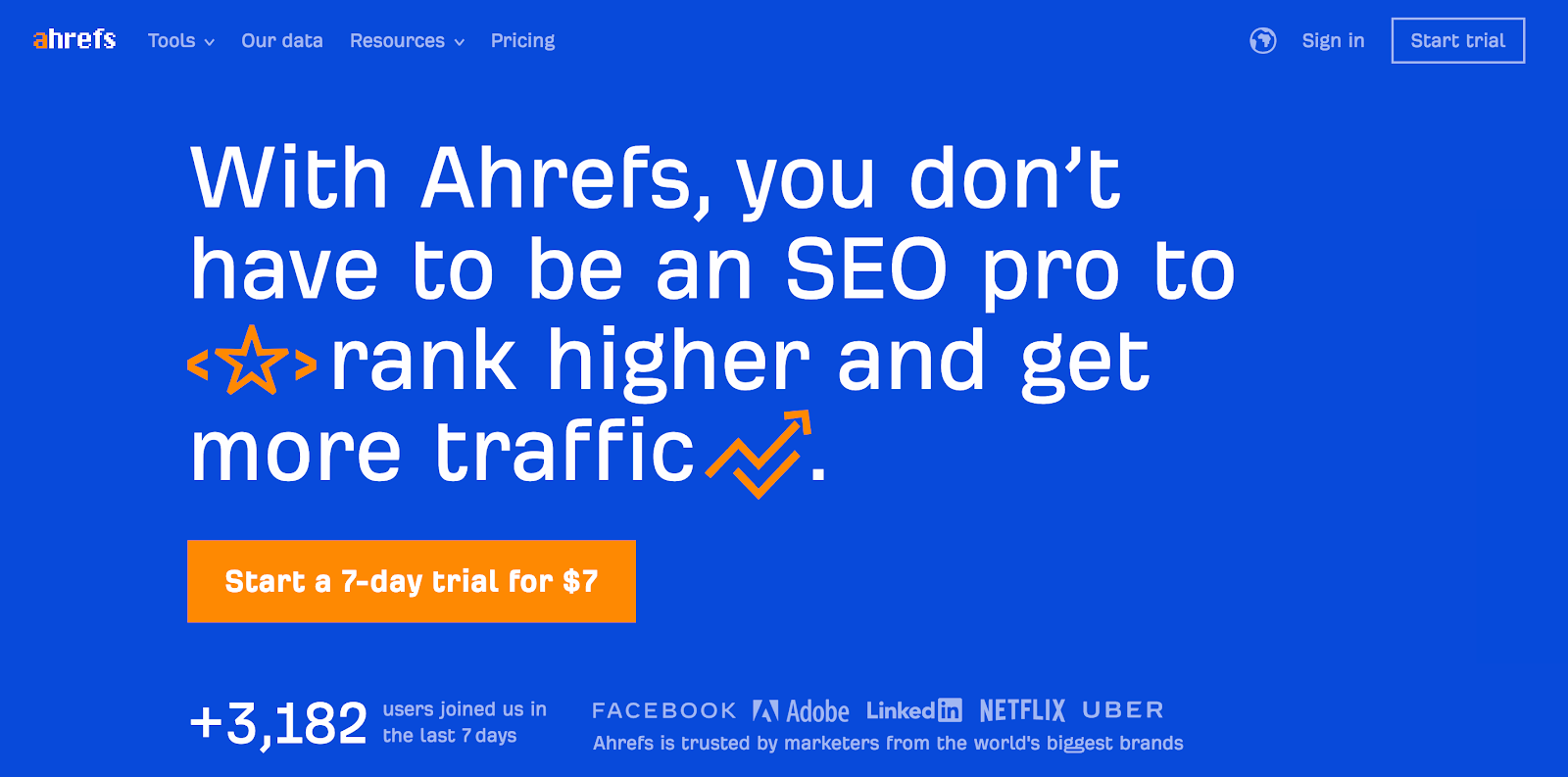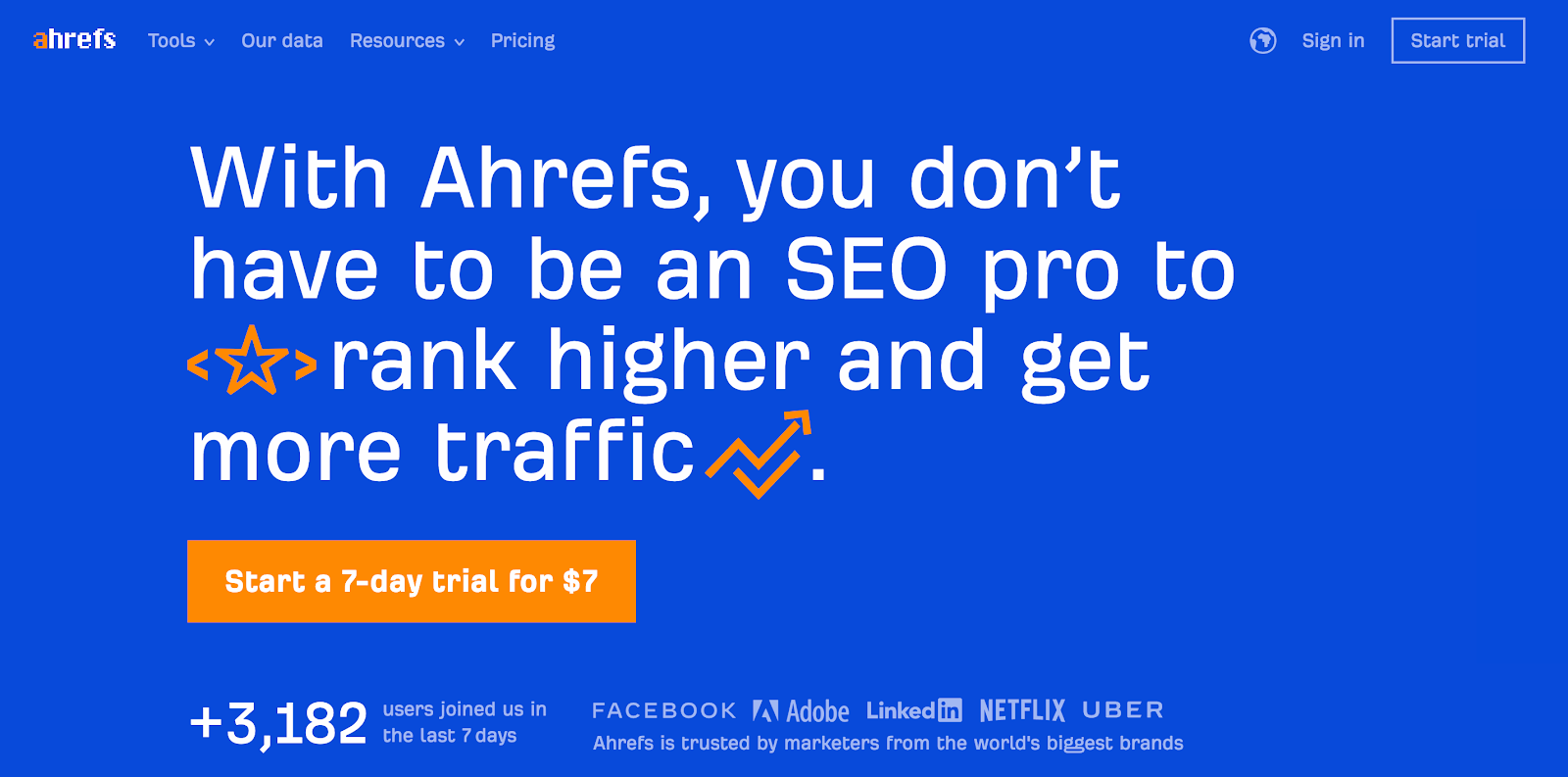 Not all prefer this tool because they don't give a free trial like others, it has an expensive pricing plan as well, but it's worth the features it presents. It is one cool tool as it provides keyword research for ten search engines, including the mighty google. It supports research for nearly 171 countries as well.
Ahrefs permits you to work with a website that has more than 1000 pages. For specialists, Ahref offers more flexibility. The flexibility includes using mathematical symbols for various functions and Http status code. You could call their site explorer a 3 in 1 since it's a combination of usually what would be three separate features into one, organic traffic research, backlink checker, and paid traffic research.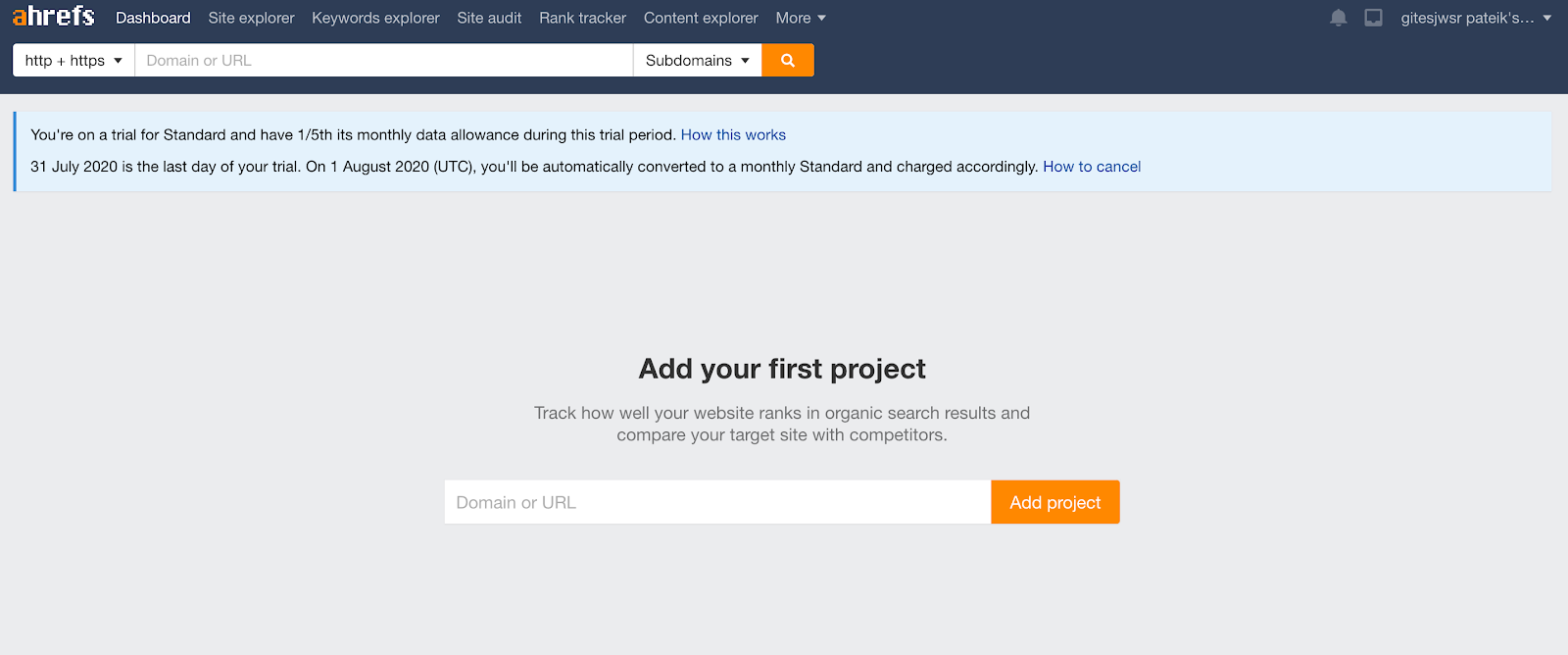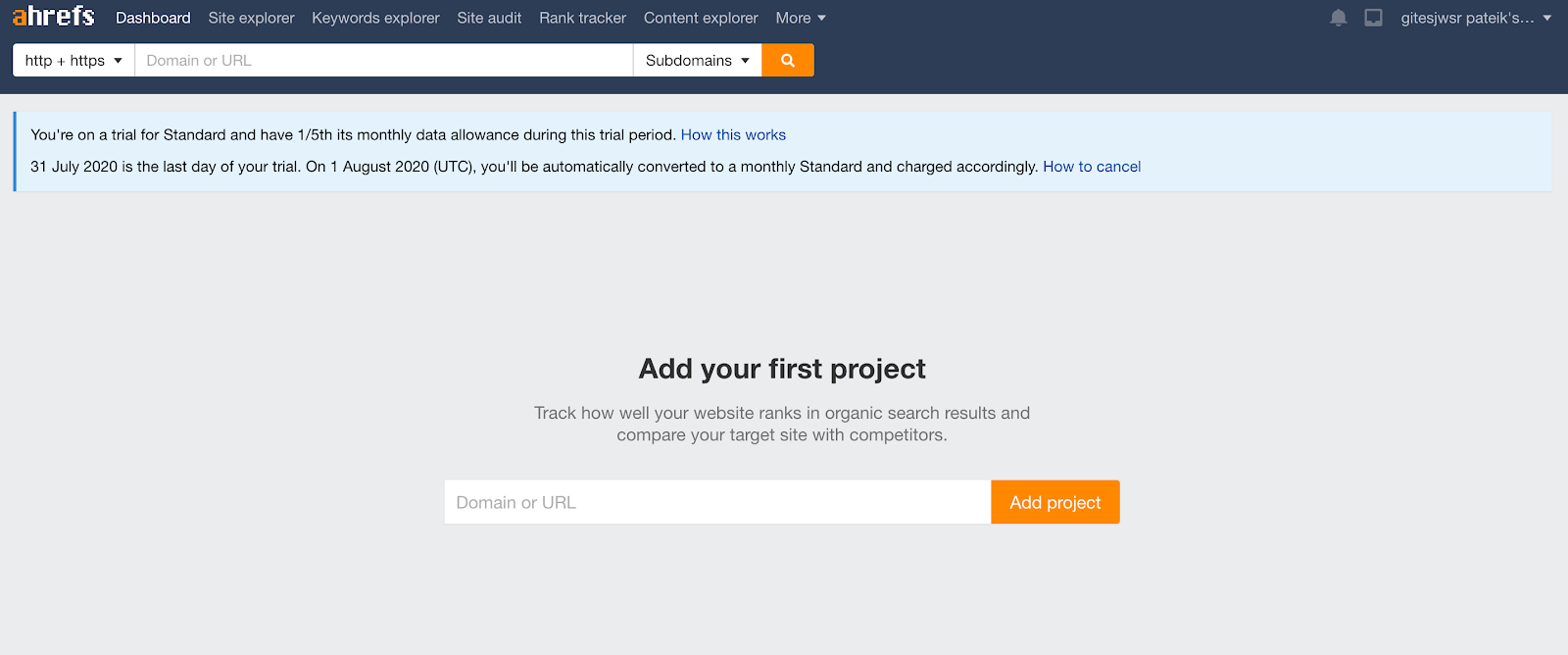 The problems Ahrefs surveys your areas for include: Irregular links, site speed, and interrupting pages, HTML tags (missing, copy, and the size of Html tags), open graph and twitter cards, duplicate pages, low-quality content, redirect links, heavy JavaScripts, and several more.
Here are some of the best features from Ahrefs:
An intuitive and easy to use dashboard.
Alerts for various SEO aspects backlinks, mention, keyword opportunities, etc.
A robust SITE EXPLORER to see in-depth search traffic and backlinks analysis.
Easy to use CONTENT EXPLORER for content suggestions.
A flexible search engine ranking tracker.
Head to head domain comparison tool.
In-depth reports with charts and graphs.
A powerful SITE AUDIT tool for a complete crawl of your website.
This isn't the end of the features list, Ahrefs has a lot to offer to help build profitable SEO campaigns.
SEMrush Overview:
Being an all in one tool, this is the most elite among all SEO tools I would recommend anyone, any day. It has a lot of advanced features as it gets updated now and then. Major SEO analysts will support this because of its ease in work features. Founded in 2008, it has been top-notch in the industry.
It has additional tools that can do backlink research, competitors research, auditing of sites, ranking, PPC ads, and much more. It's an all in one package.
Oleg and Dmitry started it as SEO enthusiasts who wanted to do something new and revolutionize the industry. They began by sharing this tool with their friends and known ones making people interested in their tool.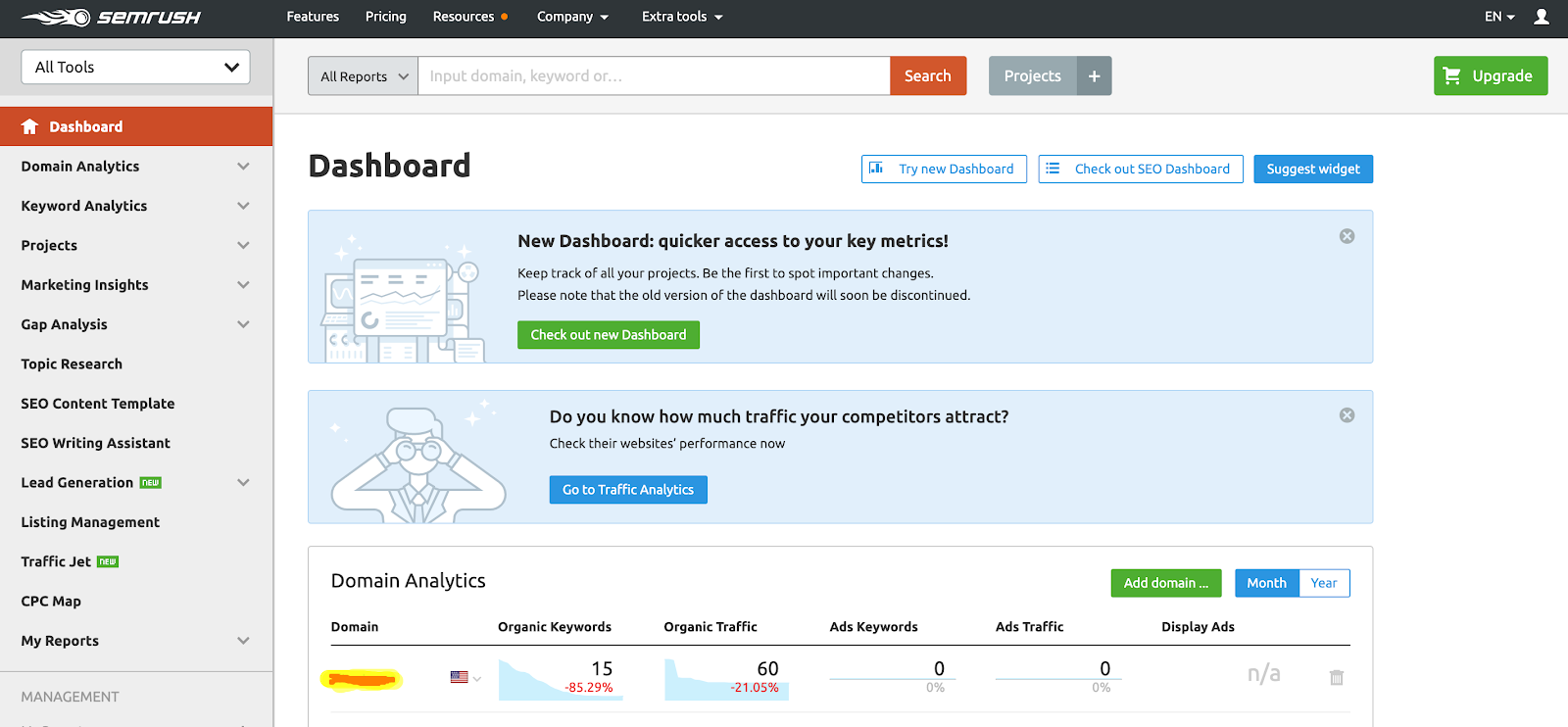 The tool has received awards such as the BEST SEO SOFTWARE suite by U.S search awards 2019. This tool is widely available in 117 countries, suitable for enterprises where pricing of the tool won't matter much, but what matters is the result.
Here's a list of our favorite features from SEMrush:
Get the best keywords, organic competitors, and position changes from competitors' research.
Budget your ads with advertising research.
Conducting analysis as well as sourcing backlinks using the backlink tools.
Long-tail keywords for better ranking
Traffic analytics.
Checking keywords with keyword difficulty.
Domain vs domain comparisons.
Organized and in-depth charts.
A robust Keyword Magic Tool for getting millions of keyword ideas.
An assistant for your SEO writing needs.
Rank & Position tacking
Site audit to maintain a healthy website
Tracker for your social media handle.
A content analyzer to check the score of your content.
There have to be valid criteria for making a good comparison, and you will find several standard features among the two tools, you will also know that everything has its pros and cons.
Ahrefs Vs. SEMrush: The Best Keyword Research Tool?
Both Ahrefs and SEMrush have made it to the top of the market because of their keyword research tool. Keyword research is an essential factor to be considered in SEO tools. Keywords do a great job of getting traffic and attracting the audience to your website; keyword research can be categorized to have the following features.
Ascertaining an audience who are searching for a particular keyword
Finding out the difficulty of ranking for that keyword
Existing competitors ranking top on that keyword
Getting recommendations for related keywords.
When it comes to keywords, you are just one click away from getting a million keywords at your screen. You will get info like search volume, a difficulty score of your keyword, current competitor rankings for the keyword, and a list of commonly related keywords.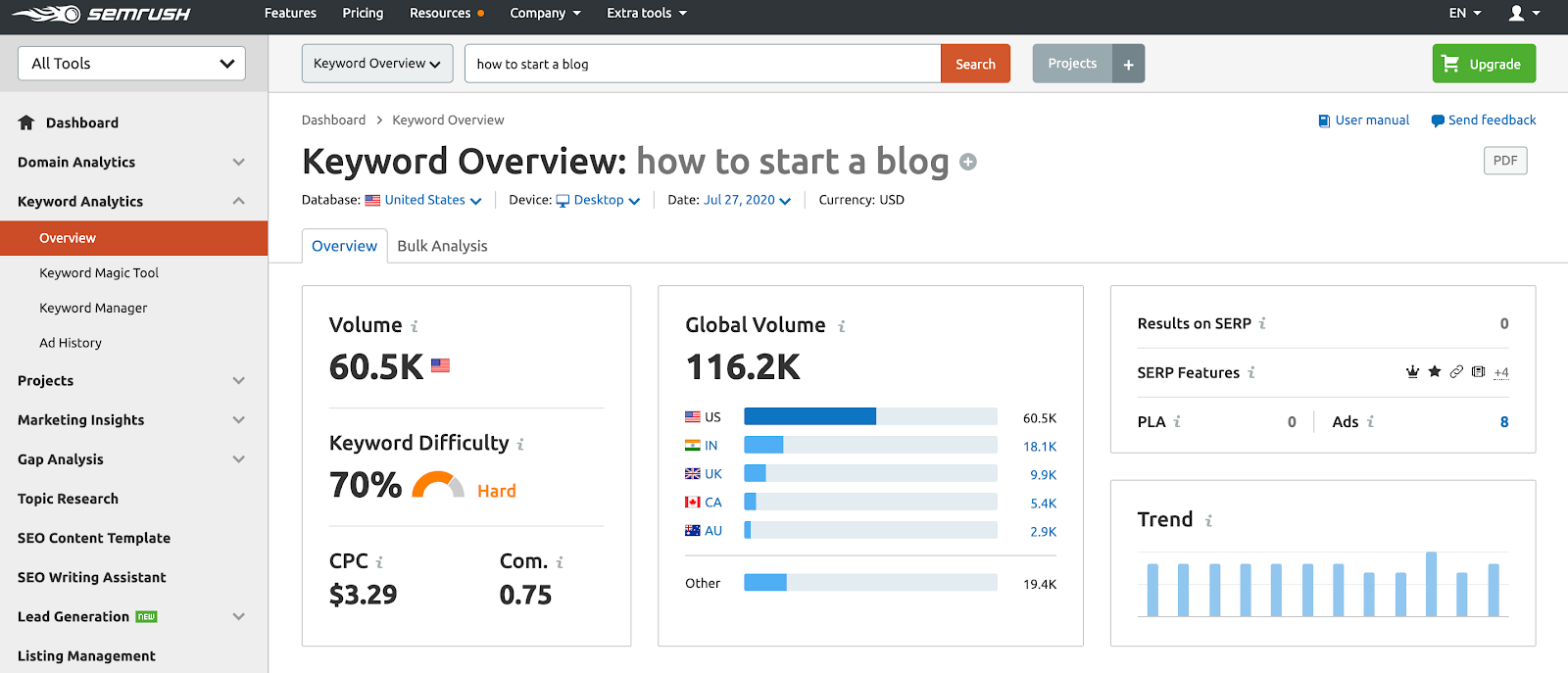 SEMrush offers an in-depth analysis of keyword research, which helps you get the best results. The metrics that SEMrush displays include keyword difficulty, CPC, top-ranking pages, competition in paid search, similar keywords, ad copy, questions asked, and various other metrics and data.
The geolocation tool is something that SEMrush excels in as it helps you carry out the keyword research based on your location. Let's try SEMrush Keyword research tool for the keyword "how to start a blog"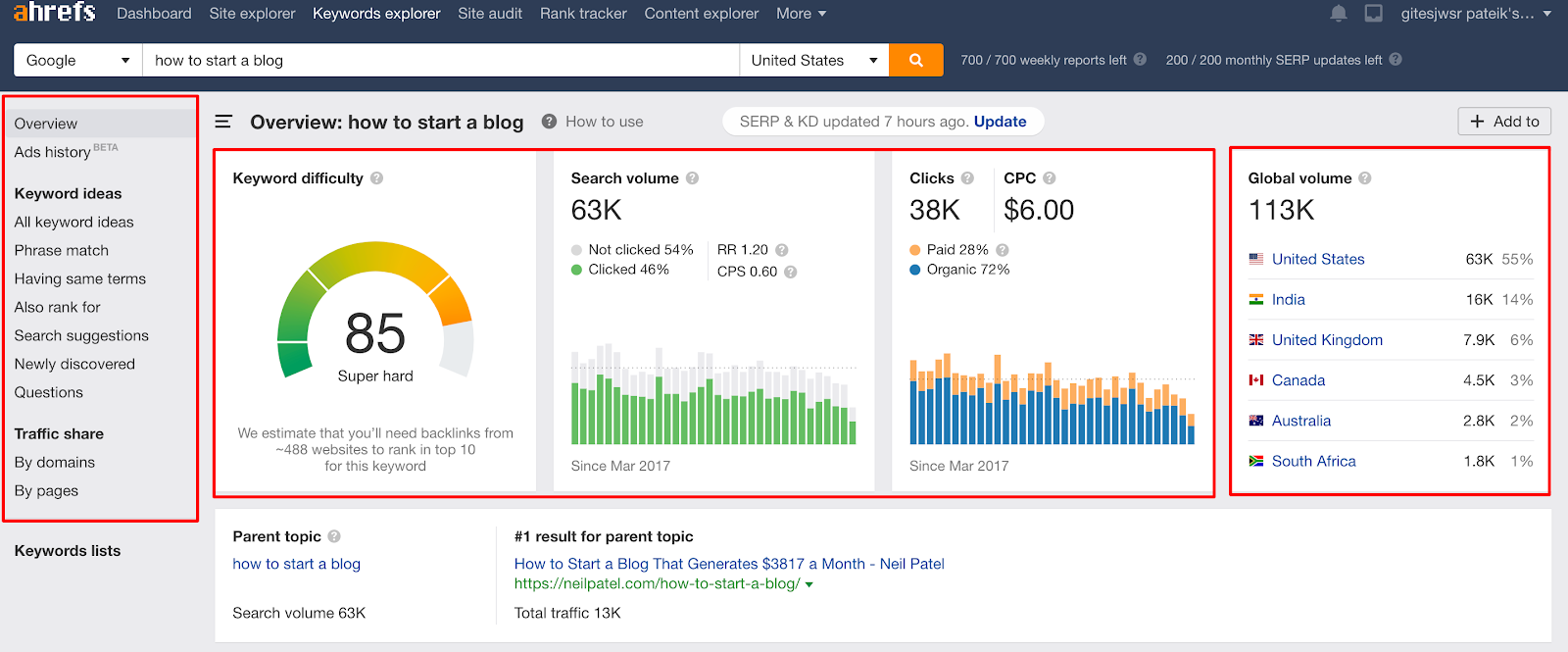 Keyword Explorer is the tool available to you in Ahrefs for your keyword research. With the help of keyword explorers, you can rank yourself better with their long-tail keywords. The keyword analyzer enables you to generate marvelous keyword ideas, interpret their keyword difficulty, and calculate their traffic potential. Let's make a search for the keyword "How to Start A Blog" and see what Ahrefs suggest:
One of the best features of the keyword explorer undoubtedly would be that they give you the keyword ranking based on clicks; this way, you will know which keyword gets how many clicks. There is an expanded option available with which you can get results of hundreds of different keywords.
Other than the keyword explorer, another great feature is the organic keyword. This helps you locate your organic keywords rank; they also give you an organic keyword report with the help of which you can go to a competitor's site and reverse engineer it.
There is no doubt that SEMrush offers more data about both SEO and PPC, which is why it would be a better tool for your keyword research.
Ahrefs vs. SEMrush: The Best Backlink Checker Tool
Backlinks are considered a pain by many SEO tools, and this is one of the essential features alongside keyword research. When it comes to backlinks, it's challenging to choose a winner between both SEMrush and Ahrefs. Most of the backlink tests conducted by various analysts show close results. Considering backlinks, SEMrush has an extensive link index, which shows that it has invested a lot into link index and backlink analysis.

However, Ahrefs has a straightforward process that takes very few clicks for your backlinks checking, so you might even choose Ahrefs over SEMrush to avoid having to click 50 times for checking backlinks.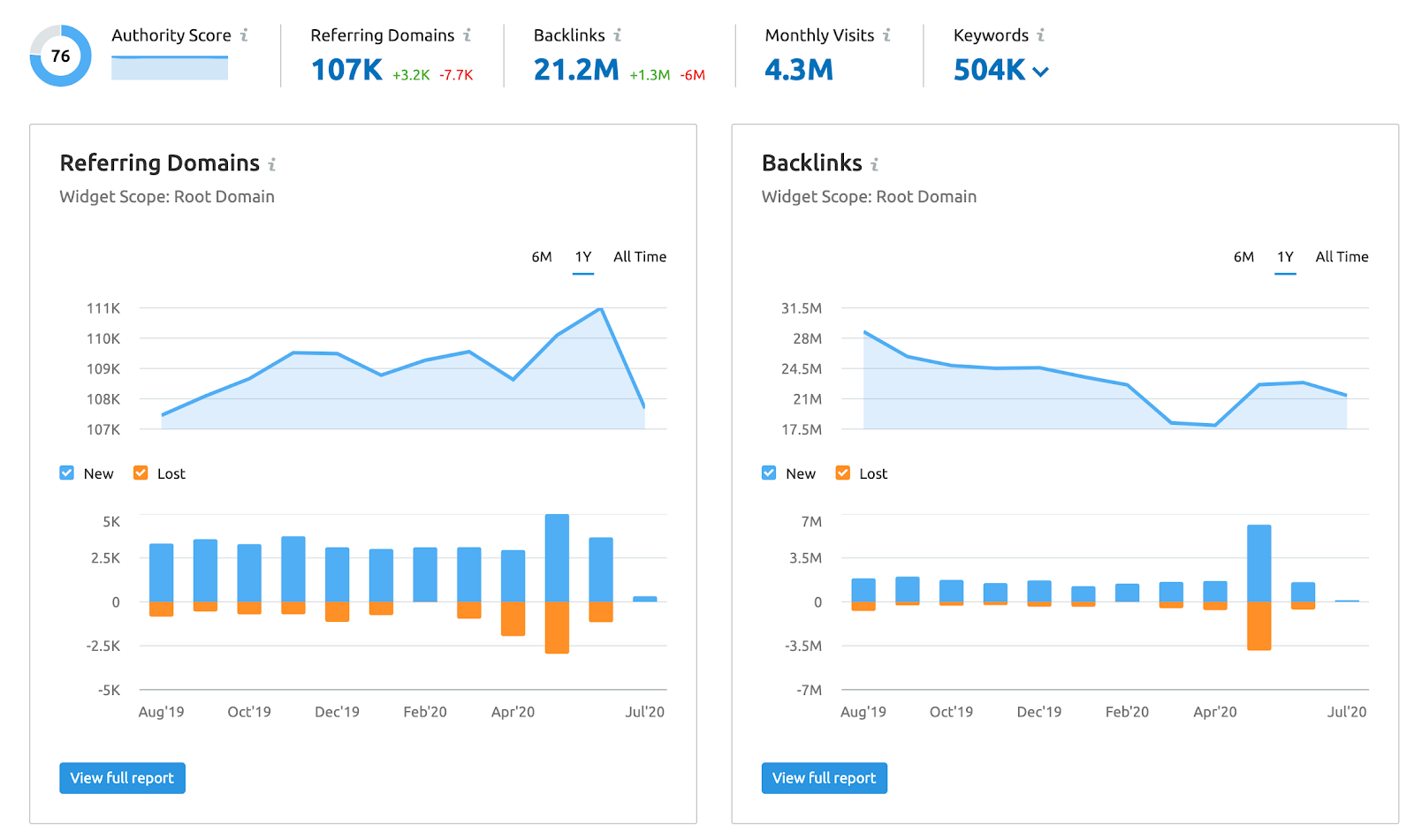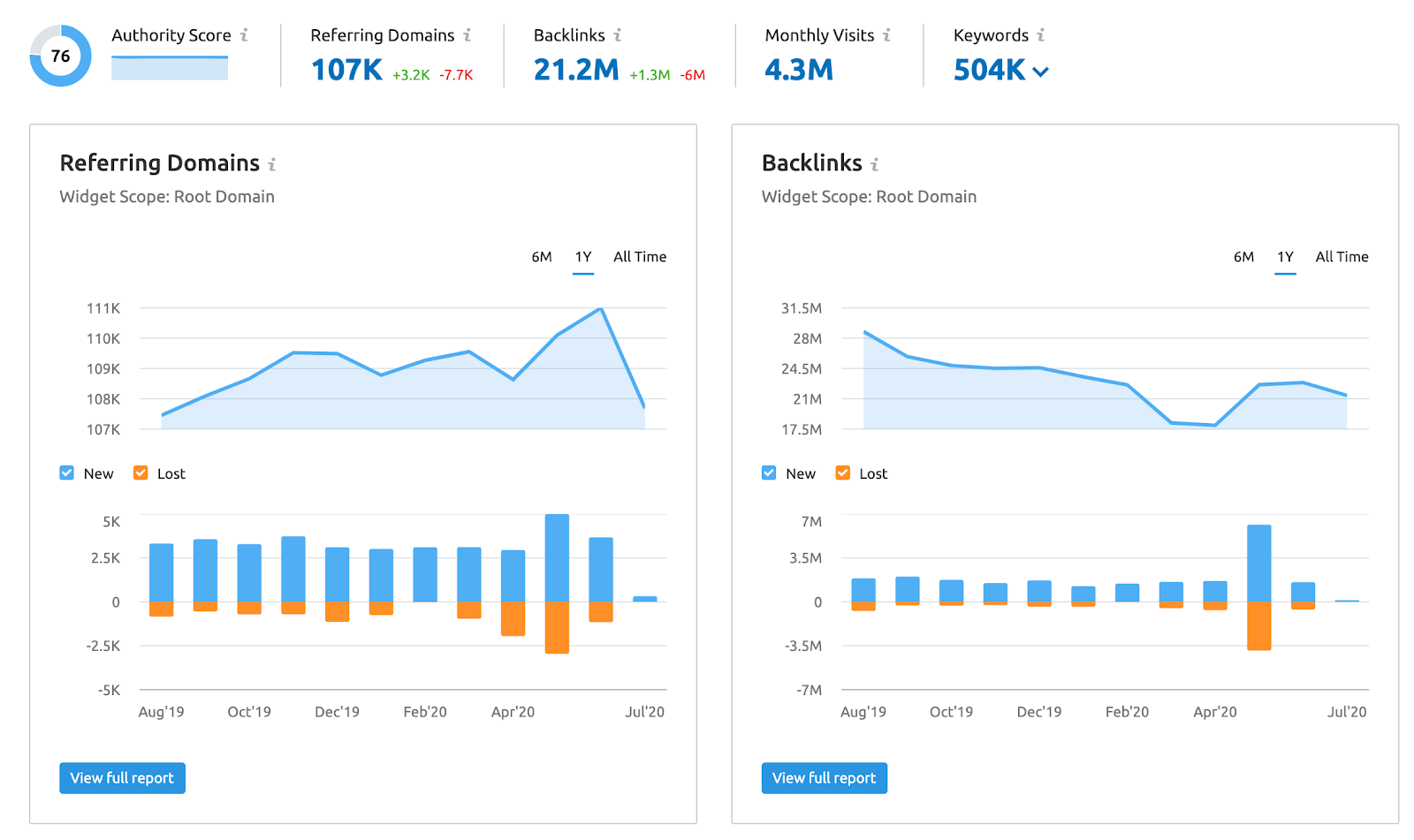 For a long time, SEMrush's linking tool was a weak spot in its package. However, that's not the case. In 2019, they updated, and it and what a significant update it was, they have come a long way in showing you your backlinks profile and your competitor's backlinks. Let's check backlinks of popular blog MOZ.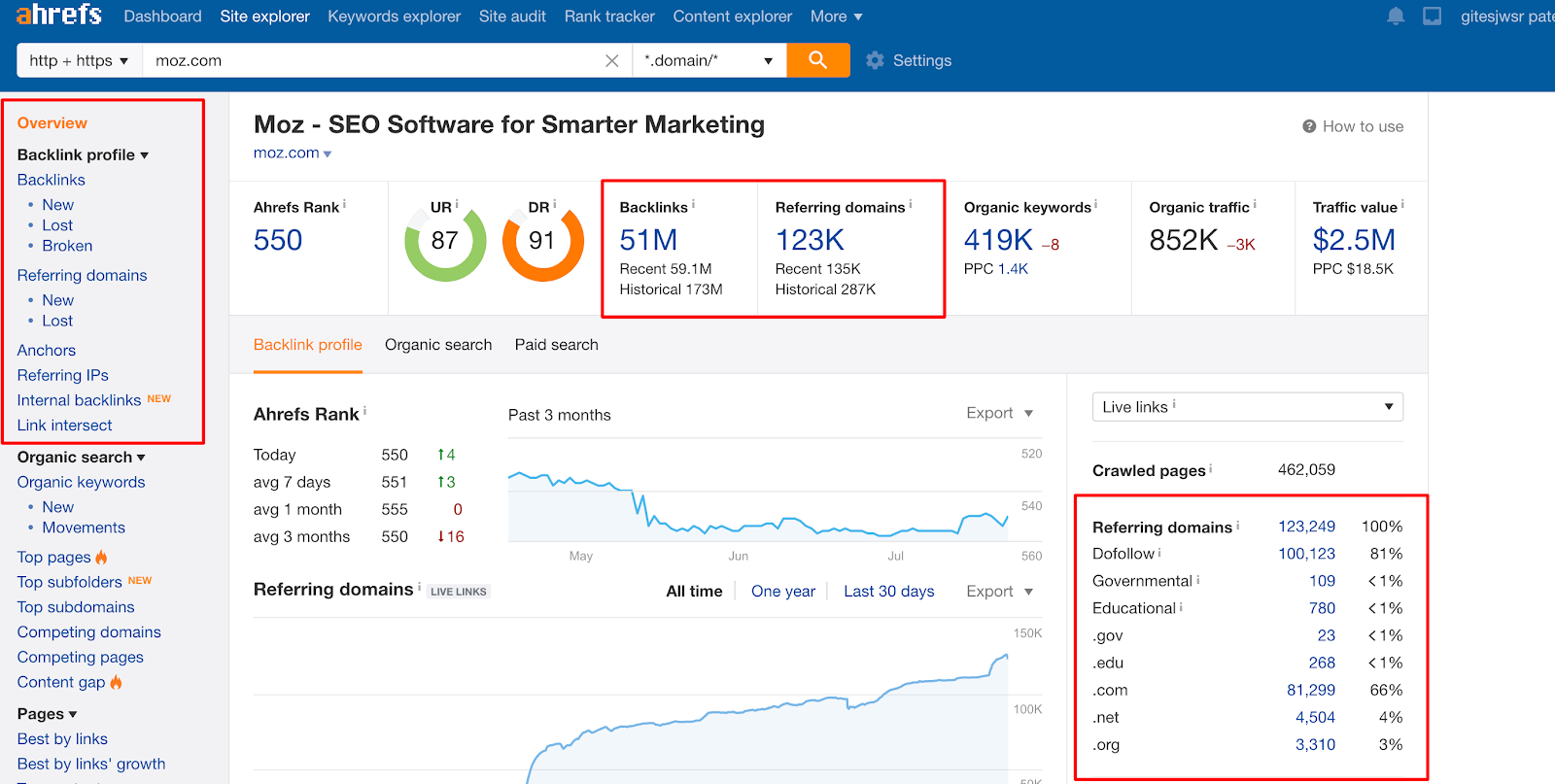 It gives you options to know other backlink metrics and link attributes (follow, nofollow), backlink types (text, image, etc.), categories of referring domains, and top anchors, among others.you, can also know your competitor's backlinks. Type the competitor's domain name in the search box, and you will get a detailed report of their backlink analysis.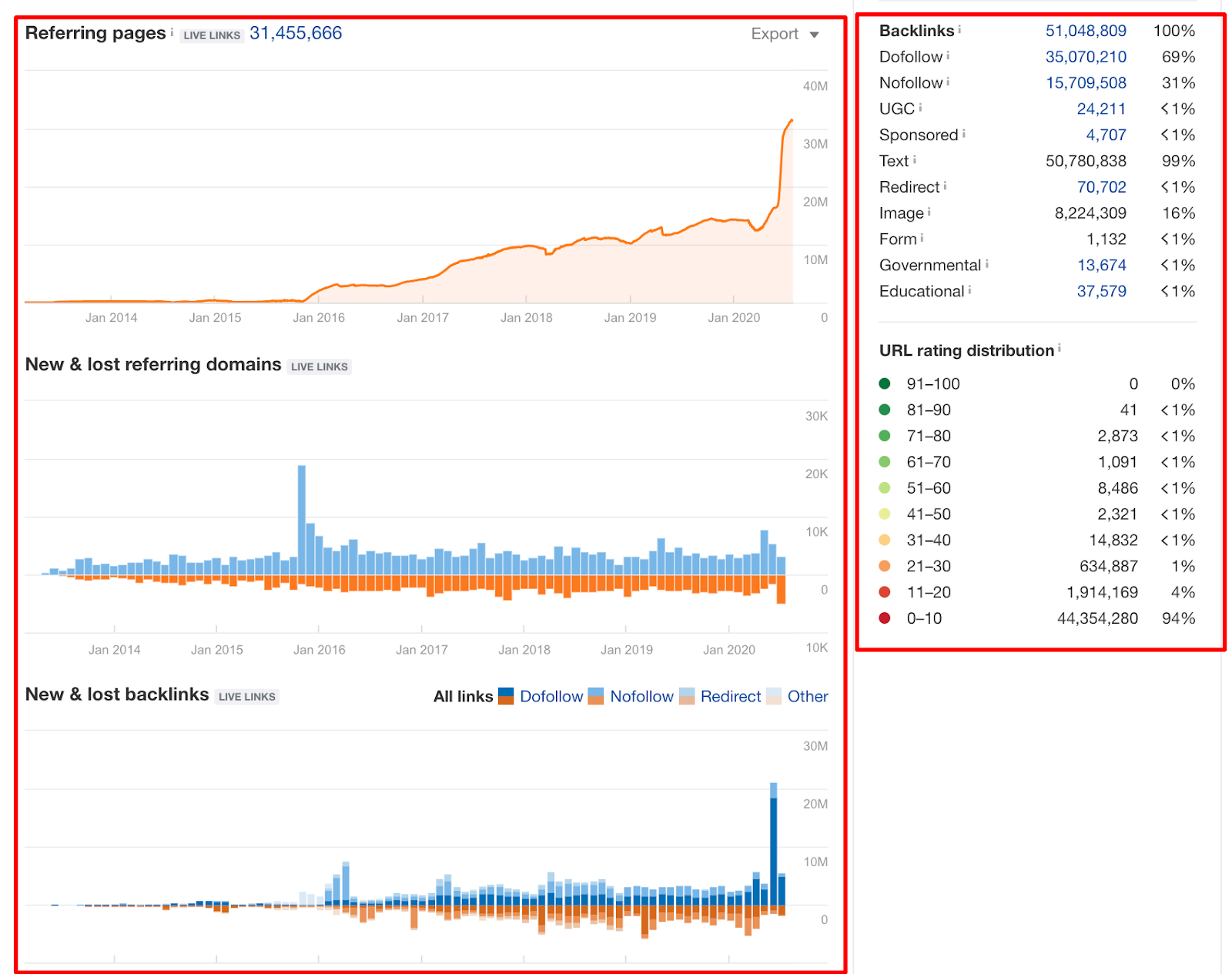 If you are an Ahrefs user, you probably know how much time you spend on-site explorer. It gives you a lot of other features, but most importantly, the site explorer provides a detailed analysis of your backlink profile and your competitor's profile.  Let's check backlinks of MOZ- The Popular SEO blog.
Ahrefs has been the leader for backlink analysis for a long time, whereas its competitor SEMrush has recently come up. The site explorer lets you check backlinks of a particular website and enables you to link the profile of specific URLs. Even the tool offers more details such as history and timeline of backlinks, check the reference below.
Ahrefs is the better choice for you when it comes to backlinks. However, SEMrush has a more significant link index. Ahrefs has been into backlinks for quite a lot of time, and they have excellent accuracy and user interface, which are 2 of the three most important factors when it comes to backlinks. Ahref also has the ease of operating advantage wherein the process of accessing backlinks is way more straightforward than that compared to SEMrush.
Ahrefs Vs. SEMrush: The Best Tool for Technical SEO Audit
Auditing is not as important as keyword research and backlinking to many, but it still plays a significant role in your website's ranking. Crawling, indexing and rendering are the three main aspects of this sidelined tool that help you a better rank. It is essential to carry out a technical SEO audit from time to time as you need to adapt to the SEO changes. When it comes to site audits, both the tools have good results.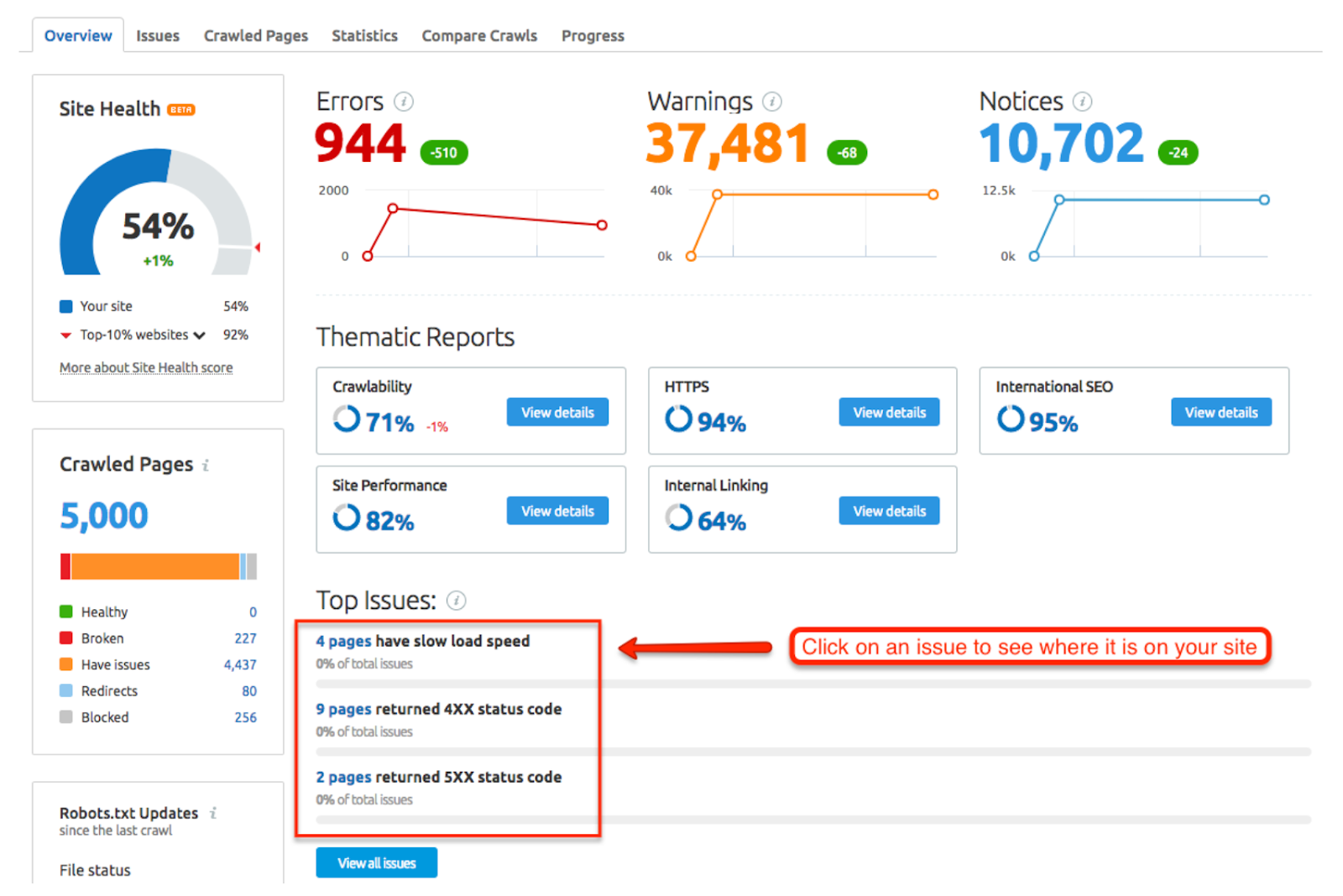 In the SEMrush tool, SEO audit is one of the most used tools, and this tool helps you analyze the health of your sites by conducting various tests. It lets you know about the current issues on your website and helps you rectify them. This helps in the process of higher rankings when it comes to SERPs. The tool contains over 130 checks when it comes to SEO issues, and it does a complete analysis of your site. You get a health score of your website. This health score is determined based on the ratio of the issues found on your website to the number of performed checks. The SEO audit tool given by SEMrush alleviates the work by conducting a thorough audit furnishing an elegant and susceptible way to comprehend the report for you.
To get a good audience response, you need to have a good website. This auditing feature on SEMrush helps you to get away with all the errors that might be existing on your website.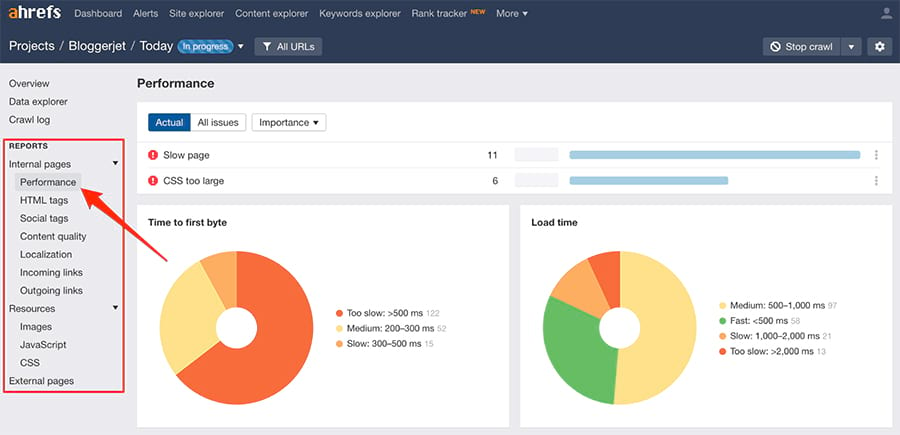 The Ahrefs site audit is the latest addition to their tool. Compared to SEMrush, Ahrefs analyzes about nearly 100+ issues on your website. Here you not only get your health score, but you also get all your key data in charts for better analysis, and you also get all the possible SEO issues that prevail on your site and recommendations to fix them.
Among the two, SEMrush definitely wins here, and the site auditing tool is much faster and accurate, as well as more criteria for judgment than that of Ahrefs.
Ahrefs vs. SEMrush: The Rank Tracking Analysis
Rank tracking is the whole point of going through an SEO tool, and you want your website to always rank on the top. This helps you measure the quality of your content and the impact of the work that you have done. You can also track where your competitors rank in the SERPs.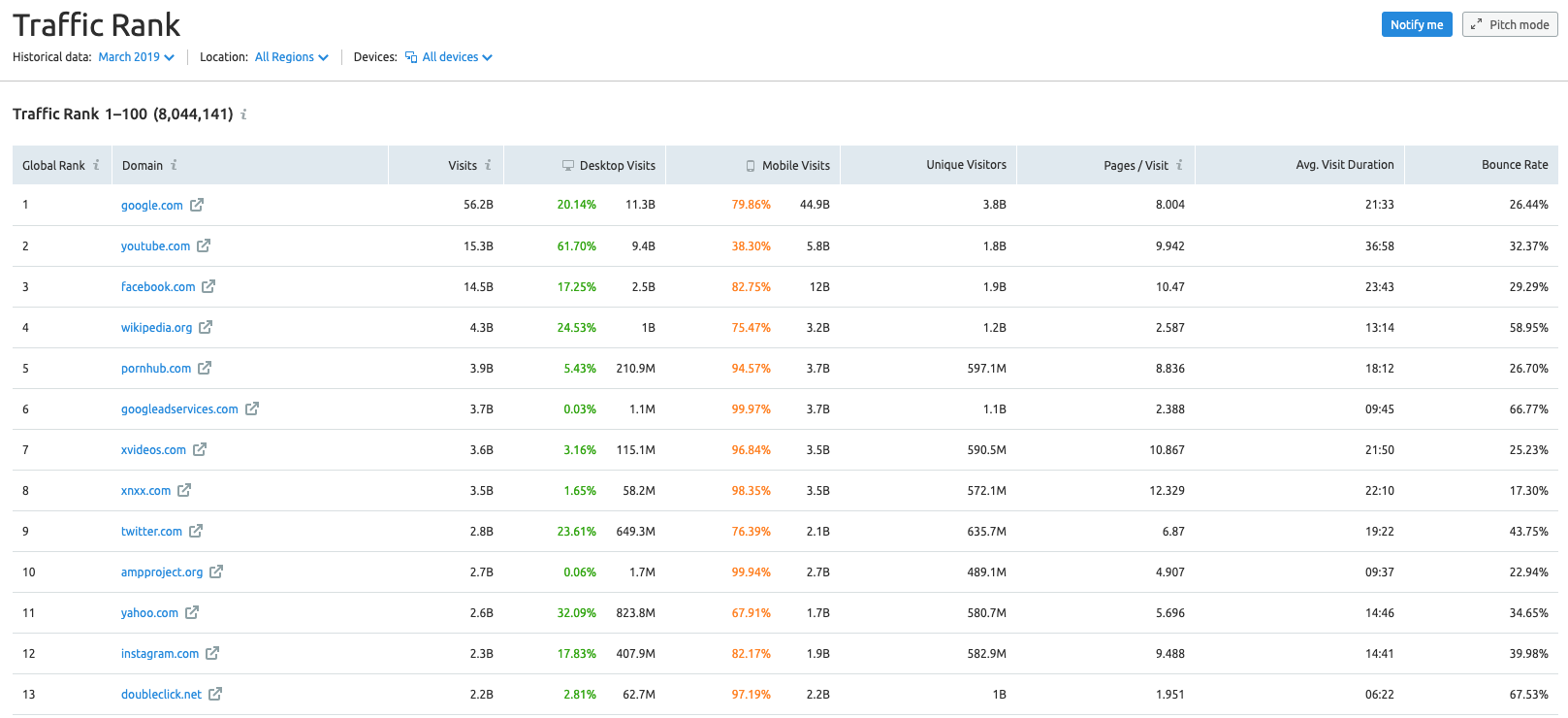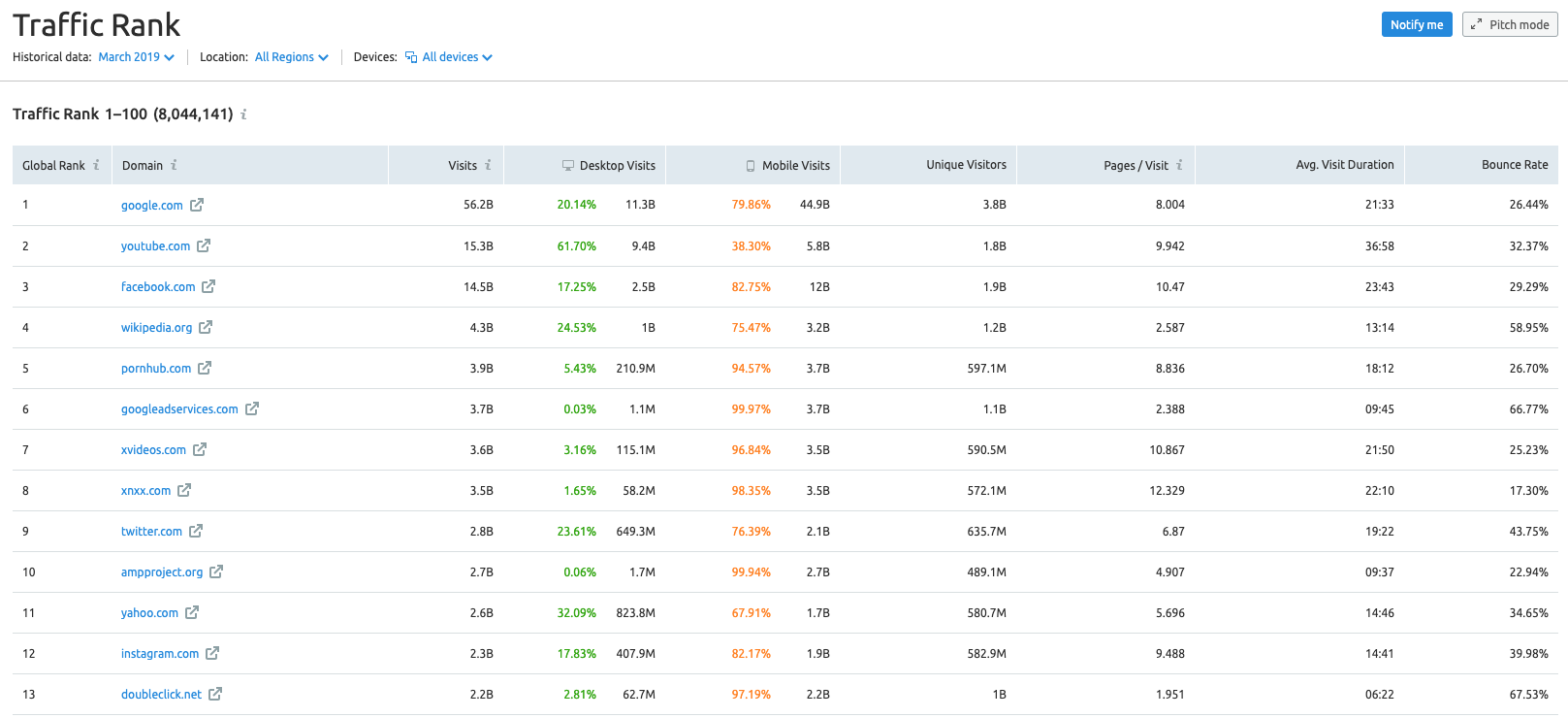 Both the competitors provide you the Position ranking tool. SEMrush with its position ranking tool lets you add all the keywords that will help you get a higher ranking on the search engine as well as it has a location tool that provides rankings based on the geographical position of the viewers.
It's simple, and you just have to add the location of the place concerning which you would want to rank your content. With the position tracking report, you get to know the three primary metrics concerning the keywords you have mentioned, that is the position of your website, estimated traffic, and the negative impact you may have.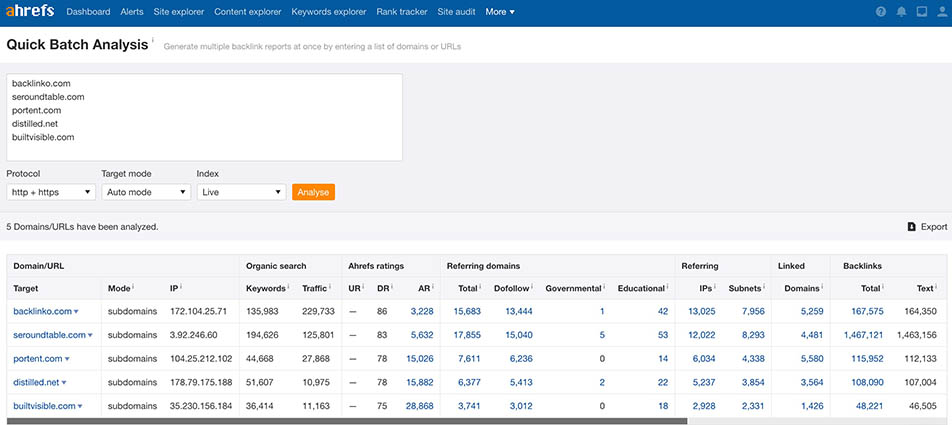 When it comes to Ahrefs, you are given the freedom to add up to five competitors against whom you can compare your rankings based on organic search. The major positioning features being the same as other SEO tools and SEMrush, you can measure the effectiveness of your SEO campaigns as well. There is a feature that lets you fine-tune your campaigns according to your competitor's visibility as well.
When it comes to position tracking, SEMrush surely beats Ahrefs with a right margin as they have additional features like visibility score and update their tracked keywords every day. In contrast, Ahrefs updates it only once a week or sometimes twice a week. So if you are someone who wants to stay on top of the rankings, SEMrush is your go-to tool.
Ahrefs vs. SEMrush: Pricing &Plans
Pricing is similar for both of them; however, when the price is comparable, you can compare the value it offers for your money. Being market leaders, these two tools have used the freedom to make their pricing plans elite.
SEMrush is considered the most expensive in the market. SEMrush has made three different plans available to its users, mainly Pro, Guru, and Business.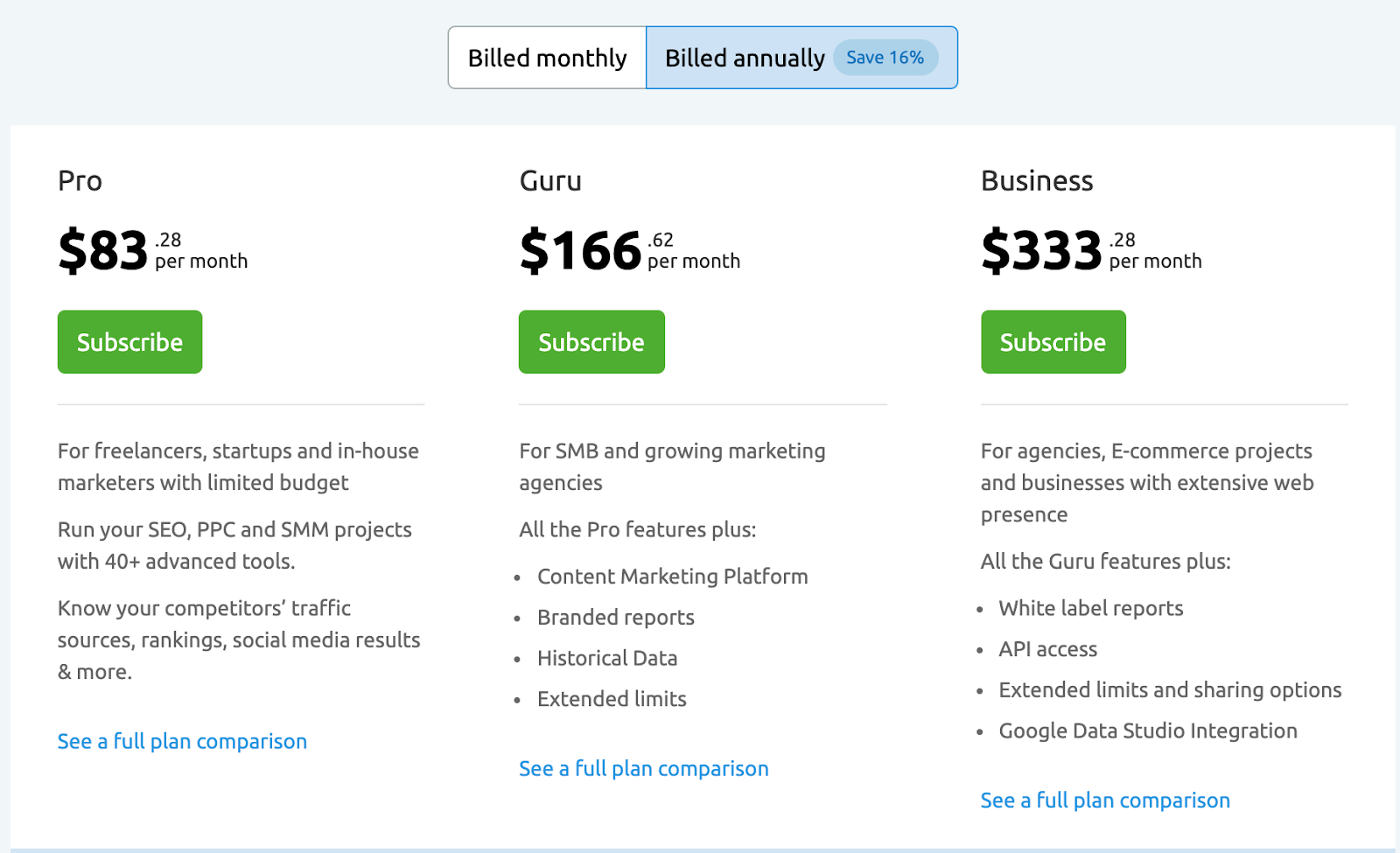 The pro plan is rather expensive for all the necessary features, the price ranging at $83 if billed per annum and $99 if you consider a payment monthly. Though expensive, it's the right choice for freelancers, marketing startups, and house marketers with a lower budget.
The Guru plan has a little more additional features than the pro plan, and it costs you $166 per month if billed annually.
The business plan is the ultimate. It offers all the essentials you need to have a complete SEO TOOL. Enterprises mostly use it.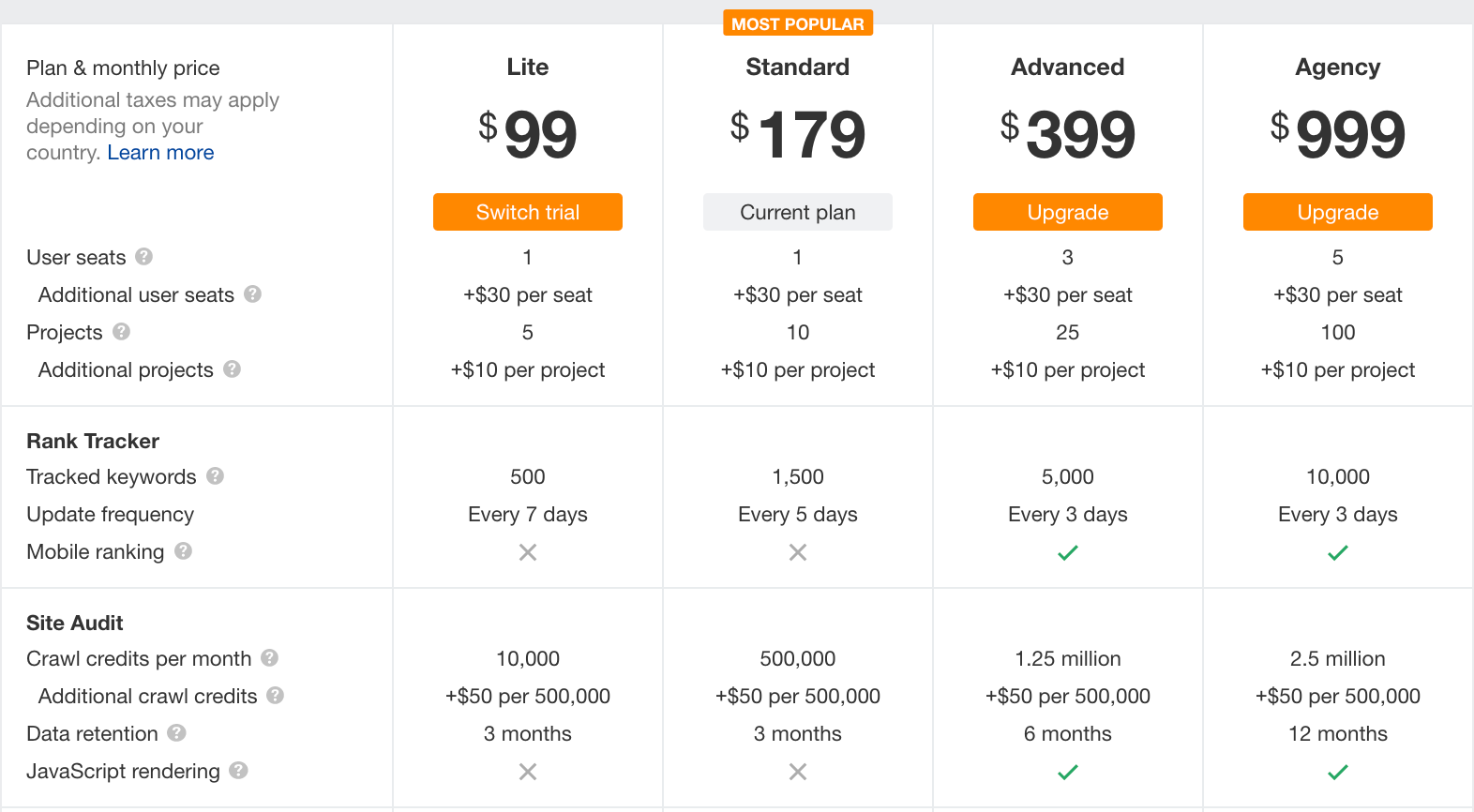 Ahrefs has a paid trial system that anyone can purchase at just $7. This will give you essential tools with which you can check out if you want to buy the tools or not. They have separated their plans into 4, Lite, standard, advanced, and the agency plan.
The lite plan starts at $82 per month if paid annually and $99 if paid every month with the most basic features.
The standard plan costs $149 per month when paid yearly, and it's the most availed plan. It has additional features of a new index, historical index, and broken pages.
The advanced plan is priced at $332 per month, and it has all the features of the standard plan but with extended limits.
The plan is priced at gold, starting from $832 for agencies with unlimited features and inexhaustible limits.
SEMrush helps you save about 16% with their annual billing, whereas Ahrefs gives more savings at a 20% discount annually. If you can afford, I would recommend you to buy both the tools as they have their features as you know they say, owning the top 2 is better than just holding the best. However, if your budget doesn't permit you to do so, you should surely go for SEMrush as it is worth every penny.
Ahrefs vs. SEMrush: Customer Support
Customer support is another essential factor you need to consider before purchasing an SEO tool. This is mainly because, in a technological world, there is always room for errors. Your tool might crash, or you might lose data and things like that, this is where a quick customer support team can help you.
Ahrefs has a little chat box at the bottom that lets you put your queries. It is not a live chatbox; however, the average response could take about 10 to 15 mins.
SEMrush has a more complicated process when it comes to customer support, and you will have to fill in details like type of query, check the terms and conditions, and be able to ask your question to them. The chat takes about 15- 30 mins on an average for a response.
This gives us one winner: Ahrefs, full stars for their ease of customer support, and quick response.
Ahrefs vs. SEMrush: Additional Features (FREEBIES INCLUDED)
As we have made an in-depth comparison of the main features, there are quite a few unique features these tools have that add to their list of pros, The one main feature that lets Ahref stand out compared to other SEO tools is its content explorer. Whenever you type in any topic, you get results of additional content that has already performed well in terms of shares, backlinks, ads, etc. There are many other mini-features that Ahrefs has such as they help you in broken link building, which enables you to save dozens of hours trying to fix it.
SEMrush also has a lot of cool features that the Ahrefs doesn't have. The most significant advantage they have over Ahrefs is their complete paid search software suite, whereas Ahrefs has zero features for PPC. SEMrush, because of its PPC competitor analysis, helps you get the best out of your Google ads campaigns.
If you are a lot into local SEO, then SEMrush helps you with the listings tools it has so that you can easily set up your NAPs.
When you look at cool features, SEMrush deservingly is the winner for the unique features it offers that not only Ahrefs but a lot of competitors don't have.
Ahrefs vs. SEMrush: The REAL WINNER
Now that you have read and understood the comparison of both the tools, you know its time to chose the ultimate winner. It's always a fierce battle among these two tools, but as per the tests and research I have conducted, the clear winner would be SEMrush.
The tool is a way to advance than anything in the market. It is an all in one package tool that offers you value for your buck. You can surely check out their website for a free trial and use it and based on your use if you like the basic features it is offering. However, if you want to experiment with Ahrefs, then you can take a 7-day trial, it won't cost you a lot. My suggestions would be to take a trial of both the tools for your satisfaction and a better understanding of the tool.
We hope this post suits your purpose well if this post helped you kindly share it on social media channels such as Facebook, Twitter, or LinkedIn.