Semrush vs Moz is a debate everyone who has been in the SEO industry has been a part of. With a neck-to-neck competition, both tools have enormous features which make them two of the leading SEO tools in the market. Are you among those who are in a dilemma between Semrush and Moz? Do you want to get an SEO subscription but are confused? Do not worry; we have got you.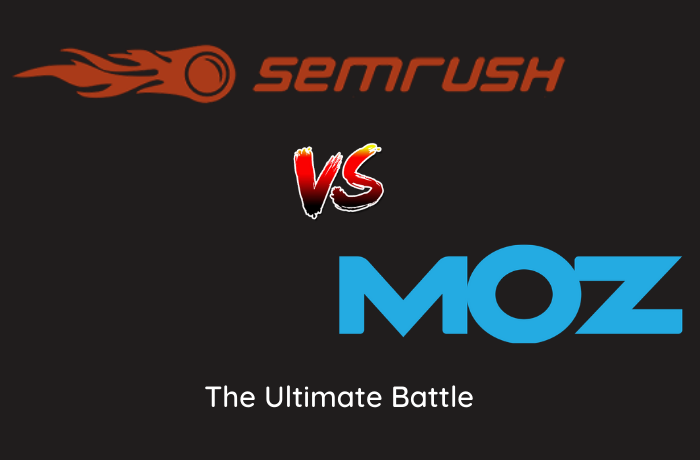 Semrush and MOZ are two pioneer SEO tools out there in the market. With any of these tools, you can take your SEO game to a whole new level. The question is which is worth the try – Semrush or MOZ? With our in-depth analysis and comparison of Semrush vs Moz, all your doubts will be cleared. Our content is unbiased and taken down after running and observing both the premium SEO tools.
Semrush vs Moz – In-Depth Comparisons (2023)
In this post, we have compared Semrush and MOZ side by side taking various important aspects such as keyword research, backlinks analysis, SEO audit, ease of use, pricing plans, customer support, and so on. So let's dive in.
Semrush Overview –
Semrush is anybody's go-to option when it comes to SEO. If you are in the SEO field, you have undoubtedly heard about Semrush. In a market where tools are made for specific purposes, Semrush is one of a few all-in-one SEO tools.
Semrush is a great tool existing in the market for quite a few years, however, recently they have added a lot of new additional features that have revolutionized it to be one of the most excellent SEO tools in the market.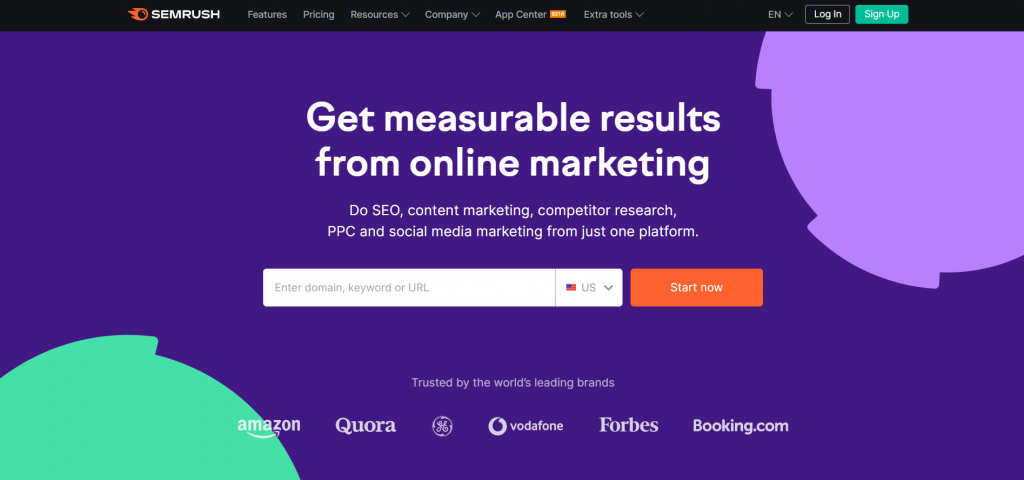 Semrush was started by two SEO enthusiasts Oleg and Dmitry who wanted to bring a change in the SEO industry with their tool. Semrush can be described as a combination of various tools specializing in SEO.
It is widely known to have the highest database for keywords. They also have an excellent tool for competitive research, keyword research, and link building, as well as a superb on-page SEO checker.
Listing out Semrush features would take forever as they have enormous features, for someone who has used both tools, we have chosen the best features which we feel stand out in Semrush.
Features:
Helps in Organic Research
Easebility in market exploration
Advertising research
Advanced Traffic Analytics
Backlink hunting
Product Listing Ads
CPC map
Product listing tool
SEO writing assistant
Backlink audit
Keeps your social media tracked
Pros:
All-in-one tool
Largest keyword database
Daily updates
Cons:
Complex interface for beginners
Luxurious pricing
Negative customer support feedback from users
Moz Overview –
Moz is another top end to end SEO tool that has been offering exceptional service to users for quite some time now. Moz was started back in 2004, a few years before Semrush. You undoubtedly know now that Moz is the more experienced one in this market, however, age is just a number for us because your time in the market does not say anything if you don't make yourself adaptable to the market changes.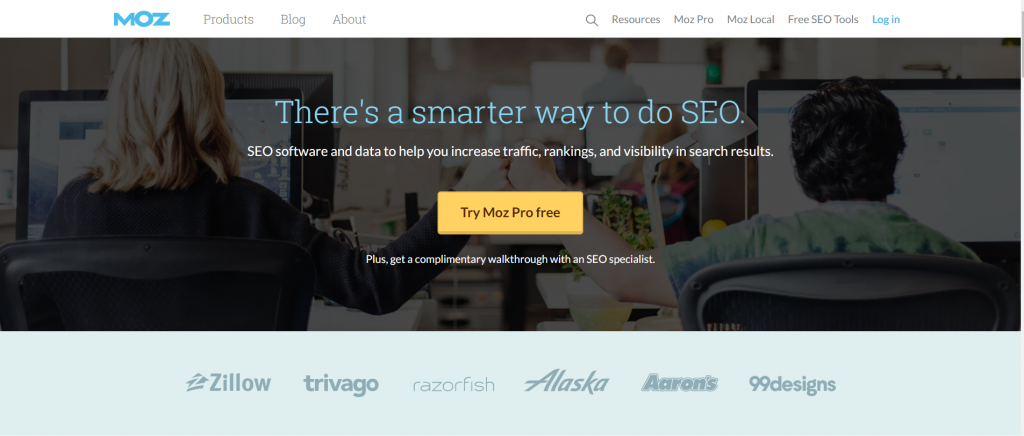 Started by the company Moz based in Seattle, Washington, they have come a long way to become a popular SEO tool. They have a fantastic domain metric authority, and it is so good that the industry has been using it as a standard for years now. This shows the qualitative aspect of this tool and how it has been consistent with its products in the long run.
Being a long-time user of this tool, we have tested all of its best features to let you know what it offers you at a price. The pricing of Moz is very affordable when it is compared to that of Semrush, mainly because it is not as elite a tool as Semrush. Below, we have listed the best features of Moz for you as per our testing.
Features:
Efficient keyword research
Helps in rank tracking
Site crawler
Attracts quality links
Well-organized analytics and reports
Free domain analysis
Great marketing resources
Pros:
Seo weather tool
Great tool for beginners
Cons:
Small backlink database
Not worth the price
Semrush vs Moz: The Keyword Research Comparison
When it comes to SEO, Keyword research is the most crucial aspect. Your keywords are your base, and without them, your content will be some words written in paragraphs. Every SEO tool focuses mainly on Keyword research, as it is highly essential and influential.
To make a keyword tool amazing, it must consist of the following:
Top recommendations for keywords
Keyword difficulty
Competitor rankings
Suggest audience for keywords
Whenever you use an SEO tool, the first thing you go to check is keyword results. We checked Semrush first, and we were shocked to see the results. Their keyword tool is way more advanced than any you will see. The results were mesmerizing. Semrush is known to have the largest database in the world; at one click, you have the best results at your hand. Not only do they hunt the best keywords for you, but they have various other tools that ensure smooth working. Semrush projects a lot of different data such as CPC, keyword difficulty, keyword rankings, and much more.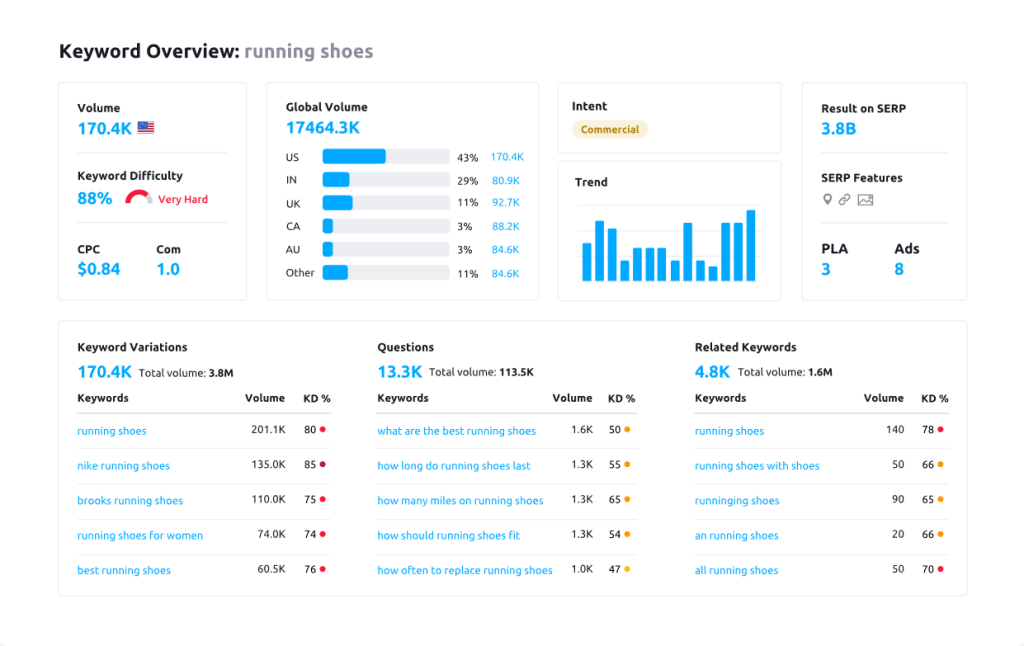 The most significant support for the keyword tool is its geolocation tool. This tool helps you hunt keywords based on your location, and you can get the best local keywords that will give your site better rankings locally. You have to enter your location, and you will get a long list of keywords in your hands.
Moz has a perfect keyword research tool as well, and they have good results; however, these results are not up to the level of Semrush as Semrush has the most extensive database for keywords. The unique feature about Moz when it comes to keywords is that it has a 'keyword priority score'.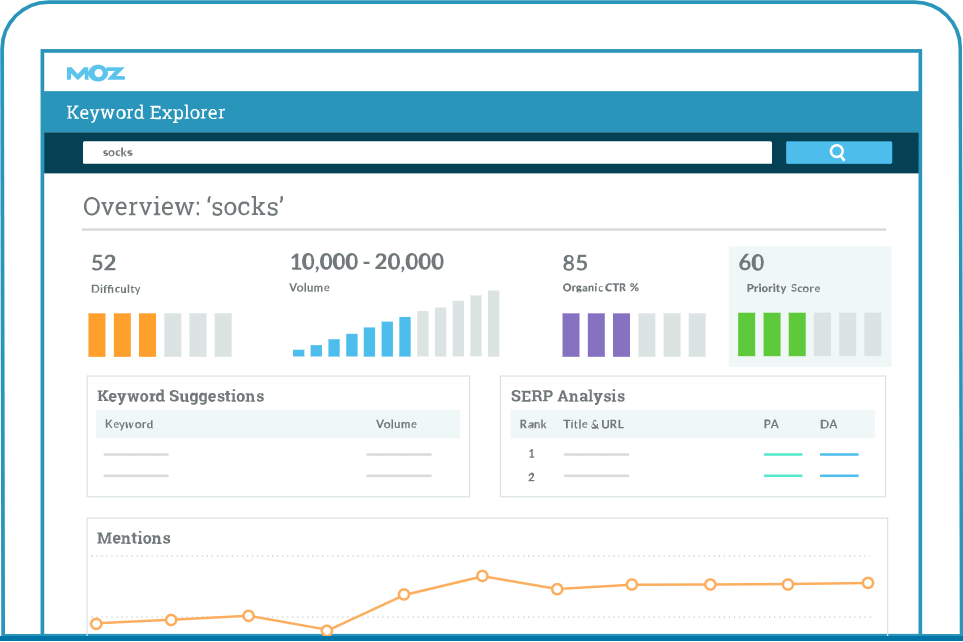 The keyword priority score follows a different algorithm compared to that of Semrush, and it considers factors like the traffic that is being attracted by the keyword, the organic keywords related to it, and its ranking difficulty. As the name suggests, it informs you as to how much you must prioritize the particular keyword.
When it comes to keyword research and hunting, the winner is Semrush mainly because of its extensive keyword database and daily updates. However, Moz has a unique Keyword priority score which is an outstanding tool.
Semrush vs Moz: The Best Backlink Tool
After keywords, backlinks are a vital aspect when it comes to SEO. Backlinks generate a lot of traffic to a website, and they are essential for your website's growth. Link building is critical, it's an excellent base for any website. About 41% of large corporations focus on link-building. Not only does it generate traffic but also lets you keep an eye on your competitor's backlinks, you can have an idea of what backlinks they are using and analyze them.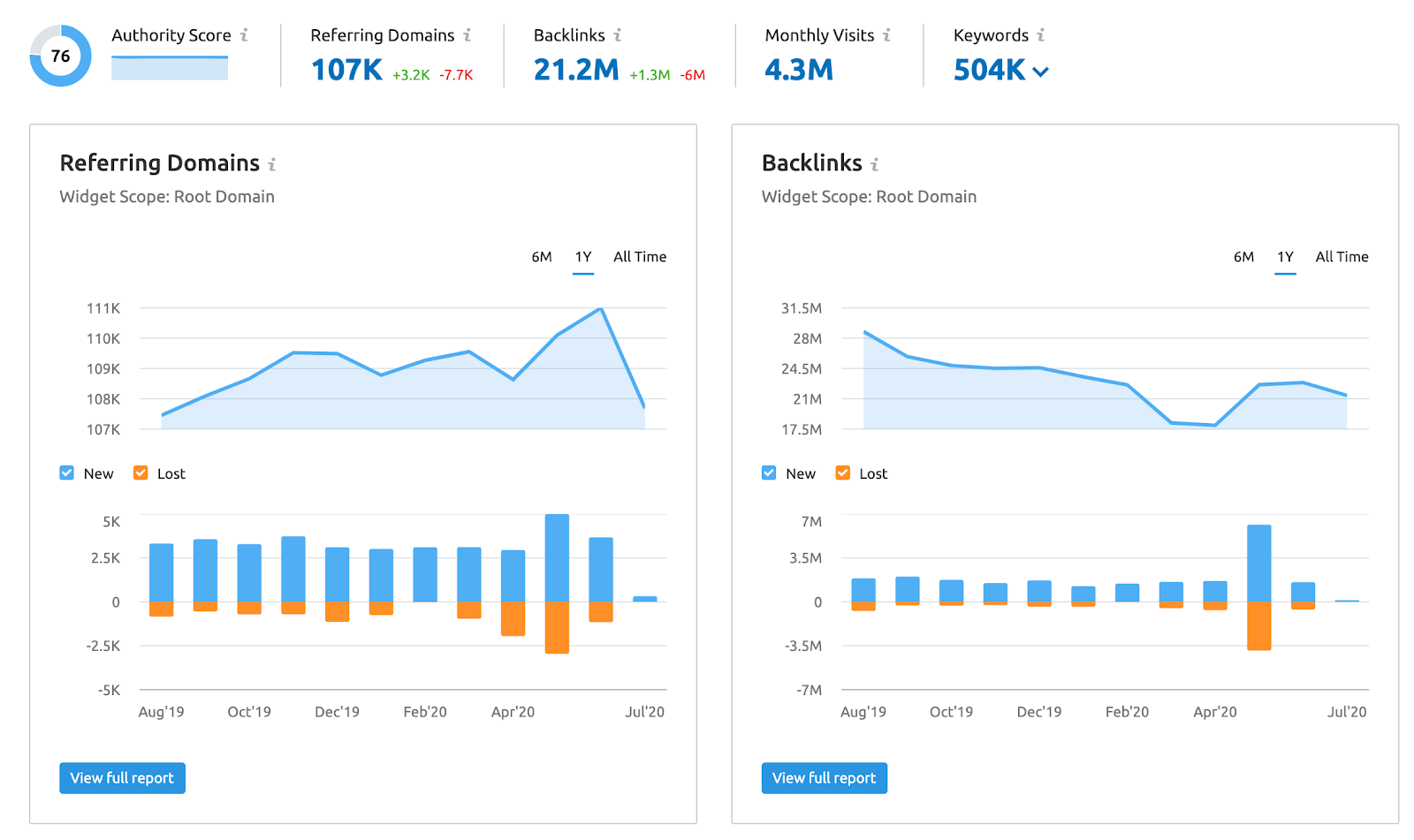 After testing backlinks on both tools, we noticed that Semrush has an enormous link index. The track links and provides them with ease. Initially, during its launch, Semrush had complaints concerning its backlink tool. However, it has made considerable investments in this tool to evolve and upgrade it.
Semrush gives quick results of competitor backlinks, and they provide metrics like backlink types, link attributes, and much more.  When it comes to Moz, they follow a similar approach to backlinks, just like Semrush. You have to enter the domain name, and you will get a list of backlinks for you. Moz has a great tool named 'Link Intersect'. This tool lets you compare your domain with your competitors and gives you great results.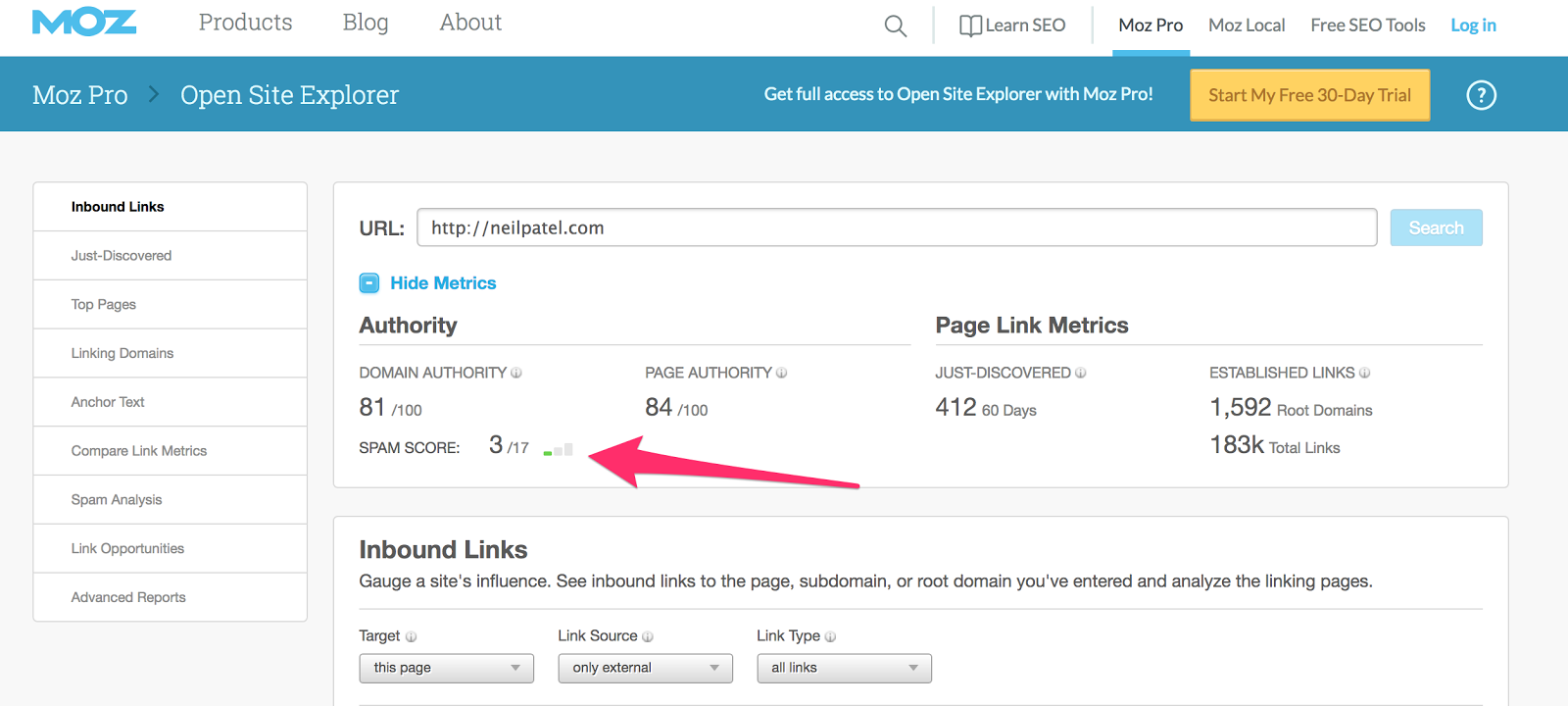 When it comes to Backlinks, the winner is again Semrush as they provide more significant results compared to Moz. However, Moz lets you compare links to 5 sites at once whereas Semrush limits this feature to only four at once.
Semrush vs Moz: The More Accurate SEO Auditor
SEO audit is an essential aspect of SEO. After you know the right keywords and backlinks for your site, you must ensure that you run an audit of your website to find out if it is healthy enough for you. Site audit lets you find out the existing errors on your sites and enables you to rectify them by giving solutions. Other than that, an SEO audit lets you know where your content will rank on search engine results.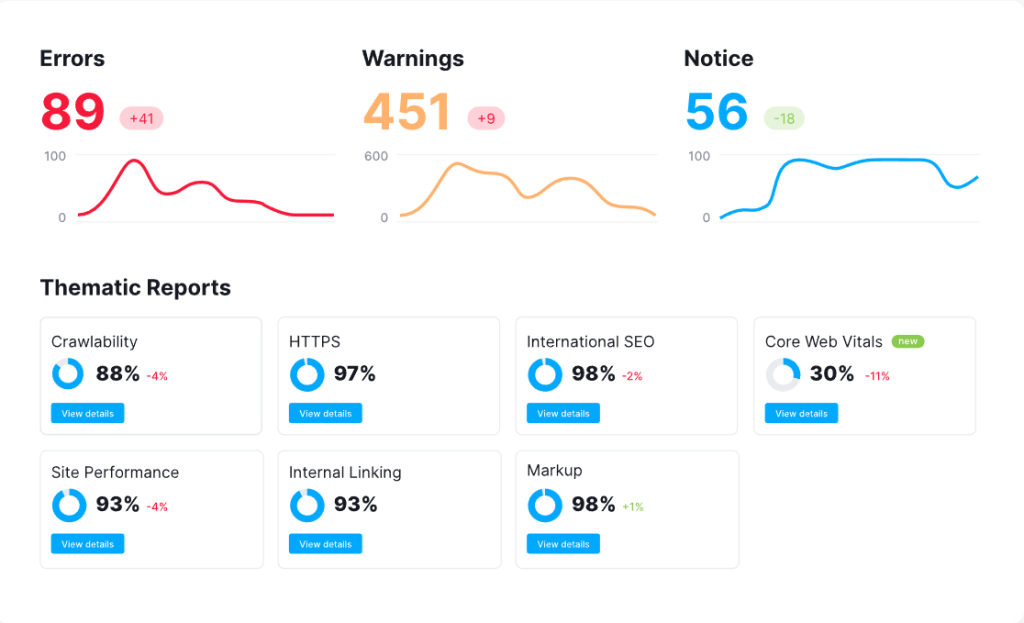 An SEO audit also suggests the best methods for you to adapt to recent changes in the SEO industry. We have checked the content on both tools to see who has better recommendations. As per our observations, we noticed that the Semrush site audit tool is very advanced. It is one of the most used tools in Semrush. They have tracked the site entirely and given quick solutions to improve the health of the website.
Semrush site audit tool conducts nearly 130 tests on your website to give you a health score, and this health score is based on the tests they have performed on your site compared to the total errors found. This is an excellent tool for knowing the health of your website.
Moz usually focuses on four primary tasks when it comes to site auditing. It focuses on finding duplicate content, checks for crawl errors sees if you have overused keywords as well as tests for missing headings. Both the tools are considered useful, however, I would say Semrush beats Moz when it comes to site audit as they have a substantially easier site audit tool. Moz has complicated the process as you will have to click a few more buttons than Semrush.
Semrush vs Moz: Who has a better backlink auditor?
You know that backlinks and site auditing features and two significant aspects of an SEO tool; however, it is vital to audit your backlinks as well. On a particular website, there are possibilities of various toxic backlinks existing. This is where you will need a backlink auditor that will help you get rid of all the poisonous backlinks and make sure you have only healthy backlinks on your site.
When it comes to the backlink auditor, both Semrush and Moz have excellent tools for backlink audits. They both let you sort the toxic links and then report them directly to Google. However, the Semrush backlink audit tool has the edge over Moz's backlink audit tool as it let you open every toxic link and gives you a choice. You can either disallow that link or report it to Google.
One con both these tools have concerning backlink audits is that you can only run limited backlinks at a time for an audit. The winner of this battle is Semrush as it has the edge over Moz in this as well.
Semrush vs Moz: The Pricing Battle
Pricing is a crucial aspect of SEO; the price factor profoundly influences a majority of users' buying decisions. Being in a heavily competitive market, pricing is essential.
You will notice that there isn't a massive difference in the price of these two tools compared to others in the market, it is mainly because Semrush considers itself a luxurious tool and has been priced accordingly. Though Semrush has extraordinary features, the pricing is quite substantial. The same goes with Moz as they are also fully loaded.
Note: Check out our Semrush Free Trial here.
The Semrush plans have been sorted into three. The first one is the pro plan. It has limited features and usage. Then comes the guru plan for growing marketing agencies that need additional SEO features for usage. Then comes the greatest of all, the business plan for your total business SEO needs.
The pro plan is priced at $99.95 per month. It is for individuals like freelancers who want a complete SEO tool. Then comes the guru plan; it is quite heavily priced at $ 191.62. The ultimate plan is the business plan priced at $374.95, and this is one of the most premium plans in the market, offering unlimited features.
These are, however, the monthly plans, Semrush has a great deal for users willing to pay annually. You can avail of savings of up to 16% with their annual plan. The annual plans are, however, much more affordable compared to the monthly plan. You pay $ 83.38 per month for the pro plan and $ 166.62 per month for the guru plan. The business plan is ultimately priced at $ 333.28, which is an excellent bargain for businesses and agencies.
Moz, however, is more expensive than Semrush. The pricing has been sorted into four categories. A standard plan that begins at $ 99 per month, is an excellent tool for beginners who want to get started with SEO. They then have a medium plan starting at $149 per month, this plan offers a free trial, it has certain limits, but you do get unlimited access to some tools.
They have a large plan which is ideal for businesses and agencies and is priced at $ 249 per month. The premium plan is priced at $ 599. It is one of the most expensive plans on the market. These are the monthly plans; there are annual plans which are at a lesser price for you.
These plans are at 20% for the users; the standard plan starts at $ 79 per month. The medium plan starts at $119, $199 is the cost for the large plan, and the ultimate premium plan is $ 479. Semrush has won the pricing battle; they not only have cheaper plans but what they offer is much more valuable than the features provided by Moz.
The only advantage Moz has is its Medium plan which is a direct competitor to the guru plan of Semrush. This Medium plan is for startup marketing agencies and growing freelancers. It is much more feasible compared to the Semrush Guru plan.
Semrush vs Moz: Who Offers The Better Free Trial?
Free trials are an essential part of SEO tools; a lot of SEO tools in the market offer free trials to their users. The main reason to provide a trial to users is for them to be able to get adjusted to the tool and make a wise buying decision. It becomes challenging to choose the right tool for you in a competitive environment until you get your hands on a tool; it's tough to pick a winner.
Our recommendations to you are that you test the free trials of both these tools for your better understanding. For Semrush's free trial, you can quickly go to their website and get started. You can purchase any plan of your liking, use it for free for seven days and therefore cancel it. This will give you a total money back. This helps users to understand and get adjusted to the tool better.
For Moz, you can click here. This link will take you to the official website of Moz, where you can enter your details and create an account and use it for free for 30 days. After that, you will be charged as per the medium plan at $ 149 per month.
When it comes to a free trial, Moz has the edge over Semrush. They offer a great 30-day free trial. However, Semrush gives a money-back guarantee and not exactly a free trial for its users.
Semrush vs Moz: User Interface
The user interface is essential for an SEO tool. You can have a tool that is fully loaded with the most advanced features, but if the process is complex, it will stress the users. A tool must prioritize the ease of usage for its users. They must ensure that they make tasks possible with minimal clicks. A lot of SEO tools focus on user interface and ease of usage, this factor is considered by many before the purchase of an SEO tool.
When it comes to Semrush, they have quite a sophisticated user interface. This is their biggest CON; they are too complicated for beginners; you cannot understand what to do. If you are a pro, you will find it entirely adjustable as you know your job and you have industry and tool experience. A lot of users have complained about this negative of Semrush.
Moz is another excellent tool to use, however, when it comes to the user interface, Semrush is much more comfortable to use. Moz has way longer procedures for tasks, unlike Semrush, which is a mixture of various tools. Moz is more time-consuming, and you will have to spend some more time working on it. The winner of this User interface battle is Semrush as it has an excellent user interface for its users.
Semrush vs Moz: Support
Customer support is an essential factor considered for SEO. In the technical world, there is room for errors. Your site may crash as well as you may have some queries with your tool. This is where support comes into play. A lot of the tools have Live chat support, and they help users instantly. That's not the case with both of our tools here. Both the tools we are comparing have failed to meet our expectations.
However, the clear winner concerning support is Semrush. They offer three channels of support, that is phone, chat, and email whereas Moz only provides support through one channel, which is email.
Semrush vs Moz: Key Difference
Here in this section, we have given the key difference between both Semrush and Moz. Let's have a look.
On choosing Semrush basic plan you can track 500 keywords and add 5 projects whereas on Moz basic plan you can track 300 keywords and add 3 projects.
Semrush is used for marketing, SEO, and advertising purpose but Moz is only used for SEO.
Semrush adds updates and features regularly, but Moz does it rarely.
Semrush offers full access to more than 50 tools at one price but Moz offers only 6 to 7 tools.
You May Also Like:
Semrush vs Moz: The Ultimate Winner In 2023
We hope we have been able to give you the best comparison of Semrush vs Moz, we have offered an in-depth analysis of both tools for your better and more detailed understanding of both tools. Both the tools are profoundly competent and have a lot of similar features, with market experience, they have grown well and adapted themselves to the SEO changes quite well. Semrush has proven itself to be an elite tool with brilliantly outstanding features that can compete with any given SEO tool in the market.
Moz has features that have been massively upgraded and promote smooth usage of the tool. We know it's hard to choose one winner for you also, but we have decided to make it easy for you by declaring our winner.
The clear winner of this battle is Semrush simply because of its extraordinary features and cheaper pricing. The biggest negative of Moz is its hefty pricing; a lot of users have given negative feedback concerning the tool not being worth the penny invested in it.
If you are looking for specific features in a tool and do not want a complete tool, you can feel free to go check out which tool has the edge over the OTHER with regard to the specific feature you expect.
We hope our analysis has helped you with decision-making; if you have any further queries, you may feel free to type it down in our comment box below. We are open to your honest feedback and valuable suggestions, as well.
Frequently Asked Questions:
What is the use of Semrush?
Semrush is an SEO tool used to audit your blog, do keyword research,  looks for backlinks opportunity, and also helps to track keyword used by our competitor.
What payment method does Semrush accept?
Semrush accepts all major types of credit cards like American Express, Mastercard, Discover, and Visa. It also accepts checks, money orders, and wire transfers upon request.
Does Semrush offer a money-back guarantee?
Semrush offers a 7-day money-back guarantee on any of its subscriptions. Semrush will refund the payment within 7 days of signing up.
What is Moz used for?
Moz is a tool that helps you to explore backlinks of any site, keyword explorer, and all aspects of the SEO campaign.
How long is Moz free trial?
Moz offers a 30-day free trial with full access, they won't charge a single penny for 30 days you can cancel it any time.
Why is Moz so expensive?
Moz has outstanding features, and their pricing is high because of the extended limits they offer you with their tools
Do they both offer discounts?
Semrush offers a 17% off discount on all its yearly plans whereas Moz offers a 20% discount if you choose annual plans.