Are you still confused between Kartra and ClickFunnels? Here we have given a detailed comparison between Kartra vs ClickFunnels.
Marketing is a huge responsibility for users who invest in online products for other sales. Kartra and Clickfunnels are two popular services that offer these in one bundle. Users can dramatically increase their numbers. They're both great platforms for working on your sales.
Today we will make a head-on comparison of these online services. Let's check which one is the best for your business. The platforms cost money to users for their services. Thus, it is essential to know which one is the right choice. There are multiple online businesses, and each one comes with its needs.
Kartra vs Clickfunnels – In-Depth Comparison (2023)
Here we have given an in-depth comparison between Kartra vs. Clickfunnels. So let's dive in.
Kartra vs Clickfunnels: Overview
Here we have given an overview of both the platform Kartra and Clickfunnels.
Kartra Overview:
Kartra is one of the best all-in-one digital marketing and sales funnel builders that offers email marketing, web hosting, list building, and many more.
Kartra is a fully integrated platform that means every software work together to ensure that your business will run efficiently.
Mike Filsaime founded Kartra in 2018. It offers everything you need to create an online business, from cart checkout features and email marketing to webinars. It helps you create landing pages, campaigns, membership sites, and lead capture forms.
ClickFunnels Overview:
ClickFunnels is the best platform that helps you create sales funnels that enable entrepreneurs to grow their business by attracting targets into follow-up customers.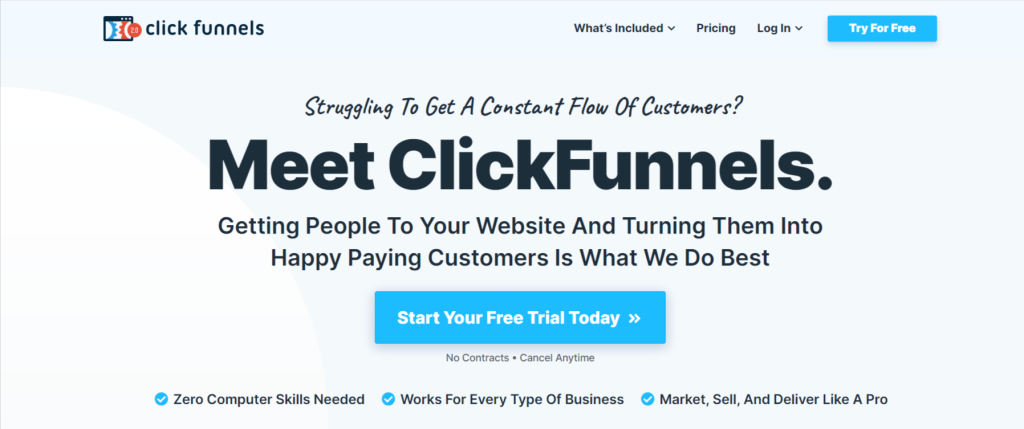 With ClickFunnels, you can create beautiful pages and pre-designed funnels to walk your traffic through the sale process and convert them into visitors and then into paying customers. One of the best parts of ClickFunnels is that they focus on making money for their users.
Features of Kartra:
The Kartra online business tool is perfect for store owners. If you are someone who is aiming to develop a web store, then they are the best option. They help you create, market and drive sales for products instantly. Here are some of the amazing features of their services.
1. Checkouts
Collecting payments is an essential part of any online store. Kartra gives you an online portal to get all of your money. It becomes very simple to sell a product through a website. The platform supports Credit Cards and Paypal. You can easily withdraw this amount from your bank account.
2. Page builder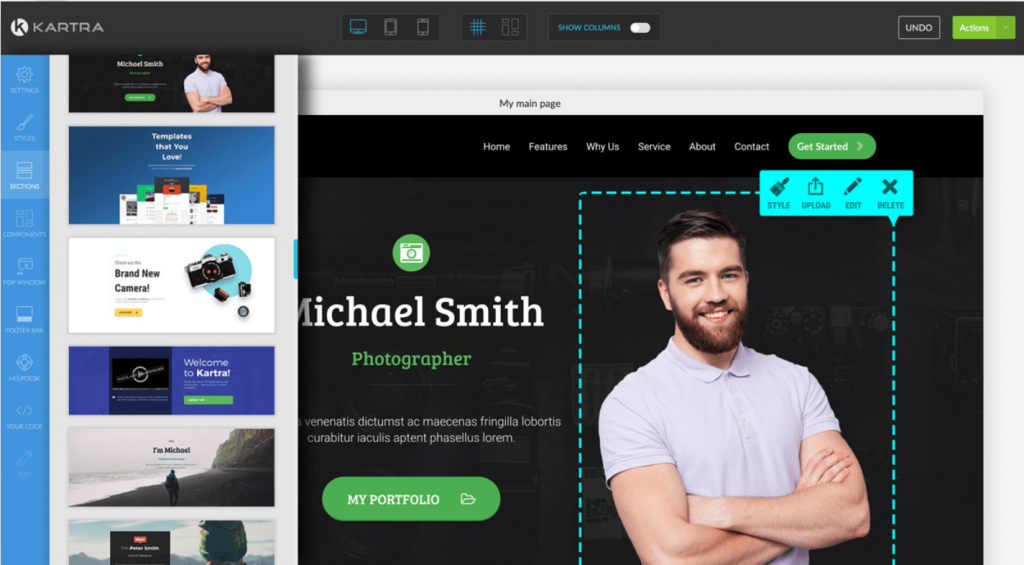 The Kartra tool is also capable of building responsive and authentic web pages. You can start building your online site from scratch with their portal. Users also get to work with mobile carriers. There are many professional templates available on the site.
3. Leads and funnels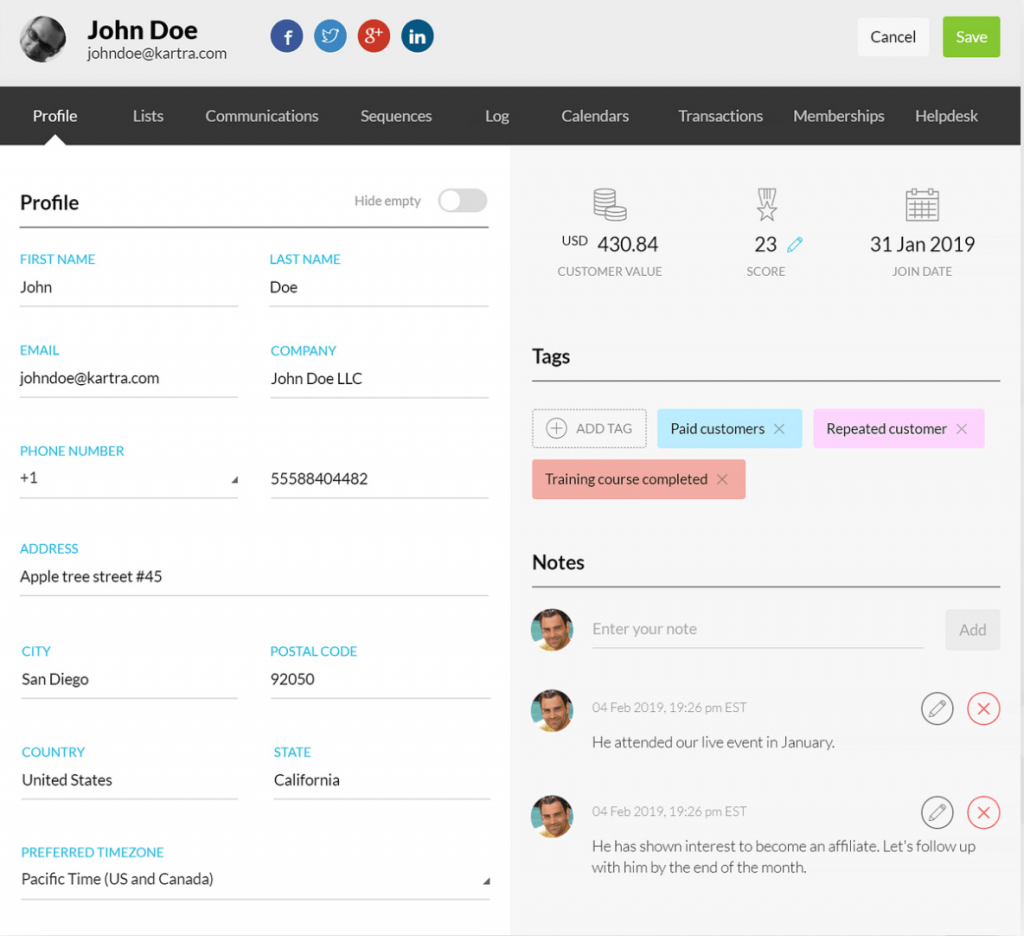 They offer users a lead generation service. With the help of the funnel feature, you can turn the visitors into leads. The funnel helps you design different projects to boost sales. It is an effective online marketing tactic that gives you long-term buyers.
4. Email
Email remains one of the biggest modes of online communication over official channels. Many people use the platform for messaging needs. As an online business, you can use mailers to your advantage. Digital marketing for sharing information with customers is very helpful in many cases.
5. Affiliates
Many online businesses run on an affiliate system. It helps you to increase sales and get more people to purchase products. It is a form of effective marketing for future results. Kartra helps you build pipelines of affiliates. You can also pay out commissions or offer exclusive discounts to the people. 
Overall, Kartra is an amazing tool that covers all factors of online marketing. The majority of business owners find their service appealing.
Features of Clickfunnels:
Clickfunnels is a great site that works on niche marketing services. After doing thorough research, we came across the following findings. These will completely change the way you work with online stores. Now, you can get increasing and sustainable growth every day.
1. Funnel Creation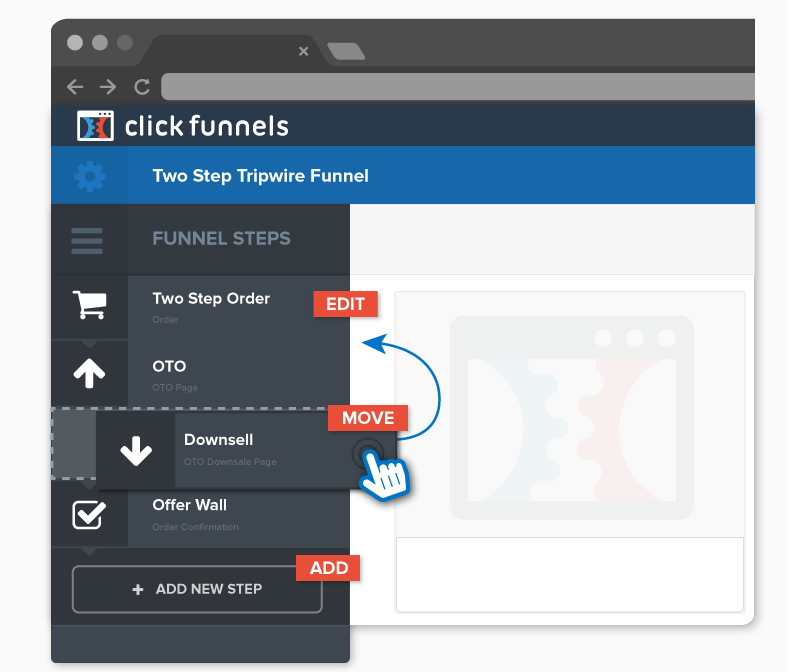 Clickfunnels help users to work on generating excitement and engagement. It is an effective tool that allows you to create funnels. These are useful in generating leads, increasing sales, or running events like webinars. Different types of funnels are available on the platform, depending on your needs. For instance, you can find Launch funnels, applications funnels, webinar funnels, and much more.
2. Increase Revenue
The site provides you with tools to increase the cart value of consumers. The upsell feature makes appealing final checkout pages. Here, the customer gets more options to add to their cart. It can entice people to make quick, impulsive purchases. Overall it works quite well for you as the seller. These additional products give you extra value. The customer will also avoid doing the checkout process once again.
3. Checkout pages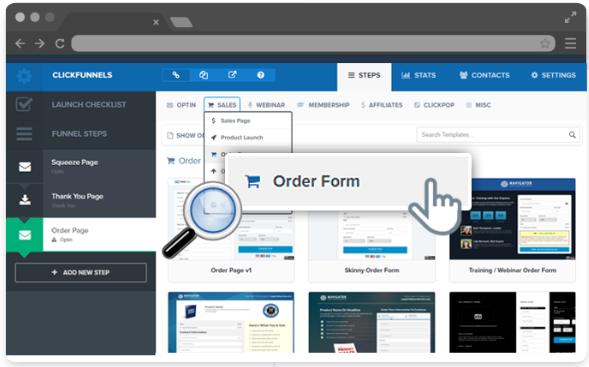 The seller needs to have a checkout page or order form. It helps the customers to make payments and give their necessary personal information. In any sales, it is crucial to have a billing address. Through Clickfunnel, you can create an easy-to-use checkout page. The order form will cover all necessary data fields for the customer details. The seller can process the orders once the payment confirmation is available.
4. Affiliates
The affiliate system is effective when it comes to increasing sales. In a funnel system, it is beneficial for getting more leads. Clickfunnels makes perfect use of this to help you get results. The affiliate area enables you to keep track of everyone who enrolls in your program.
5. Automation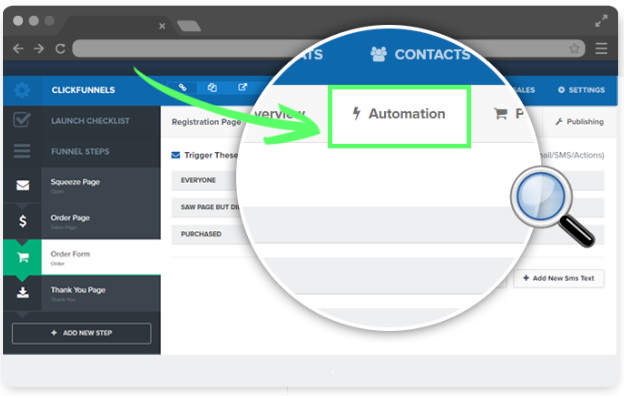 Clickfunnel takes autopilot to the next level with this feature. The automation tool enables you to send emails to customers, generate leads, and accept feedback all by itself. Users don't need to interact with the services at all to see results. You can access a pool of templates to curate messages.
Clickfunnels is quite featured rich and has a plethora of opportunities. We recommend trying this out for your business if you start from scratch. It is suitable for users who have an original product.
Kartra vs. ClickFunnels: Third-Party Integration
Here we have given an overview of the Integration between Kartra & ClickFunnels.
Kartra:
Kartra offers native integration with several third-party apps, including an email marketing tool, payment gateway, calender app, membership platform, and many more. You can code your integration using IPN, API, and a custom app system.
ClickFunnels:
ClickFunnels integrates with other autoresponders such as MailChimp, ActiveCampign, Aweber, Infusionsoft, and many others. You dont need to use Zapier since ClickFunnels offers native integrations with many other business tools.
Kartra vs ClickFunnels: Calendars
Here we have given an in-depth overview of calendars between Kartra and ClickFunnels. Let's get inside it.
Kartra:
Kartra Calendars function consistently integrates with other robust features on the platform and synchronizes with Google Calendars. With Kartra Calendar, you can easily schedule your live events and appointment. It is suitable for coaches, consultants, or anyone who wants to set an appointment without checking dates. This function also helps your customers to schedule the appointment by themself.
ClickFunnels:
ClickFunnels doesn't have built-in calendar functionality as of now, but you can easily integrate third-party calendars like Google Calendar into your marketing funnel.
Kartra vs Clickfunnels: Pricing Plan
The services are both available for a reasonable price point. We compare the different features here in this article, and you can know which suits your business the most.
Clickfunnels Pricing Plan:

They are running three plans for their customers. The services are available for $127/mo for the Basic plan, $297/mo for the Pro plan, and Funnel Hacker for $208/mo Users can invest in the one who brings them more results and value. 
Kartra Pricing Plan: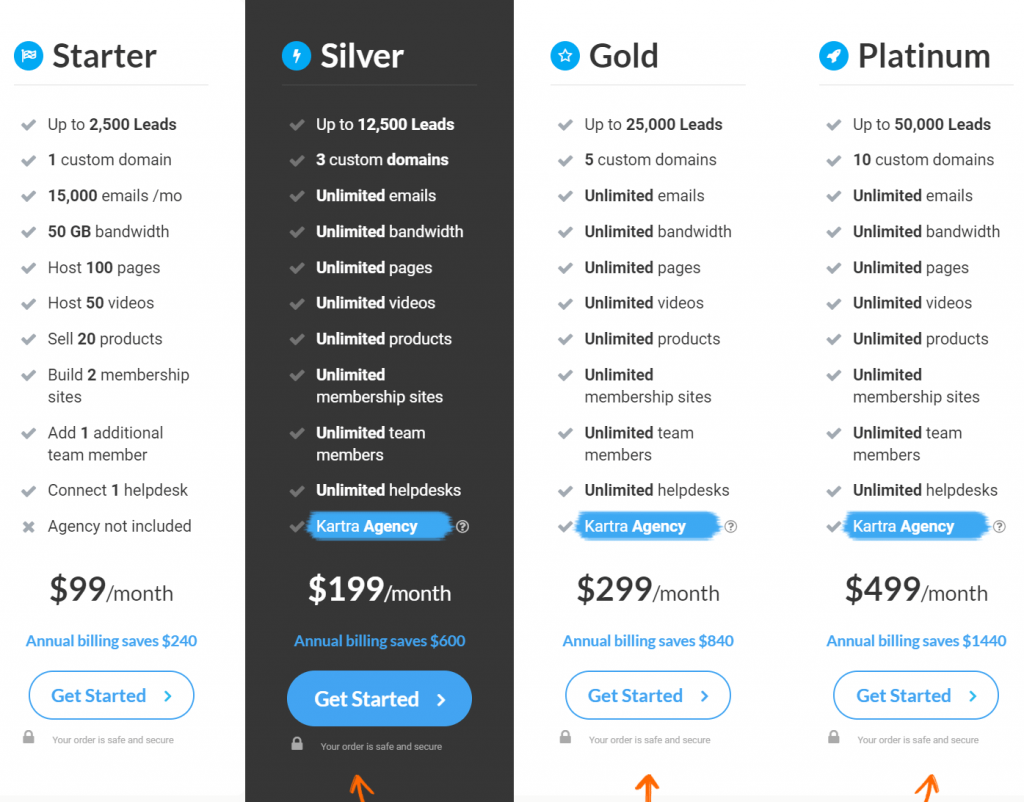 The platform, on the other hand, brings different price points. Users have four different subscription options with Kartra. Their basic plans start at $99 per month. The all-inclusive unlimited plans are available for $499 per month. Users can also purchase annual subscriptions for long-term investments. It will save you over 25% of the cost.
Both platforms have some sort of free trial system available for users. Clickfunnels gives you a 14-day free trial, and Kartra lets you try their services for $1.
Kartra vs ClickFunnels: Pros & Cons
Here in this section, we have given the pros and cons of Kartra & ClickFunnels. Let's have a look.
Kartra Pros:
Best membership platform
Kartra Marketplace
API and Integration
Ability to broadcast with several categories
Easy-to-use page builder
Unlimited Customization
Affiliate Marketplace
Kartra helpdesk
Kartra Cons:
A little bit expensive for beginners.
Doesn't have the essential depth for sales-oriented service.
ClickFunnels Pros:
Follow up funnels
Simple drag & drop features
Generate leads that convert leads
Impressive funnel builder
Offers powerful automation
Great user interface
Highly effective funnel setup
ClickFunnels Cons:
Pricing plans are a little bit expensive
Need to improve Email Marketing
Kartra vs Clickfunnels – Which one is Better?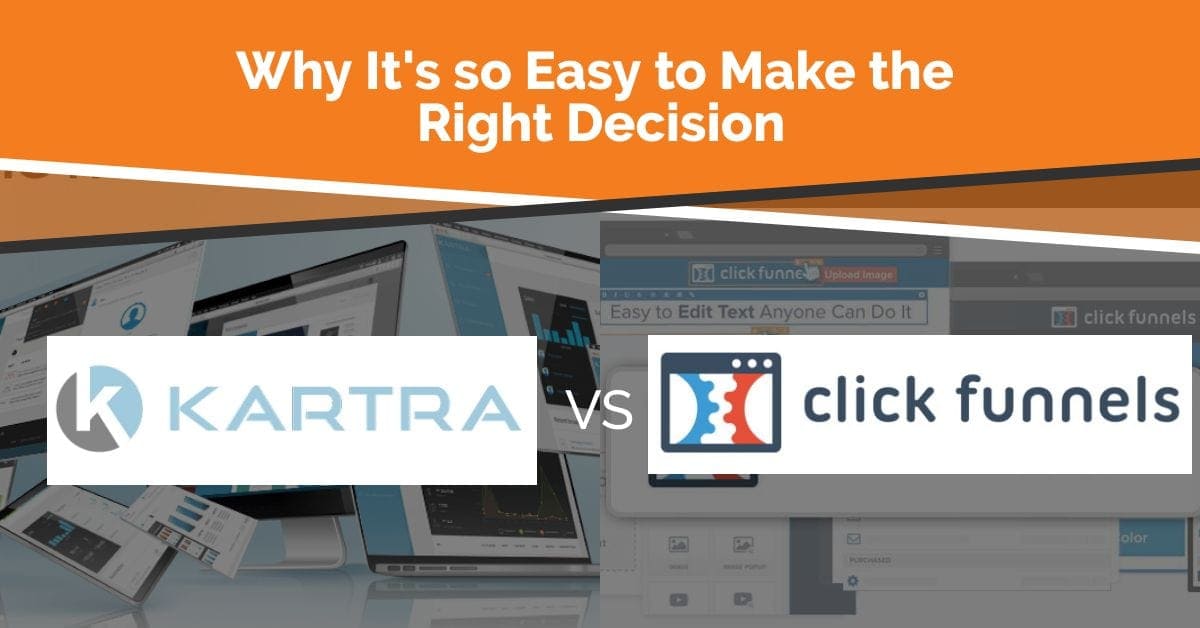 Kartra and Clickfunnels are very different tools in the same marketing services category. Kartra helps users with almost every aspect of selling and increasing sales. Users utilize the platform for campaigns and post-sales services. Clickfunnels, on the other hand, is a tool that focuses on generating online leads. A "leads funnel" can help grow your online or offline business. It is an effective means of affordable online marketing. It can be quite difficult to give you a simple answer to the question. These are unique options in the current market.
You May Also Like:
Conclusion: Kartra vs Clickfunnels (2023)
Kartra and Clickfunnels are both great services for online businesses. Users can experience a great boost in sales and results with these platforms. It is an investment that you must make to see growth. In this guide, we try to answer the question of which one to choose. We hope you have clarity about the process now.
Frequently Asked Questions:
What is Kartra?
Kartra is one of the best sales funnel builders, marketing automation, and page builder platform for online business owners to sell their services and products.
Does Kartra offer a money-back guarantee?
Kartra offers a 30-day money-back guarantee if you are not satisfied with its services, you can get a full refund within 30 days of your subscription. Use the help desk or simply massage support@kartra.com for a refund to get more information.
How can one make money on Kartra?
You can make money online by Kartra:
1. Selling courses
2. Dropshipping
3. Kartra affiliate program
4. 3rd party affiliate program
5. Sell Kartra campaign, funnel, and templates
6. Drop service
What is a click funnel used for?
ClickFunnel is used to create regular websites, membership sites, landing pages, squeeze pages, and webinars. It makes it easy for everyone to create sales funnels.
Does Clickfunnel offer any free trial?
Clickfunnels offers 14 days free trial to its new users so that users can be familiarized with its feature before they get paid subscriptions.
How long is the Clickfunnel contract?
Clickfunnel doesn't offer any contract or commitment, but you can use click funnel month to month and can cancel your subscription at any time.
Do I need to pay for a Clickfunnel update?
No, you don't need to pay for an update because Clickfunnel is on a cloud when we make any update or add new features, it automatically shows on your account.