Kajabi and Teachable are the big names when it comes to the creation of expert businesses online. When you have ebooks, courses, or videos, you can sell them as digital products using both platforms. Both two platforms are now different in their objectives for the sets of audiences. You may face a dilemma while choosing between them.
In this article, you will come to know about the several aspects that differentiate them. We will also assist you in determining which will work better for you.
Kajabi Vs Teachable- Detailed Comparison In 2023
Here we have given side by side comparison between Kajabi vs Teachable. Let's dive into it.
Kajabi Overview:
Kajabi is more than just an online learning platform, you can create your online program and deliver it to your students without any hassle. With Kajabi, you can create a new website from scratch, add blog pages, and marketing funnels, and automate email marketing. You will not need any other plugin to create or run your online course business.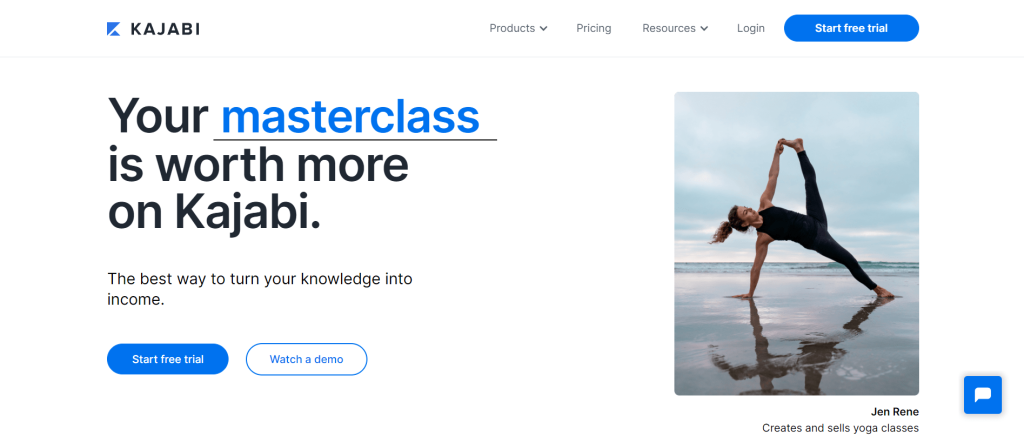 Unlike Udemy, Kajabi gives you full control over pricing, policies, and even the data of your students. You can create an amazing blog for your brand with Kajabi. All these features make Kajabi one of a kind.
Teachable Overview:
Teachable is one of the best Learning Management System providers. It was previously known as Fedora and it was founded by Ankur Nagpal. Since the creation of this platform, the features of Teachable have been increasing tremendously. Now anyone can create their course and sell it on this platform. You will get all the tools here to create a course easily.
Teachable also lets you create membership websites. More than 25k teachers have created over 36k courses for students from all over the world. You can create courses in video format or PDF format however you like. Teachable also helps you in creating websites of your taste.
Kajabi vs. Teachable – Features
Here we have compared Kajabi vs Teachable features. Let's dive into it.
1. Comments
On Teachable, you can now see the comments by the students in the lectures. On Kajabi, you will get the free plan one-time payment, recurring payments, and multiple payments.
2. Pricing
On Teachable, you will get the free plan, one-time purchase, subscription plan, and payment plan. On the other hand, on Kajabi, you will get a free plan, multiple payments, one-time payments, and recurring payments. 
3. Coupons
On Teachable, you will get single-code coupons. There are options for setting the coupon name, expiry date, as well as quantities. You will get the option for choosing single or bulk coupon codes. On Kajabi, you can get the options for setting the coupon code, expiry date, and the ability to set the usage limit.
4. Cart Abandonment
On Teachable, there is no option for cart abandonment. On the other hand, Kajabi will get the option of setting up how to send emails to people who are abandoning the carts.
Kajabi Vs Teachable: The Broader Perceptions
1. Course Structure, Delivery & Engagement
The online course platform's core objective is to go ahead with the creation of the online course and then deliver it to the students while engaging them. There are certainly important aspects of Teachable versus Kajabi that has to offer when it comes to course creation and student engagement.
Both Kajabi and Teachable now allow the addition of video, audio, text, PDF, and quizzes, to name a few.  There are also offers for unlimited video hosting on the plans.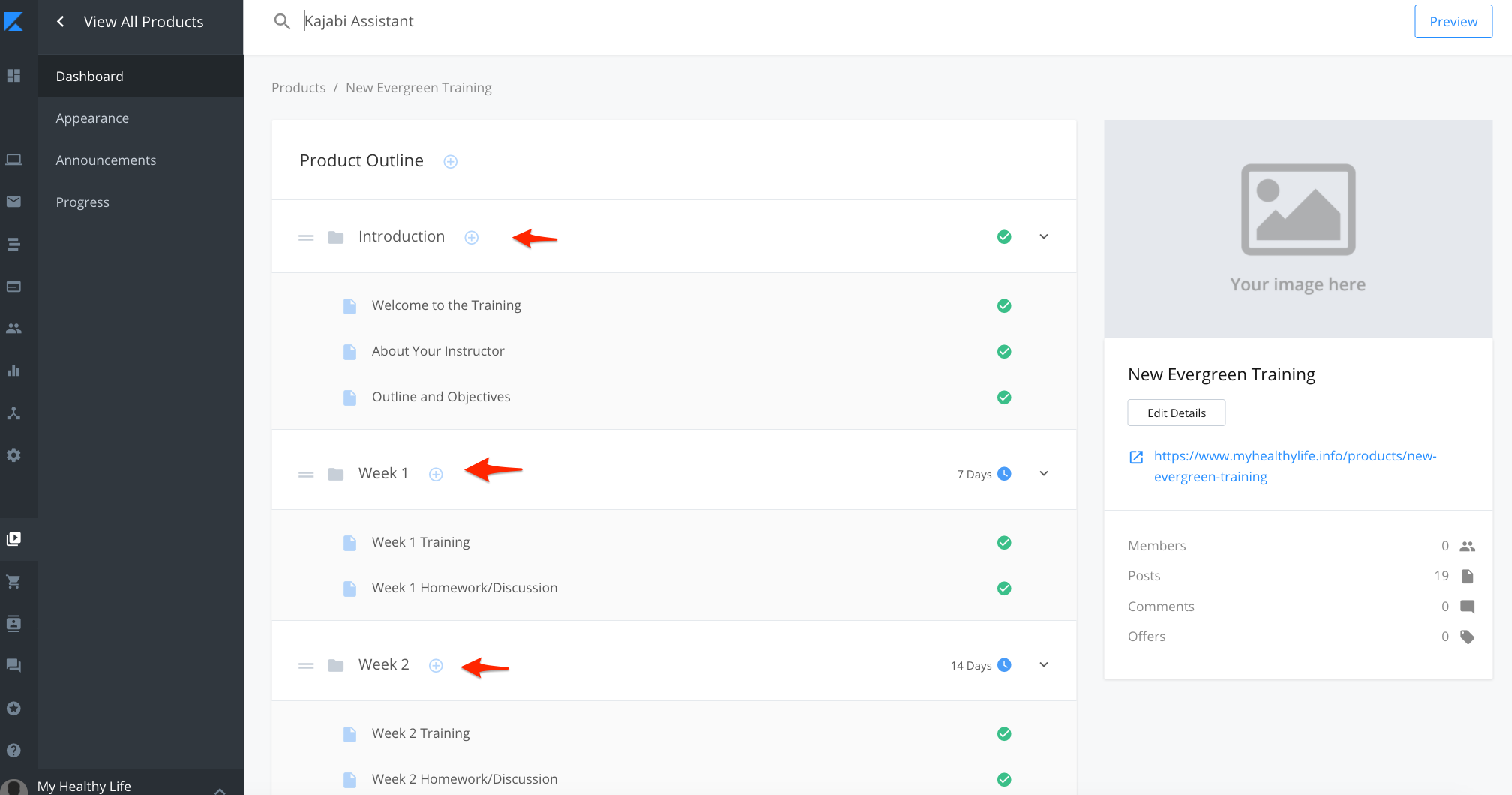 Unlike Kajabi, you can adhere only to two levels of the course. Again, you can go ahead with the addition of the content to the lessons one by one. There are also options for going ahead with the bulk upload to the course content. The course builder of Teachable is better when compared to Kajabi.
2. Sales And Marketing Tools
Sales and marketing work is an important component of the online course platform. It also works in the form of a significant amount of commonality between the two. Kajabi and Teachable platforms will allow the creation of coupons, bundling of the courses, and charging a one-time fee. It will also give the creation of the checkout pages.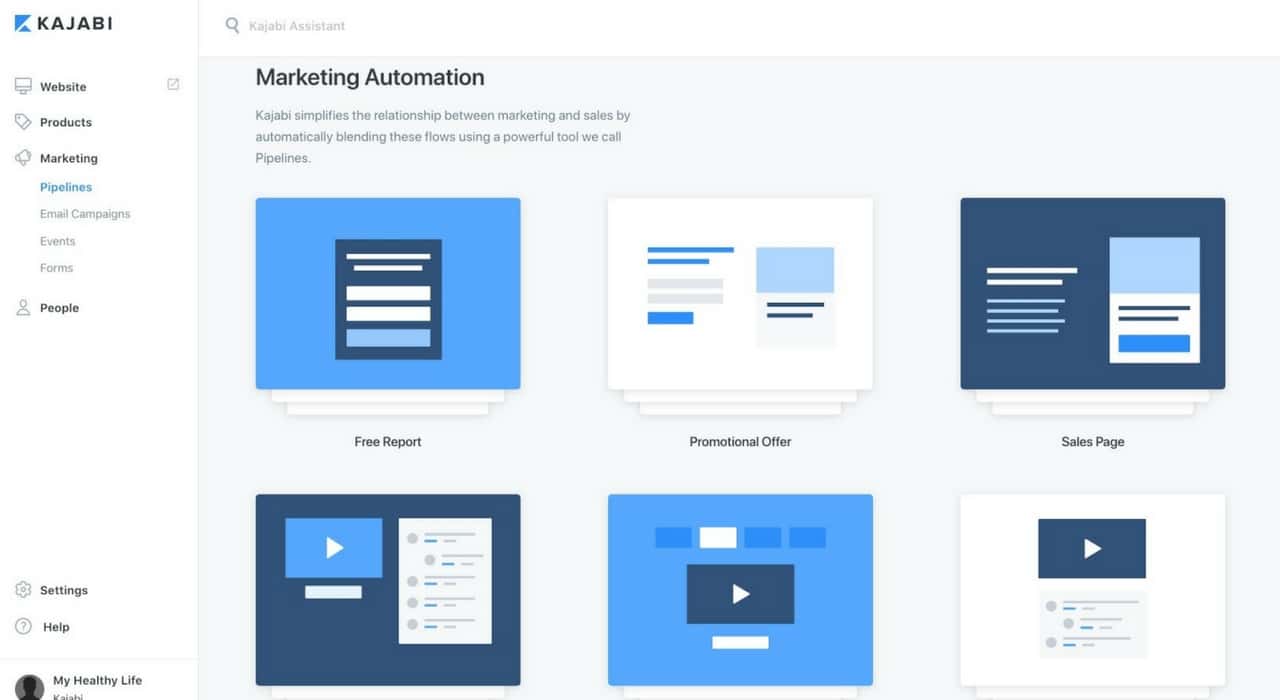 Despite everything in common, if the sales and marketing capabilities are considered, it's good to remember that Teachable only focuses on offering the processing's essential features.
On the other hand, Kajabi aims to provide you with the tools needed in the market for selling the courses. Everything you will get here is within a single platform.
3. Product Themes
On Teachable, you will get the concept of the course building reduced to a singular theme. It will give you the options for changing the typography, colors, logo, and background. So, you will get the customized look of the online courses for matching the specific objectives. However, there is a downside in the manner that not all the products will look uniform when you take the services from Teachable.
On the other hand, when it comes to Kajabi products, you will see that it is suitable for any digital product. It will present a library of beautiful and highly customizable themes that can be applied to different products. Even within each carefully crafted theme, you will have the flexibility to customize each one with the easy-to-use theme editor and a powerful code editor.
4. Customer Support
Teachable will give the live chat option from Monday to Friday. The time is between 10 a.m. to 5 p.m. EST. It offers 24/7 live chat support. This support makes it a better one when compared to Kajabi. When it comes to training, you can rest assured that both
platforms will invest significantly in customer training.

They also do weekly webinars and other life events from time to time for training the customers. The Facebook groups on both Kajabi and Teachable are good enough. You can find like-minded creators who will give you the answers to the questions and assist in the feedback system.
5. Pricing
With Kajabi, you will get three plans, and on all of them, there are unlimited hosting and bandwidth. You'll also get the video storage and 0% transaction fees. The lowest plan, also referred to as the basic plan is available at $ 149 per month. Then there is the growth plan that comes with the $199 per month. The highest tier is the pro plan available at $ 399 per month. Besides, you will get a 14-day trial.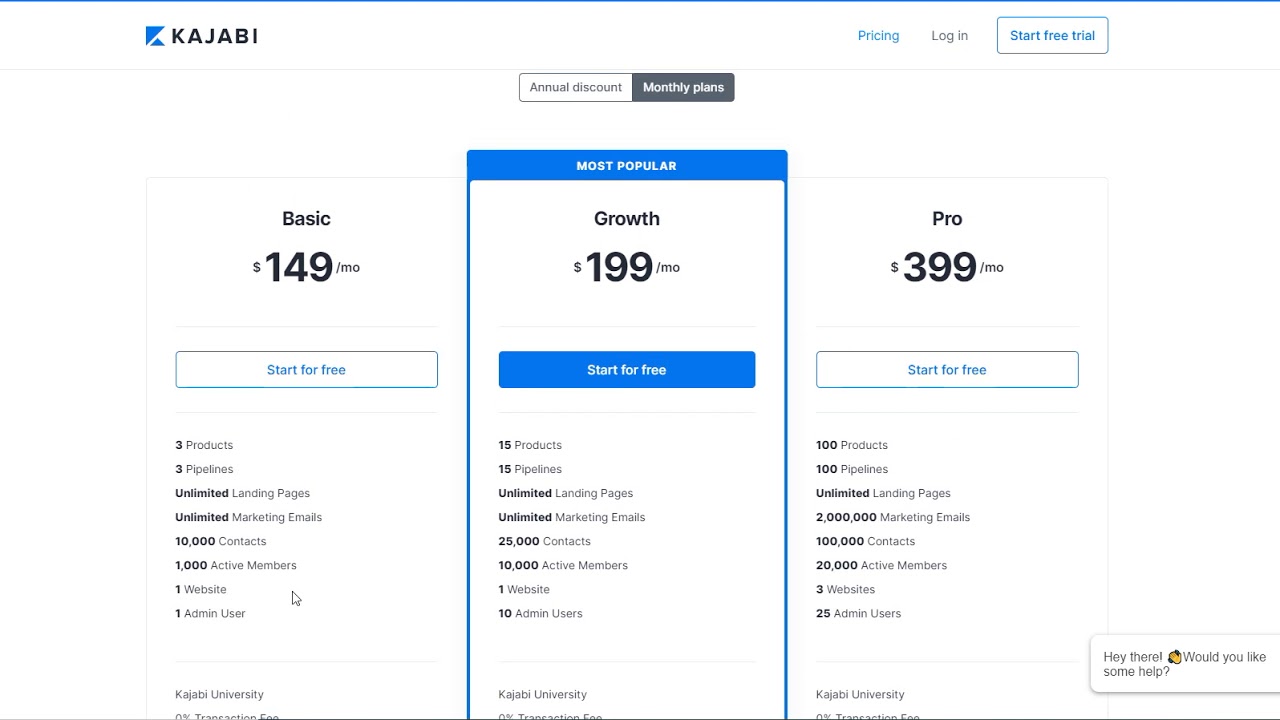 The pricing model of Teachable is different from Kajabi in the form that you will get unlimited hosting and video storage. Besides, there is also an unlimited number of students and courses available on the pricing plan. The lowest tier is where you have to pay $ 1 + 10% of the transaction fees. The next plan is the basic plan which comes with $ 39 per month and a payment of 5% transaction fees. The popular plan professional is available at $ 119 per month, along with 0% transaction fees.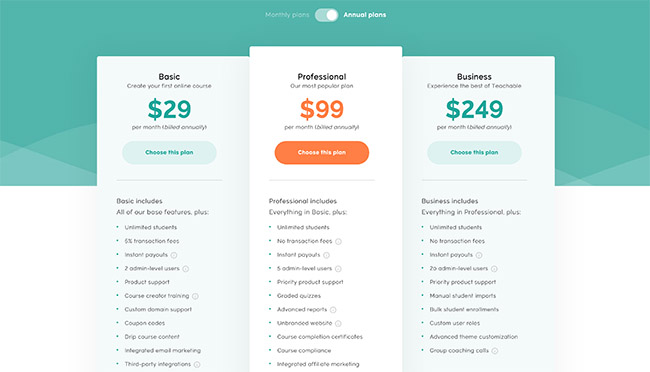 6. Analytics and reporting:
Both Kajabi and Teachable are expressive reporting tools.
Kajabi offers you the right student progress and performance related to the course which is tracked on Kajabi.
You can track different areas on the dashboard to check or track your progress. With Kajabi you have to check every video because stats are available on individual videos.
Kajabi helps to report on student progress and see the area where your product can improve.
Teachable reports provide in-depth details about quiz scores, course completion, and video engagement.
Teachable can track all your video performances on one page. You can access all the reports in one place on the course dashboard.
7. Integration:
Teachable offers integration with several third-party email service providers and google analytics services.
Zapier

MailChimp

Sumo

Facebook Pixel

Segment

Convertkit
When it comes to Kajabi, it has the same integration as Teachable. Kajabi integrates with other third parties to work with other platforms.
Drip

ConverKit

Aweber

ActiveCampaign

Mailchimp
Kajabi vs Teachable: Website Builder
Kajabi and Teachable both offer drag & drop website builders for your course. But there are a lot of differences between them. Let's have a look. 
Kajabi Website Builder:
With the help of Kajabi, you can build stunning and beautiful websites which stable, secure, and safe without hiring any expert web developer or designer. Kajabi templates provide multiple layout presets so that can customize it. 
You need to just choose a layout preset that you like and add it to your brand. With the Kajabi drag & Drop editor, you can easily make changes and move where you want. There is no online course creator platform that lets you build a professional and beautiful website from scratch. 
Teachable Website Builder:
On the Teachable website is a basic display window page that showcases your online courses. You can add definite blocks like text, images, pricing, and banner. There are no actual templates on the Teachable website builder to choose from. It also doesn't have much affability in customization or design. 
If you choose the Teachable business plan, you will get a power editor, which will help you in advance customization with CSS, HTML, and custom code.
Kajabi Vs Teachable – Which is Better?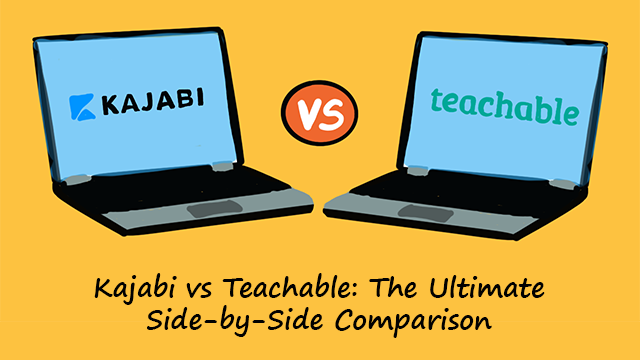 Prospects of Kajabi over Teachable:
You will get high-end well-designed themes and a lot of customization options.

It comes with powerful engagement tools like assessment, community, and assignments, as well as automation.

There is the ability to build fully-fledged websites as well as blogs. 

It comes with iOS as well as Android applications.

There are flexible pricing and payment options along with recurring subscriptions.

The inbuilt sales pipeline builder, along with the marketing tools are good enough.

You will get 24/7 live chat support.
Prospects of Teachable over Kajabi:
It will give you a set of options for the creation of the certificates natively. 

You will get better course reporting along with analytic tools.

There is an iOS application that will get options for handling your digital goods.

There are supports for Google Pay and Apple Pay on the native gateways. 

You will get beginner-friendly and flexible pricing.
Kajabi will be a good option for you in case you want to have everything in one place. It will give you the ability to create and deliver online courses, build a fully-fledged website, create the marketing funnel, run a blog, and automate email marketing. It will also assist you when you want to build the membership site or go ahead with selling a subscription. In case you find that budget, it isn't a constraint for you, you can pick Kajabi.
Again, you can choose Teachable, if you already have a website and the list-building system is organized in place. If you wish to build an online course marketplace, Teachable is the best place for you to get started with an online business on a tight budget. It will be suitable to pick Teachable for beginners.
Kajabi vs Teachable: Pros & Cons 
In this part, we have listed the pros & cons of both Kajabi and Teachable. Let's get inside it.
Kajabi Pros:
Offers visual page editor
The fully fledge funnel builder
Complete solution for course creation, marketing, and management.
Best automation features
Built-in website builder
Kajabi Cons:
Pricing is a little expensive
There are no course completion certificate
Teachable Pros:
Unlimited course creation
Offers course completion certificate
PCI level 1 compliant
Option to add a course compliance
It has better analytics and reporting than Kajabi
Teachable Cons:
Improvement in customer support
There is no option for a funnel builder
Related Read:
Conclusion: Kajabi vs Teachable [2023]
We have listed all the features and prospects of both platforms. Teachable and Kajabi work as tools where you'll get everything under one roof. You can save not only money but also energy in terms of creating valuable content for serving customers and scaling online businesses.
We hope the article has helped you in recognizing the two platforms. With your perception, you should pick the All-in-One solution that will be suitable for your needs.
Frequently Asked Questions
What are the transaction charges on Teachable?
According to Teachable payment plans, you have to pay a transaction fee of 2.9%+$0.30 and for international payments, an extra 1%. If you use Paypal as a payment method then you have to pay an extra 1.5%. 
Is there a free plan on Teachable and Kajabi?
Yes, these platforms have free plans but the features are very limited on these platforms. So if you want to experience everything then you have to buy a plan on Teachable or Kajabi.
Which one is better: Kajabi Or Teachable?
If you are looking for an all-in-one tool then Kajabi is the better choice. But if you are focused on course creation and membership sites then you should go with Teachable.
Can I get the automation feature with Teachable and Kajabi?
Yes, Kajabi and Teachable both offer automation tools. 
Is there a limitation to hosting courses on Teachable and Kajabi?
There is no limitation to hosting courses or enrolling students on Teachable but Kajabi has a limitation for both.