Don't know What Ahrefs is used for? If yes, then you have landed on the right post to get all your answers.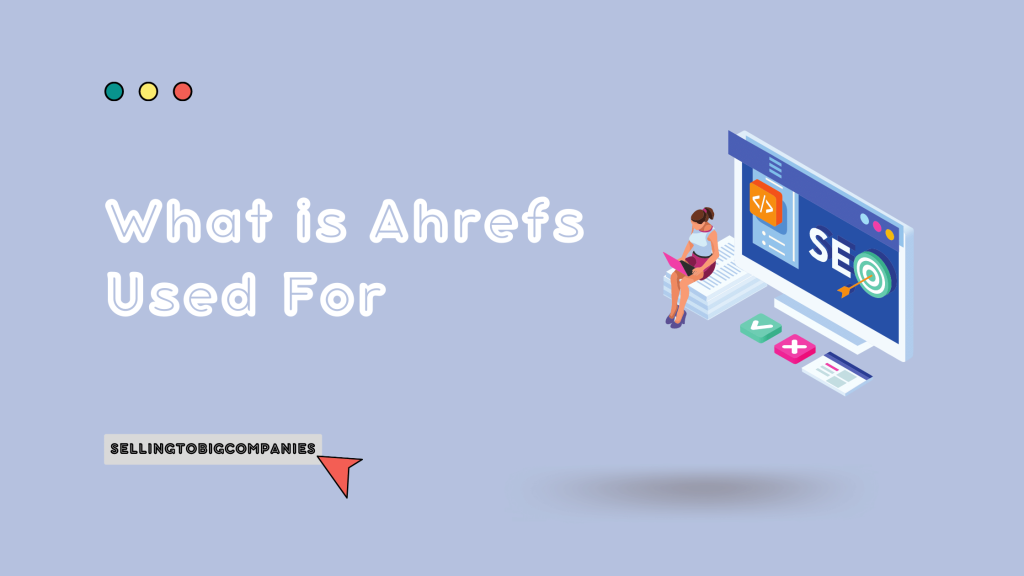 Ahrefs is the best tool to get everything you need under one roof to rank higher and get more traffic.
Here in this post, we have given a guide to know everything about what Ahrefs is used for. So without any hassle, let's dive into it.
What is Ahrefs?
Ahrefs is the best SEO tool that people use to get a higher Google ranking; that contains tools for competitor analysis, keyword ranking, site audit, and link building.
Ahrefs is the best SEO tool. Most of the features inside Ahrefs are designed for marketing professionals where you can do competitor analysis, rank tracking suite audit, and many more.

It also helped you to do competitor research and determine the high-ranking PPC keywords. If you want to get detailed insights into Ahrefs, then check our detailed Ahrefs review here.
What are Ahrefs used for?
Suppose you have a lack of experience in using Ahrefs and don't know how to use it. Here we have listed some points about how to use Ahrefs. Let's have a look.
1. Know which page brings more Traffic to your competitors
With the help of these features, First of all, you need to identify how much Traffic a competitor is getting, And after that, you have to Study the pages That are getting the majority of the Traffic.
With Ahrefs Site Explorer, You can see the number of your competitor's pages sorted by the number of search traffic they get. You can also get a full look at backlink profiles and organic search traffic for any website.
Ahrefs has a feature called Site explorer that offers you three most powerful SEO tools under one roof:
Research Organic Traffic: Now, you can easily see your competitors are ranking for which keywords and which page brings the most search engine traffic.
Paid Traffic Research: You can quickly get to know that your competitors are doing paid search advertising.
Backlinks Checker: Now, you can have an eye on websites linked to your competitors and measure the quality of their backlinks profile.
With the help of Ahrefs, you can spy on your competitors and make a better decision to plan your strategy.
2. Keyword Explorer
Now you can discover thousands of keyword ideas, calculate their traffic potential, and analyze ranking difficulties. With the help of Ahrefs, you can estimate the keyword difficulties, but how do you know which keyword is hard to rank and which simply rank.
So in Ahrefs, you will find a feature called Keyword difficulty score that will show your keyword score on a parameter from 0 – to 100, which means it shows you from the easiest keyword to the most challenging keyword.
Ahrefs uses a straightforward method of calculating the keyword difficulties; they take out your desired keyword's top 10 ranking pages and look at how many websites link to each of them. The more the link to the top-ranking pages of your keyword has, the higher its keyword score has.
3. Find the gap in the Content Strategy
Finding a gap in the content strategy means that your competitors are ranking for the critical keywords and getting valuable Traffic for that particular keyword. At the same time, your website doesn't have any page with that targeted keywords.
So if you want to solve this problem, Ahrefs has a feature called Content Gap in a Site Explorer, which helps you find the keywords for all your competitor's rankings, but you haven't worked on these keywords.
We suggest you try this feature, and you will definitely find some topics that you want to target on your website.
4. Study What People are Searching on Google:
The best way to grow your Traffic is to study the popular topics people are searching for on Google your industry. In terms of SEO, we call it Keyword research.
To fix this problem, Ahrefs offers you a Keyword Explorer that will help you gauge the popularity of any search queries and helps to discover thousand of relevant keywords that you want to target.
A high search volume doesn't mean that people are searching for that particular keyword. With Ahrefs click metric, you will get an estimated number of clicks for your keywords. Only SEO metric is the tool that will show you the click per search, percent of paid clicks, return rate, and percent of clicks.
5. Find the SEO issue that hurts your Performance on Google
With Ahrefs SEO audit, you can get detail of standard SEO and helps you to solve these issues. You can also monitor your SEO health and set up recurring website audits.
Site audit helps you to group issues automatically and provides a report chart. It checks related issues like HTML tags, performance, content quality, outgoing links, Social tags, incoming links, and many more.
A site audit provides an overall health score for SEO and flags all possible
SEO issues and provide solutions to fix them.
6. Get Numbers of Quality Link Possibilities:
Let's assume that you are doing SEO for messaging apps, but it shouldn't be very useful for anyone to get a list of all sites that mention "messaging app" in the content. This is done because you can reach out to them and get links from the site.
That is what the content explorer helps you to do. You need to search for the "massaging app" and you will get a full list of pages that mentioned this word in the content. But you don't need too many, so you can use filters in the content explore to shortlist them with the best pages only.
Domain Rating – 50 to 90
Website Traffic – 1.5k
Language – English
Exclude Homepage
Exclude Subdomain
One Page Per Domain
7. Evaluate Ranking Difficulty Of The Keywords: 
Some keywords are very easy to rank but some keywords are very difficult to rank even for a big website. In the Ahrefs Keyword Explorer, they have a metric known as Keyword Difficulty. They score each keyword on a scale from 0 to 100 according to their keyword difficulty and hardest to rank.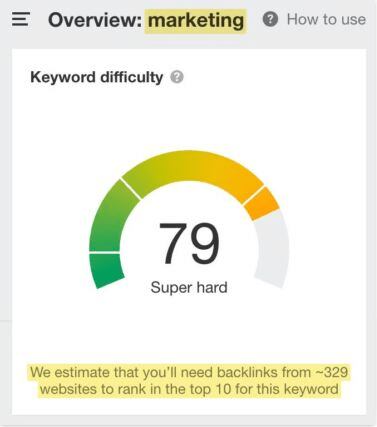 As you see in the above image keyword marketing has a KD score of 79 which means it is super hard. 
Related Read:
Conclusion: What Is Ahrefs Used For (2023)
I hope that this article clears all your doubts regarding Ahrefs and what it is used for that helps you rank your website and fix all your issues related to SEO.
Still, if you have any queries regarding this article, you can comment on your thought in the comment box.