Still figuring out whether to go with ZenBusiness or not? If that's the question spinning in your head, we have done an in-depth ZenBusiness Review.
ZenBusiness is a reliable yet new LLC formation service available in the market. However, it's not that popular, not LegalZoom; it's affordable, flexible, and has positive reviews.
The question is — should you go with it or not?
That's why we're here. By the end of the post, you will get to know whether to go with ZenBusiness it not.
Well, before starting with this ZenBusiness review, we took various parameters such as:
Value for Money
LLC Formation Time & Ease of Use
Is ZenBusiness a reliable company?
The Customer Support it offers.
Is ZenBusiness worth your money?
So let's dive in.
ZenBusiness Review: In a Nutshell
ZenBusiness stands apart when it comes to reliable and affordable LLC service. This venture was founded back in 2015, and it's based in Texas. Over time, ZenBusiness has formed thousands of flourishing businesses and has satisfied reviews of clients. 
To be honest, there are other LLC services, such as LegalZoom and IncFile; however, none of them provides value-for-money services compared to ZenBusiness.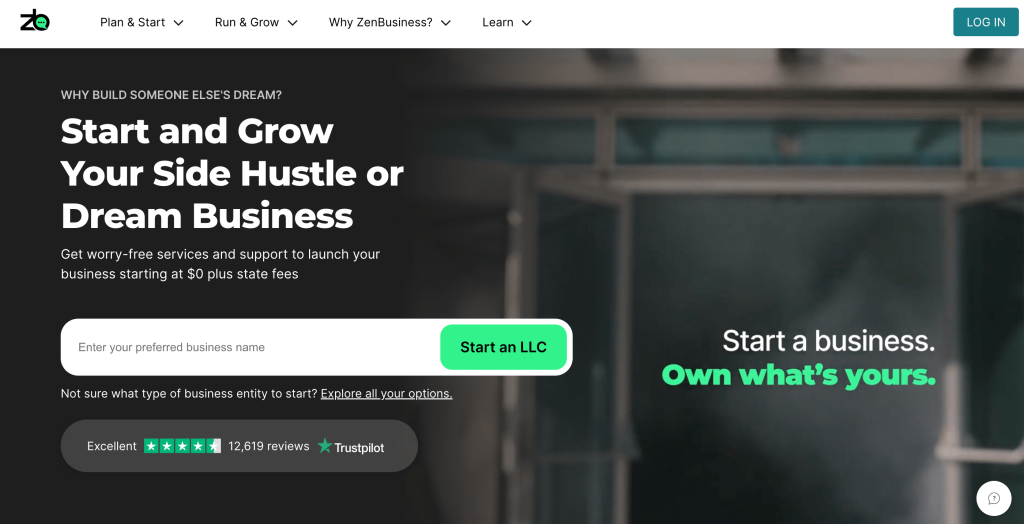 As per my experience, ZenBusiness is an excellent service for small to medium-sized businesses from an LLC. The best part, ZenBusiness has a flexible pricing option available where the service package starts at $39, along with the state fees. The service package also includes all the essentials, such as — registered agent services, operating agreements, organization filing articles, etc. 
In these detailed ZenBusiness reviews, you get to know all the nitty-gritty details about ZenBusiness.
Getting Started With ZenBusiness (Ease of Use)
Well, to be honest, ZenBusines makes it super easy to get started.
Most people who basically use services like ZenBusiness don't have that much experience forming business entities. Sometimes, the formation process might be confusing, or sometimes many of you don't want to deal with complex processes.
This is where ZenBusiness comes in handy. My experience with ZenBusiness is good, and using their business entities is pretty straightforward.
Using a formation service like ZenBusiness, you know it well to save time simply by hiring professionals to help you at every crucial part. Many of the business formation services still require a lot of work and paper process, making the process a little bit complicated. Luckily that's not the case with ZenBUsiness.
My experience with ZenBusines literally takes like a few minutes to fill the ZenBusiness formation services forms. Also, the instructions are really too easy to follow and incorporate.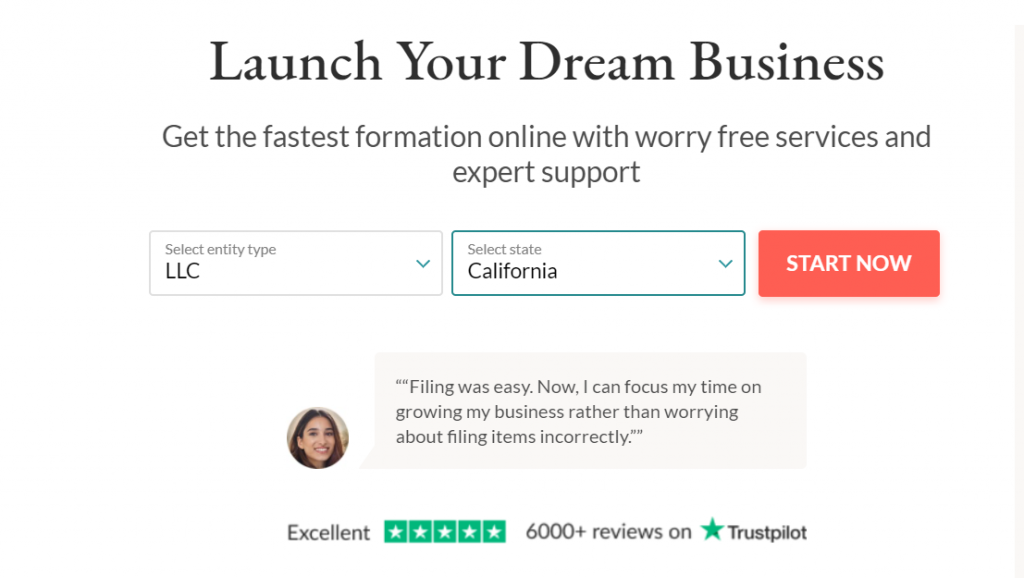 In order to get started with ZenBusiness, all you need to do is choose the package, enter some essential information, and ZenBusiness will take of the rest of the protocol.
Verdict: Getting started with ZenBusiness is literally easy, and there is no complex process involved. All you need to do is, choose a plan, provide few details, and that's it — ZenBusiness will handle the rest.
ZenBusiness LLC Formation Package Explained
ZenBusiness comes with three flexible and affordable pricing packages to choose from.
The best part is that the basic Filing service and support are included in all the formation plans they offer.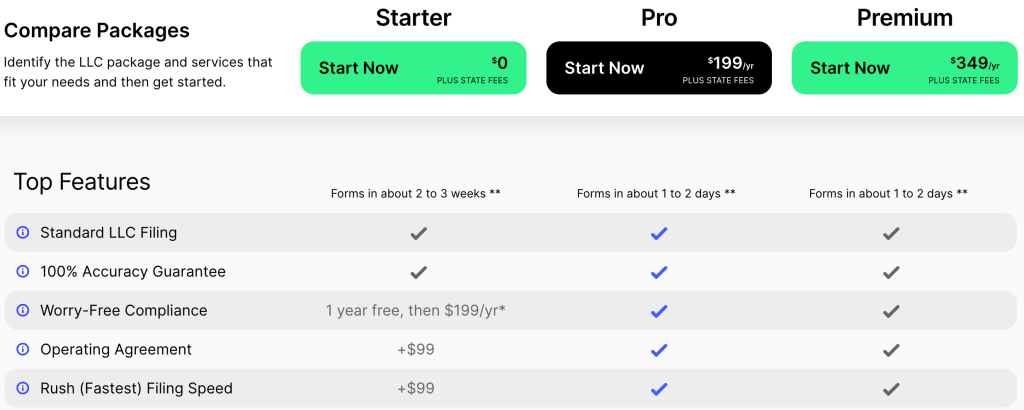 There are three plans that ZenBusiness offers:
Let's have a detailed breakdown of each pricing structure that ZenBusiness offers.
Stater Package ($0 + State Fees)
The starter package starts with all the basics of incorporation, and then it also adds registered agent services to create well-rounded offerings. Some of the key takeaways and top features of this plan —
Prepare and File LLC
Standard Filing Speed
Annual Report Service
Operating Agreement Templates
100% Accuracy Guarantee
As you know, every corporation needs to add a registered agent in order to remain compliant with the state government. Also, the agent will receive important document delivery right on behalf of your business.
Who Should Go For ZenBusiness Starter Package?
Right with the ZenBusines starter package, they will basically serve with the registered agent. And that will remove one hassle for your startup to-do list.
What's more, they will also provide corporate by-laws or basically the operating agreements template. This will help you describe the ownership structure right for your company. It also provides a risk-free accounting assessment.
The first package will cost like $39; for the next year, it will go like $119 price point for each preceding year.
The Pro Package ($199 + State Fees)
Right, when you set up with the pro package, ZenBusiness offers a plethora of features listed below:
Prepare and file LLC
Expedite filling speed
Annual report service
Operating agreement template
100% accuracy guarantee
Worry free compliance
Banking resolution template
Employer ID Number (EIN)
The pro plans best part comes with — a banking resolution template and helps you acquire the federal tax ID number (EIN) right from IRS.
If you don't know what EIN is — EIN is basically a social security number right for the business entity, and it also allows you to hire employees. What's more, you can also open business bank accounts, pay taxes, and so on.
The best part about it also provides a risk-free guarantee — basically the managed annual report and the compliance management service.
Who Should Get The ZenBusiness Pro Plan?
This ZenBusiness Pro package is best suited to new business owners who basically want all the necessary LLC services to get the business running. The ZenBusiness Pro package gives new business owners cores products at reasonable prices.
ZenBusines Premium ($349 + State Fees)
The ZenBusiness premium plan covers all the essential and advanced formation services. The ZenBusiness top-tier package available from ZenBusiness adds tons of perks. Some of the key highlights of this plan is —
Prepare and File LLC
Rush Filing Speed
Annual Report Service
Operating Agreement Template
100% Accuracy Guarantee
Worry-free compliance
Banking Resolution template
Employer ID Number EIN
Business email address
Business — domain, website, domain name privacy
Who Should Get ZenBusiness Premium Plan?
Here is the ZenBusiness Prmeium LLC formation package, which is built to provide a hassle-free experience. This plan handles many details that is needed to run a business. This way, you don't have to focus on formation services and helps you grow over time.
Which is the best ZenBusiness pricing structure available?
ZenBusiness Customer Support Reviewed
ZenBusiness offers reliable and responsive customer support. They are available around the clock; you can contact them via email and phone call. You can contact them in the schedule listed below:

Monday to Friday (8 AM-8 PM Central Time)
Sunday (10 Am-7 PM Central Time)
As per the encounter, the phone support is pretty quick, and there is no waiting lines. Also, the ZenBusiness customer support team replies within one business day of receiving queries.
My Verdict on ZenBusiness Support: Overall, ZenBusiness offers fast and reliable customer support. And you know the importance of customer support when you're trying for a business formation company. With ZenBusiness, you get top-notch customer support.
Is ZenBusiness worths the HYPE? Should You Start With It?
Yes, ZenBusiness is worth every single penny you pay. With ZenBusines, you can easily start, run and grow your business without any hassle.
ZenBusiness helps you through every stage of your filing process to help you start your business and avoid costly mistakes. Once you get started with ZenBusines and your business is up running, ZenBusiness will also help you to manage and grow your business over time. Also, they maintain good standing with the state.
All this is possible with the ZenBusiness easy-to-use dashboard where all your documents are stored. So it's kind of like everything in one place so that you don't have to switch back and forth for documents and paper filings.
What Makes ZenBusiness stands apart?
Some of the key takeaways of ZenBusiness:

Fast Filing: They use edge-cut technology and automation to get your formation done quickly and as early as possible.
Quite Affordable: ZenBusiness files and returns your completed business documents at such an affordable cost. The best part, there is no hidden fees associated with ZenBusiness.
Expert Service: ZenBusiness has a team of experts ready to help you around the clock.
Simple Setup And Ease Of Use: The interface and process of ZenBusiness are straightforward. You can quickly start, run and grow your business with ZenBusiness.
No, with our in-depth ZenBusiness LLC service review, you have a clear idea about ZenBusiness and how it operates.
Pros & Cons Of ZenBusiness:
In this section, you will get to know about the pros & cons of ZenBusiness. So without getting, let's have a look. 
Pros:
User-friendly service
Low-cost formation fees
Personalized service
100% accuracy in forming LLC
Customizable dashboard
24/7 dedicated customer support
Simple, fast, and hassle-free formation
More than 2 lacs new businesses form
Cons:
Slower turnaround time
No non profit formation
ZenBusiness Reviews & Testimonials (What customers are saying)
ZenBusiness is like talk of the town among its customers and users. On various review platforms such as TrustPilot, they have around 6089+ positive reviews with an average rating of 4.5/5 stars.
Don't take our words; here are what customers are saying about ZenBusiness.
"Filing was easy. Now, I can focus my time on growing my business rather than worrying about filing items incorrectly."
"Quick and Easy! Took the Doubt Away…"

"ZenBusiness took out any doubt or confusion in what I had to do. I definitely see myself using their services again."

– Mario R.
"Wonderful Customer Service"

"Everything was communicated clearly, and people responded well. I'm thrilled with my experience! Thank You!"

– Joanna J.
"Easy Process. PAINLESS!"

"Was considering using an attorney and dropping 5 times the cash. So happy I didn't. Easy. Painless. Inexpensive."

– Chris A.

customer reviews of ZenBusiness
ZenBusiness Alternatives Available
If I have to answer this question honestly, there is no better LLC formation service compared to ZenBusiness. As it's quite affordable and value for money service.
However, if you're looking for a legal service beyond any company formation — you should get going with Rocket Lawyer.
Another reliable yet expensive alternative to ZenBusiness is LegalZoom. The thing is, LegalZoom has more brand awareness compared to ZenBusiness. However, ZenBusiness gives head-to-head competition to LegalZoom with its affordable and top-notch services.
Verdict: ZenBusiness is much better, affordable, and reliable compared to other LLC providers.
Related Read:
Conclusion: ZenBusiness Reviews (2023)
ZenBusiness has affordable packages and comes with many features to help you start, run and grow your business. Reading this detailed ZenBusiness LLC formation review, you have an idea of what kind of value does ZenBusiness provide. 
What's more, if you're comparing ZenBusiness with other LLC providers, you find out — they are not that affordable and reliable compared to ZenBusiness. Also, ZenBusiness helps you throughout the journey and not just business formation service.
Overall, as per my experience, I would say — ZenBusiness is a reliable and affordable business formation (LLC formation) out there in the market.
The plans it offers are affordable; the customer support is responsive and top-notch. What's else you need at a competitive pricing option.
The question is — do we recommend ZenBusiness. 
Yes, ZenBusiness is good to go and one of the subtle LLC services available out there.
If you have more doubts, feel free to check out the frequently asked question section.
Frequently Asked Questions On ZenBusiness
Which plan to Choose, ZenBusiness Starter or PRO?
There are many advantages of choosing ZenBusiness Pro over ZenBusiness starter plan. Some of the key benefits are — the Pro plan comes with: fast filing speed, worry-free compliance, banking resolution template long with Employer ID number (EIN). 
Is there a ZenBusiness promo or discount available?
As of now, there is no discount or coupons available to get discount on ZenBusinesss. You need to check their official pricing page in order to find any available discount from time to time. 
Is ZenBusiness services legit and reliable?
Yes, ZenBusiness business formation services are legit and reliable. In fact, they have served over 100909 happy customers over time. 
What about ZenBusiness customer support?
The customer support of ZenBusiness is top-notch and responsive. They offer email and well phone support. 
Do I need an LLC service or Can I form an LLC on my own?
Yes, there are various options to form an LLC; even many people did form an LLC on their own. However, I would say you should avoid the complexities of paper filings, managing documents, etc. This is where LLC service formation comes in handy. 
Does ZenBusiness have a refund policy?
As of now, I haven't found any refund policy of ZenBusiness. However, you can cancel your subscription without any extra charges. 
Is it possible to form an LLC if I'm not physically available in the US?
Yes, you can form an LLC without being situated in the USA. To form an LLC, you don't necessarily need to be an American Citizen or have a physical presence. That's the prime reason why LLC is so popular nowadays. 
Does ZenBusiness sell critical customer information?
No as per my understanding and research, ZenBusiness doesn't do that. If such privacy appears during the purchase, I would say click no to deny such services. 
How ZenBusiness stack up against LegalZoom and other competitors?
ZenBusiness is affordable and flexible compared to other LLC providers such as LegalZoom and IncFile. The base plan of LegalZoom starts at $79, along with state fees. Whereas the base plan of ZenBusiness costs around $39 along with state fees. So you can see the difference. If you have tried both the services and found ZenBusiness is the real winner. 
What time will it take to form an LLC with ZenBusiness?
LLC formation takes time, and its formation is based on various combinations such as state capabilities and the package you order. However, ZenBusiness is faster compared to service providers such as LegalZoom and IncFile.