Choosing the best WordPress theme must be comfortable until you question whether you want to go for Astra Pro or Generatepress. Both the rivals offer the best features available in the market for an excellent price, however, to understand what suits your needs, you need to analyze the in-depth features both offer so that you can choose the right WordPress theme for yourself- Astra Vs Generatepress.
You can check out the free version of both themes and try them personally to know what suits you better. The premium versions, though, come with many additional modules and features that make building a page possible in the comfort of a few clicks.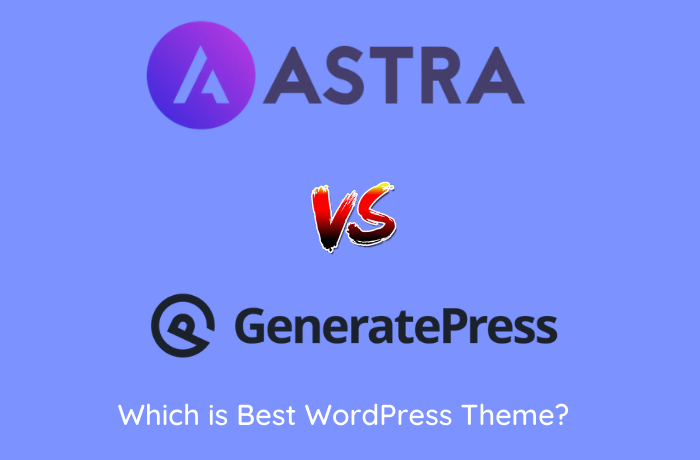 There is no doubt that both plugins offer everything you need to get the best functioning and fast website, but there are some factors that separate them from each other. It would be unfair to say one is better than the other just based on the use of their free version.
We have made a great comparison of the two giants in the market for all of you to understand the in-depth features of the two themes and then wisely choose what suits your ideal website needs.
Astra vs Generatepress – Overview
Here we give an in-depth comparison between Astra vs Generatepress. Let's dive into it.
Astra Overview
Developed by BrainStorm Force, this theme is the best worldwide, with a 5/5 rating by various sites and users. They have over 3 million users who are very happy with their decision. It is entirely focused on its speed as well as it is considered to be one of the lightest themes.
They are user-friendly to a great extent that designing your webpage would just take you seconds without the need for coding. With over 200,000 users accessing their free WordPress theme, they have an excellent customer base.
The brainstorming force team has worked hard on coming up with such a great theme; they have ensured that the resources are under 50 kb, and the site takes less than 10 seconds to load.
They offer you a great variety of pre-built websites, this way; you will not waste your time thinking of fancy stuff; instead, you will choose designs that best suit you.
Generatepress Overview:
With over 2 million users currently relying on Generatepress for their websites, this is another lightweight WordPress theme that offers you great features with high speed.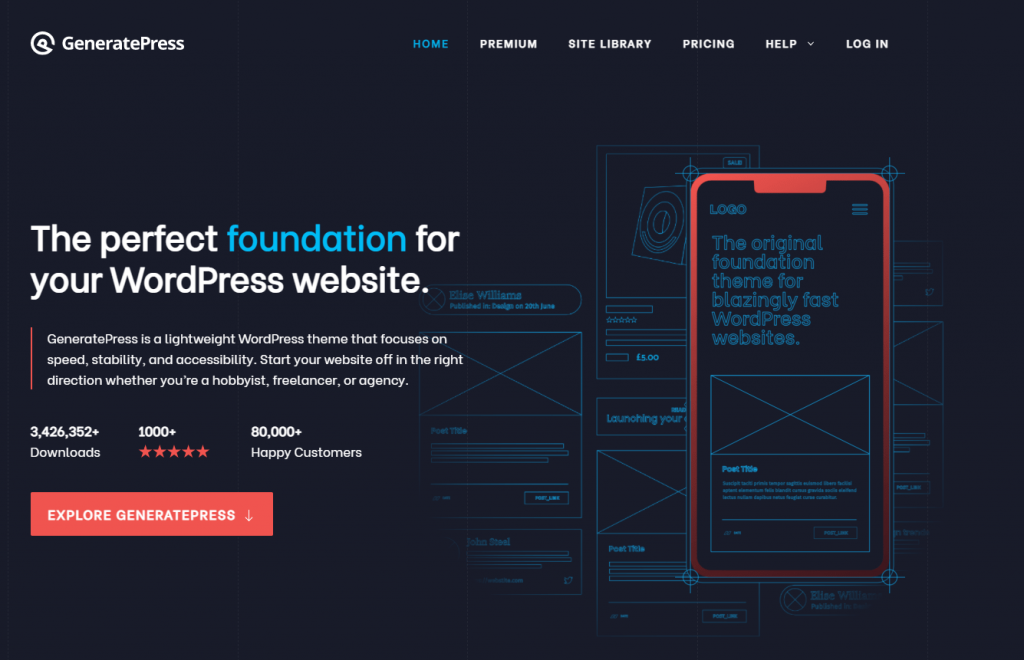 Unlike Astra, this theme is developed single-handedly by Tom Usborne and is currently rated five stars by more than 1000 users.
They have a fantastic free version that lets you control and display your site based on your choice. You can work it out with any webpage, and it gives you the most extensive documentation of any theme.
Created as a very light and performance-based theme, it takes up only 30kb of your space compared to other themes in the market that might go up to 100 kb.
The premium extensions offer you a lot of different modules that will help you design your site better.
Astra Vs. Generatepress: Features
Though both have various unique features, there is still a lot of in-depth analysis you are missing out on. Check out their features to know what they offer you.
Astra Features:
Let us see what features Astra has that will make you choose it over Generatepress.
Bunch of pre-built websites
Whenever you visit a good website, you always wish that you might have a similar good-looking design for your website. This is where you can check out their list of pre-built websites and then import anything you feel is appealing.
With a great loading speed, you can always test Astra for speed. Go to any demo site and just see how quickly it loads. Claimed to be feather-light, its resources take less than 50 kb of your space. They use Vanilla JavaScript to stop rendering, therefore blocking JavaScript from reducing your speed.
WooCommerce compatibility
Undoubtedly WooCommerce is one of the most powerful e-commerce plugins on WordPress; its compatibility with its theme is another great feature offered by Astra. If you're interested in entering retail marketing and need a theme, this is your go-to place. It provides you with the best solution to convert your basic website into a successful online shopping portal.
Considering the WooCommerce plugin, Astra offers excellent speed and flexibility to users.
Generatepress Features:
Generatepress has some outstanding features too that make it Astra's fiercest rival, let us see what they are.
Like Astra, they use Vanilla JavaScript and follow a stable coding procedure to eliminate render-blocking javascript issues. This gives the page an excellent speed and faster loading capacity.
You might be surprised to know that Generatepress would only take up to 30kb of your space to kickstart and do web designing. It is performance-centric ad lightning fast.
Demo sites are easily accessible, you can check out which theme would suit you and plan accordingly. You get flexible options to control and make changes to your page as per your needs. They let you run speed tests as well so that you can know and test the capacity of various themes, This comparison will help you differentiate the themes based on the essential factors that we think influence the purchase or use of any WordPress theme.
Astra vs. Generatepress: Ease of use
We always look for themes and designs that are easy for us to use, ones where we can get our work done with minimal steps. Both Astra and Gneratepress are undoubtedly the easiest among all the themes.
You can design your website with just a few clicks, both themes have modules that help you get started quickly. The modules have been organized to easily activate or deactivate the necessary features you need based on your choice.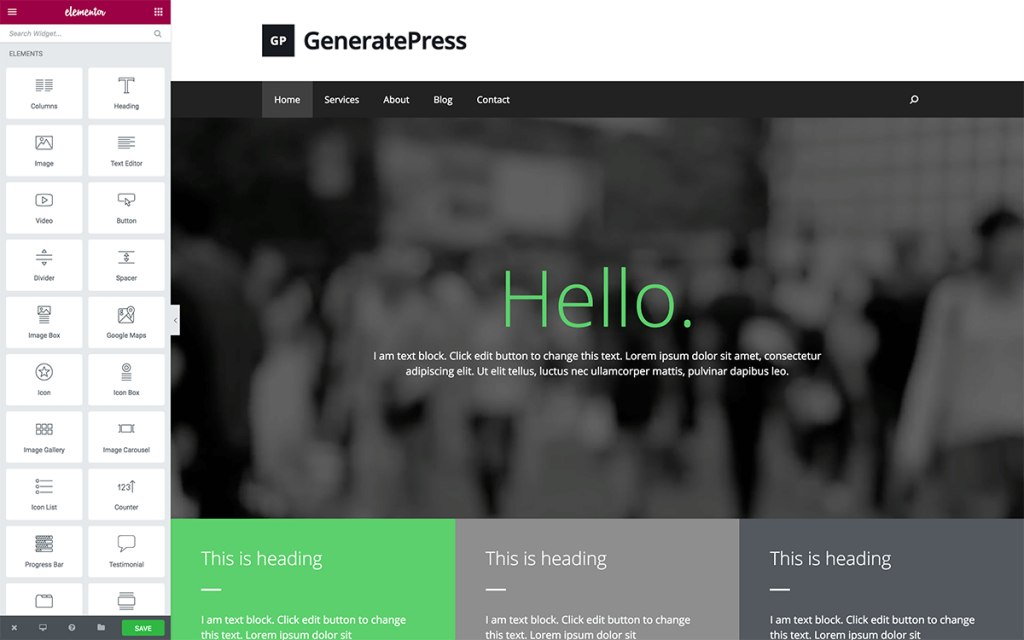 Using the customizer feature, you could access all the latest features that you can apply to your website. You need not worry about knowing or typing any codes; webpage designing gets a whole lot simpler with these themes.
The free version only lets you design a simple webpage. However, the premium version can let you get the fanciest sites. Overall, both themes are straightforward and user-friendly compared to any other WordPress theme.
Astra vs. Generatepress: Performance
Performance is another critical factor you must consider. When you compare both themes, you will not find much difference in their performance. Both of them are two of the lightest themes in WordPress.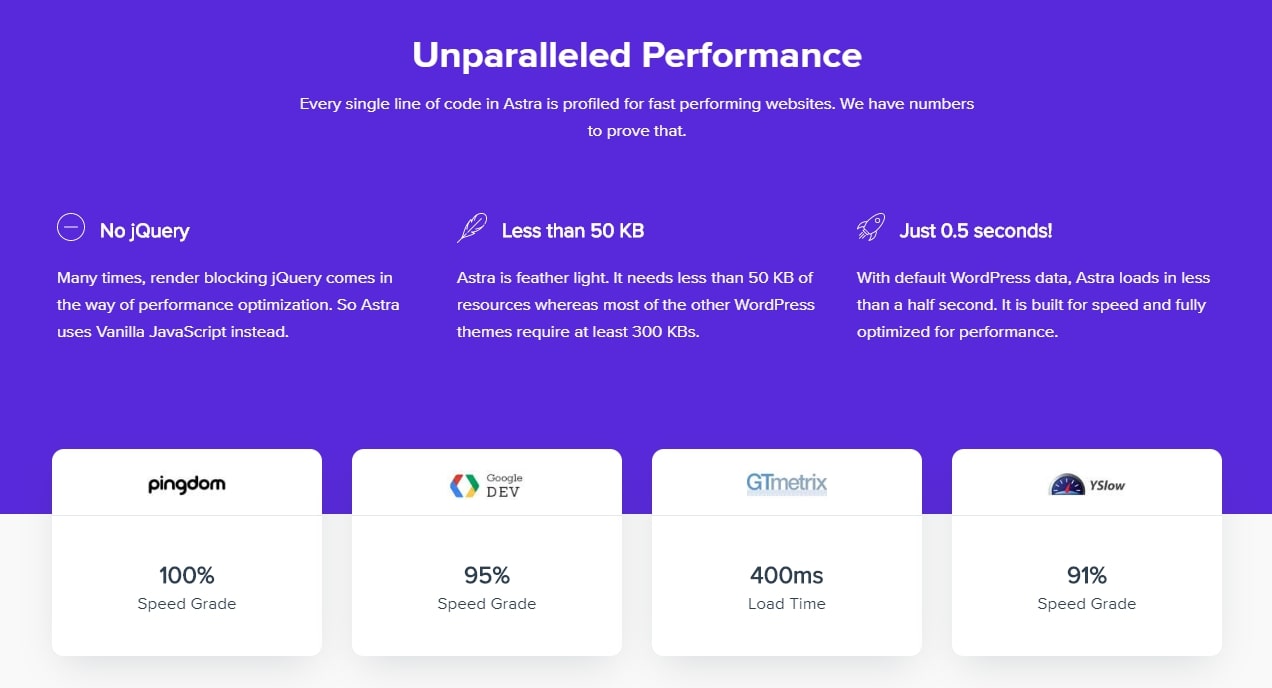 Different tests have shown different results. When you test the versions without any plugins or page builders, Astra seems to have the edge over Generatepress; however, when the versions were tested without any page builders, Generatepress had an advantage over Astra.

Based on your level of customization and the page builder you use, you will get contradicting results. You can still check your speed individually as one thing is sure; both of these themes don't compromise on speed and give you the fastest loads.
Astra vs Generatepress: Website Building Experience
Whenever you are getting started with your website, you must get the best experience to create the best web page. One factor that themes must consider is that building website must not be complicated for beginners as well as they should keep in mind that the experts can fully utilize all the resources they want to.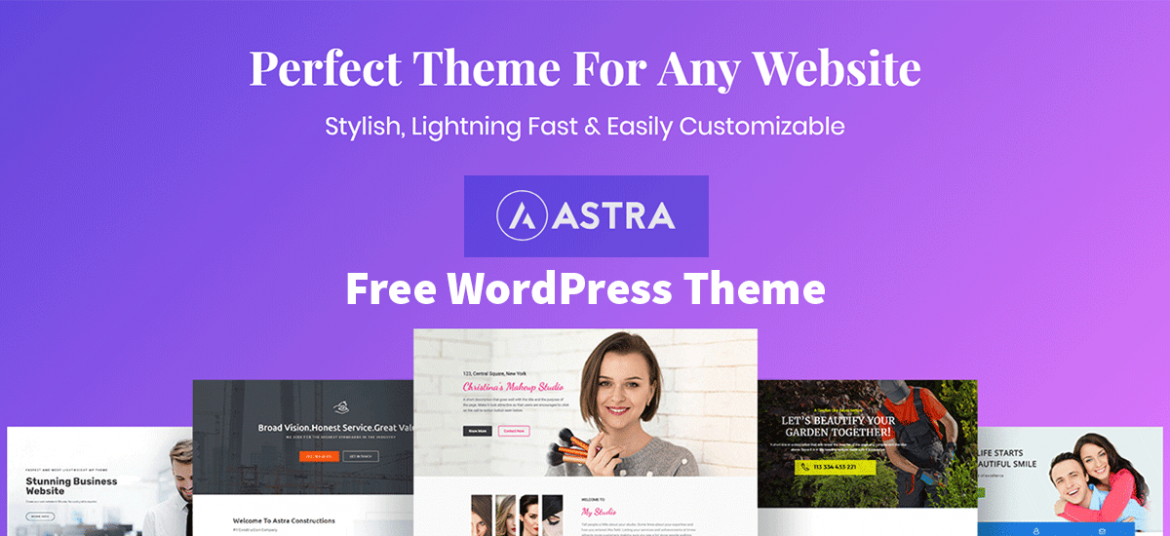 Both themes are built with ease to users in creating a webpage kept in mind, which does not require you to know or type any codes. However, if an expert wants to add codes for his benefit, he could check out the extensions where they have additional coding for one to play with.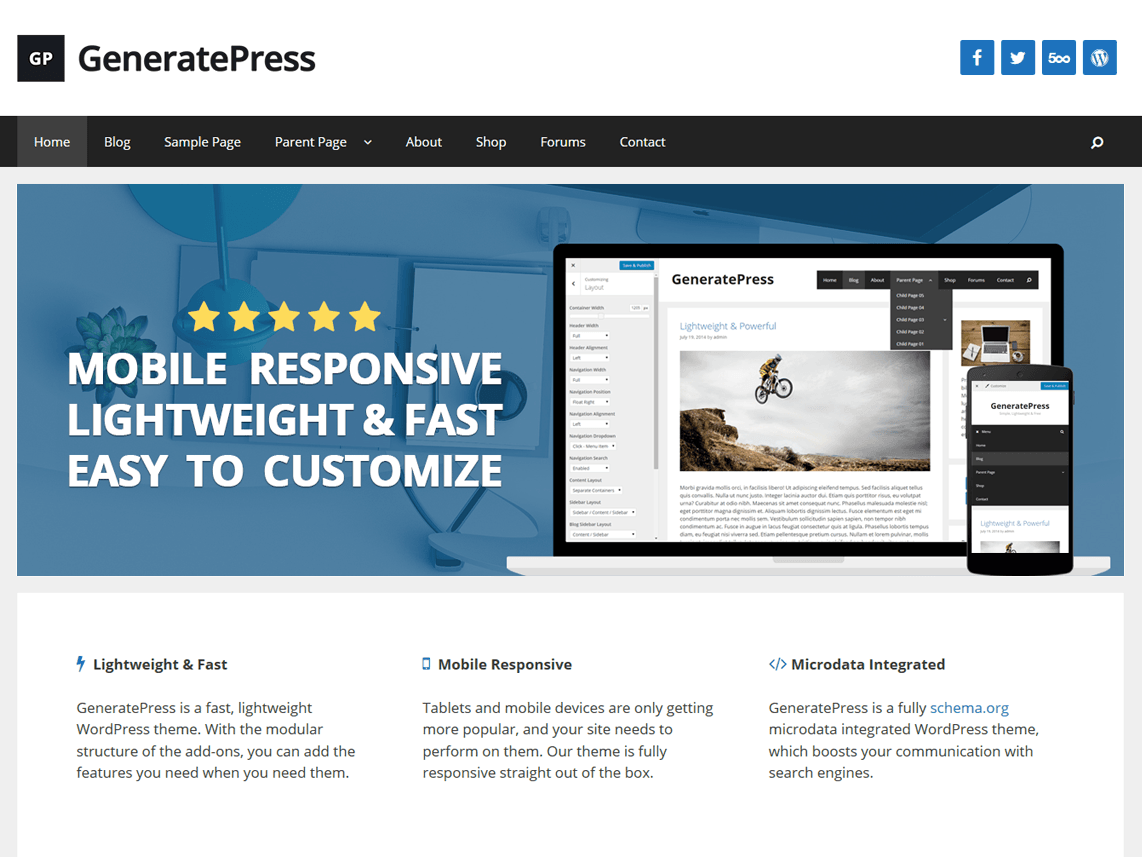 You can explore everything they have with premium access, including unlimited features and themes. The premium access would be a small investment for you to build something very significant. With just a very few clicks, you have your website at your hands.
This inevitably would end in a draw as both of them have tons of hooks and filters for you to offer.
Astra vs. Generatepress: Layout customization
Your layout plays a vital part in how your website is presented to the public. Your layout includes your header, footer, and widgets on your site. You will be astonished when you see the numerous changes you can apply to your headers and footers.
1. Headers
You can change the width, alignment of elements, padding, etc. of your web page with the help of Generatepress and add many other customizations such as images, videos, transparent headers, etc.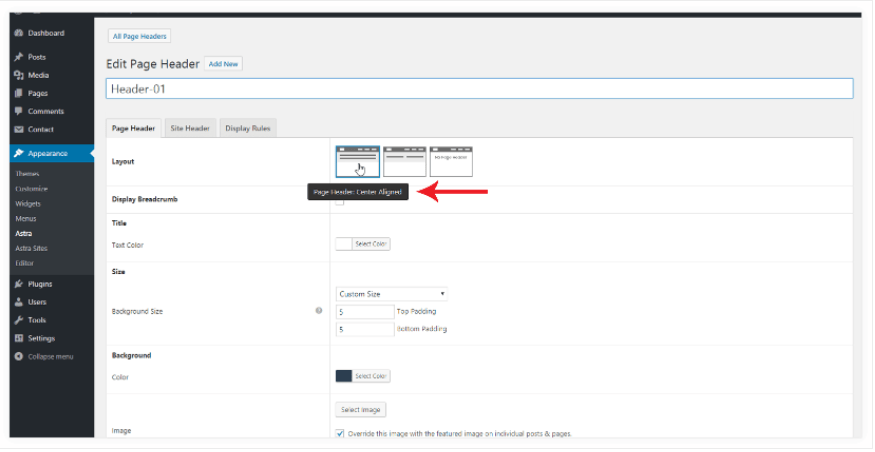 In Astra, all the similar features are available along with one additional feature of a section to manage your headings and your page anytime. Having a separate section to manage your headers is much easier than setting page headers each time.
So when it comes to headers, the clear winner is Astrapro.
2. Footers
Both themes have the same power of customization when it comes to footers. Generatepress lets you set custom text, set padding, and choose the number of widget areas in the footer bar.
Whereas in Astra Pro, you can choose among the 7 footer widgets available and set custom texts for each of the available footer widgets,
3. Widget controls
This is another tie situation wherein both themes have an equal number of widget controls they offer to the users. You will get the widget options based on what site you chose from the library. However, you can add custom widgets by altering the code as well.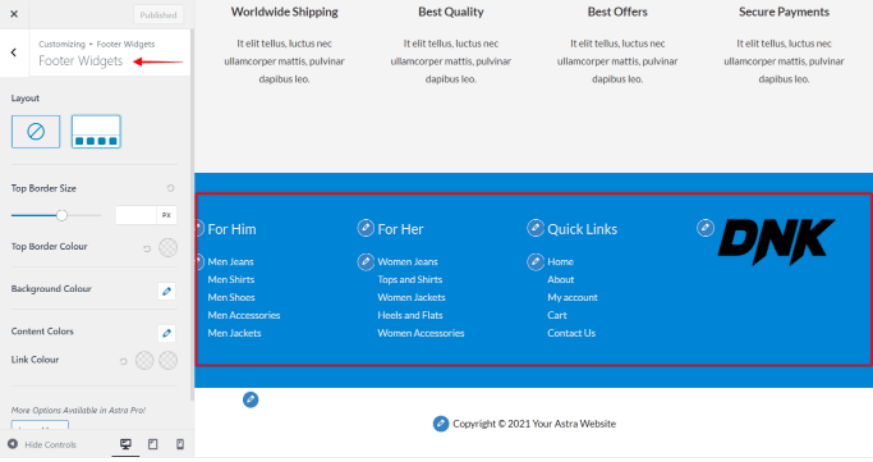 You also have a custom layouts feature on both themes; they help you hook any specific content you want anywhere on the site.
4. Color customization
Color customization is a factor for you to consider because this task sometimes leaves you in a dilemma. You don't know which color to choose from the given options.
The set of colors available are similar for both Astra and Generatepress; they offer you precisely the exact options when it comes to Colour customization. You can change every aspect of your site, be it your widget title color or your footer link color, and they have very fresh colors for you to choose from.
The best part is every visual aspect can be changed when it comes to colors, and you don't need to know a single line of code for this purpose. It is effortless. I would say Generatepress has a hold over Astra in this since they let you tweak the colors precisely when it comes to slider elements, menu elements, and form elements.'
5. Templates
Templates make it very easy for a non-coder to understand the ease of creating a website; they have simplified webpage building to a great extent. However, it can be decided if one theme is better than the other based on the modules they provide.
What's inside a template plays a vital role in analyzing the value of a module. You can simply club various modules into one, and it could still be better than having 20 different functions in 20 modules.
Templates are made for easy user interface and better webpage building. Both giants provide great options when it comes to templates. The premium version grants you access to all the templates, whereas the free version gives restricted module access.
The free version of Generatepress lets you access about 15 templates, which they feel are sufficient for your basic webpage building needs. On the other hand, Astra provides you with 16 Modules, of which two are yet to be released.
The module-based approach in WordPress is one of the best features. They are not hard to maintain, scalable, and more accessible to the market. Apart from modules, both themes offer many free plugins, which you must check out.
The best ones in Astra, in my opinion, are Customizer Search Import/Export Customizer Settings, Sidebar Manager, etc. Generatepress also offers great plugin options, but Astra wins this battle of Modules.
Astra vs. Generatepress: Compatibility With Page Builders
Elementor, Beaver Builder, and Thrive Architect are some of the best page builders available. These three, however, are well compatible with Astra and Generatepress; you should still check out which blends in well with a particular page builder.
I could personally say that Generatepress and Thrive Architect are the best combos I have used so far; the connection between these two is rock solid. However, I haven't used Thrive Architect with Astra Pro yet.
Astra Pro on the other side has functional integration with Beaver Builder, and you can check out their combo as well, it gives out great results.
Where Astra Pro beats Generatepress is the PLug ins it offers you, their theme integrates you with popular plugins like Lifter LMS, LeanDash, and much more. You won't find a specific list anywhere to know what plugins Generatepress is compatible with. However, you can try some of the plugins by yourself to check out if they work well.
If you are interested in knowing about its compatibility with visual composer, you must know both themes work quite well with visual composer if you want to go for it. Astra lets you hook any element/layout to any part of your site, and design it using any page builder. In contrast, this feature is not available on Generatepress.
Astra is built so that it lets you integrate smoothly with page builders and market yourself in that way. You get access to all their page builder plugins like Ultimate Add-ons for Beaver Builder, UA for Elementor, and so on.
However, if you're using Elementor, I suggest choosing Generatepress over Astra as recommended on the Elementors official website. Following that would be the most appropriate way to go about it.
Astra vs. Generatepress: Woocommerce Integration
The woo-commerce plugin is a must for you if you want to list something on your website and sell it. Both themes project excellent results when running with the Woocommerce plugin. Both themes let you select the alignment, layout, and number of products you want to display on a single page.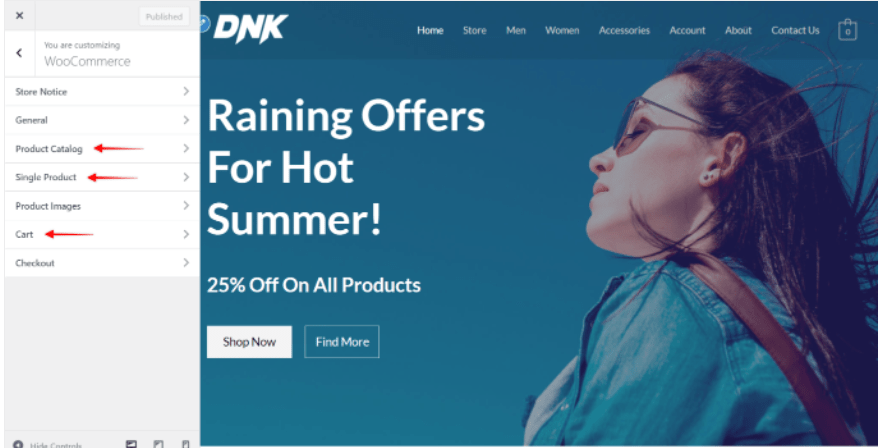 Astra is a perfect and robust theme for Woocommerce. You can convert your webpage into a retail marketing site easily. It provides you with really strong security against threats and attacks as well. Coding-free customizations let your online shopping sites run comfortably without any worries.
Many themes are tested for Woocommerce plugins, but the ultimate winner is Astra. They have exceptional features, including their new Woocommerce designer. Along with that, Astra Pro lets you select the order in which the product information appears. They have an outstanding Quick View feature that displays a lightbox with your product details.
This does not mean that Generatepress does not support woo-commerce very well; one must agree that their Woocommerce options are quite messy. However, they don't market their product through woo-commerce and have many other significant features on which they focus. You can still use Woocommerce on Generatepress, and it is cool.
Astra vs. Generatepress: Pricing
As we all know, both themes offer a free version that is sufficient to build a web page. However, one might need premium features to develop something ordinary. The premium version has a lot of modules, features, and updates.
Generatepress would cost you about $59/year, and Astrapro would cost you $47/year. The prices are similar; however, the best part that separates them is the discount they offer. For your Generatepress renewal, fortunately, you get a 40% discount compared to the 20% of what AstraPro offers you. Both give you access to unlimited features and updates.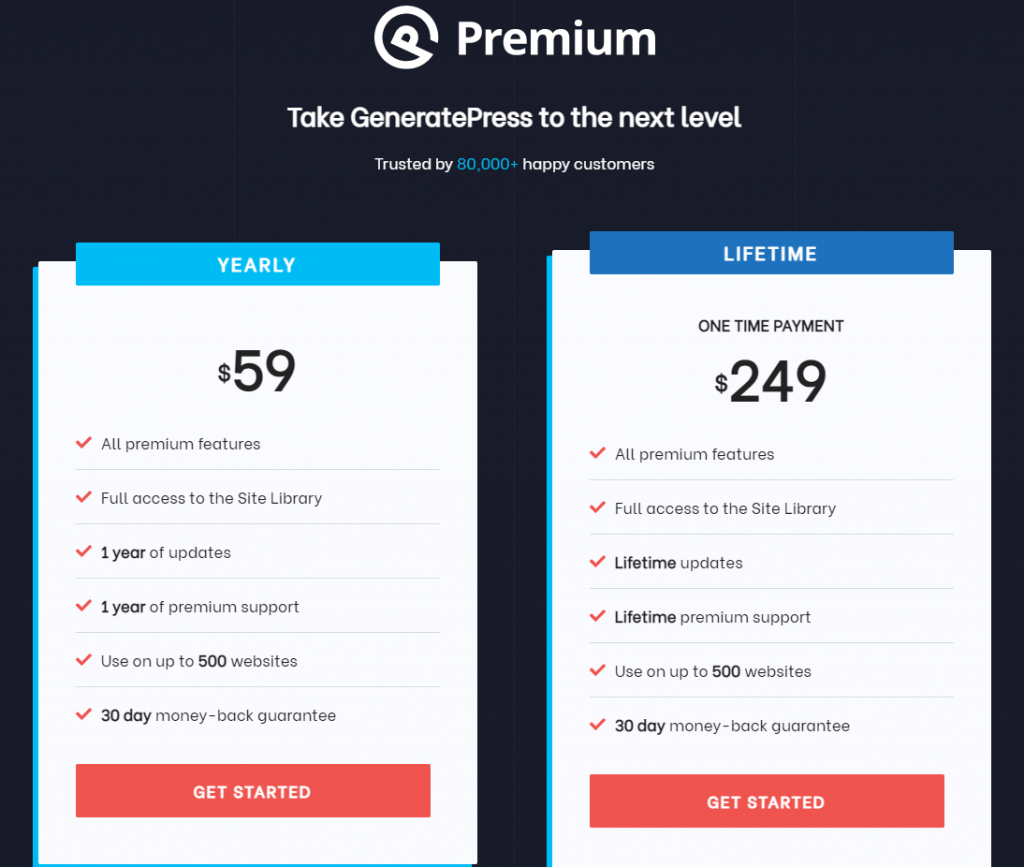 Astra will never let its competitor go ahead; it provides you with an agency plan that costs about $249 per annum, giving you access to unlimited sites and a bunch of add-ons and access to WordPress Astra plugins.
Generatepress does not have such a plan, but it gives you access to unlimited sites with its low-priced plan. Generatepress is the winner here as its costs come down to nearly 30$ after your first year for almost providing you with all the similar features that Astrapro provides.
Astra vs Generatepress – Support, Updates, and documentation
Both themes offer updates and support free for one year. They both have a ticket system where you can raise a support ticket. Astra, however, is slow at times when it comes to supporting.
Documentation might not be necessary as they are two of the most accessible themes for one to kick off with. They still provide you with documentation of more than 200 pages that includes every element in the themes. It can be exhausting for you, but it inevitably stops you from pinging the support.
The knowledge base of both the themes is quite good, but I must say that Generatepress has the edge over Astrapro in this since the launch of its Generatepress 2.0, the knowledge base has widened fastly.
Astra vs GeneratePress: Free vs Premium features
As we have already mentioned that both these themes have a famous free version at WordPress and as well as a premium version with advanced features. The premium version is an add-on plugin for the free essential theme. You will use the same theme whether you can use the Free or Pro version. To get full access to the module, you need to get access to the premium version.
So we can say that Astra is a little bit more bountiful with its free features and is more ductile as a free theme. Astra is a much better option for everyone who is planning to stick with the free version.
Pros & Cons of Astra vs GeneratePress:
Here in this section, we have given the pros & cons of both Astra and GeneratePress. Let's dive into it.
Pros of Astra:
Superfast wordpress theme
Whitelabel feature
Integration with Learndash and Woocommerce
More than 100+ demo sites are available
Compatible with all major page builder
Updated with new enhancement
Cons Of Astra:
Improvement in Customer support
Little bit pricy
Pros Of GeneratePress:
Easy to use
Quality Templates
Extensive documentation
Advanced Integration
Fast Loading Speed
SEO Optimization
Cons Of GeneratePress:
Doesn't have a Whitelabel feature
Limited Track Record
Related Read:
Conclusion:
Astra Pro and Generatepress, are undoubtedly the fiercest rivals. It must be challenging for you to choose a winner. My recommendation to you would be to choose one based on the features you require. If you need something with heavy customizations and one-click options, Astra pro is the one for you, If you need something which fits your pocket, is simple, and gives you great support, you can go for Generatepress.
However, WP Astra has great overall features compared to that Generatepress, and it surely deserves to be crowned the champion of this battle. For the $ 10 extra you are spending, you get a lot more than just excellent features.
Frequently Asked Questions:
Do Astra and GeneratePress work with Elementor?
Yes, Astra and GeneratePress both work really well with Elementor. You just need to customize a few settings before getting started with them.
Which one is better: Astra Or GeneratePress?
Astra is a much better theme than GeneratePress because it is faster than GeneratePress. Even though GeneratePress is an amazing theme still it can't match the level of Astra.
Do these themes work with page builder plugins?
Yes, Astra and GeneratePress both work well with most page builders like Elementor, Thrive Architect, and Beaver Builder.
Is GeneratePress good for SEO?
With GeneratePress, Page response and speed get increased, and being a light theme it only takes 30 kb of space.
Is Astra Pro worth it?
Astra is one of the best WordPress themes in the market with more than 5k positive reviews and 5* ratings. So it is safe to say it is really worth it.
What kind of support do they both offer?
Astra offers professional premium customer support via a ticketing system whereas GeneratesPress offers the best premium support forum.