ThriveCart, SamCart, and PayKickStart are the first few names that pop up when you think about online business. As an online seller, you need to have a payment platform. These three sites offer you specific services. You can set up an e-commerce platform easily with these websites. It can be quite confusing to choose one for your business. As reasonable owners, we want nothing but the best option available. Today we will help you make sure that you make the best investment.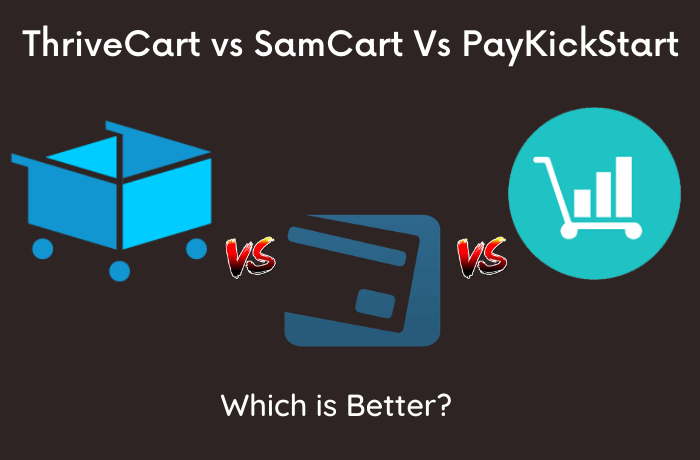 In this guide, we will compare these three platforms head to head. The goal is to find the one which suits your online store.
Factors to Consider Find Best E-Commerce Platform:
There are a few basic factors you need to check before making a purchase. All three platforms are great in their ways. With the help of these factors, your judging criteria become clear. It will help you to identify which payment service matches the requirements of your online business. You have to be the best in e-commerce to get growing sales every day.
Ease of access

Security

Carting and payment pages

Integrations

Tools for improving sales
These will help us to make a sensible purchase. A discussion of these in detail will give you the best idea. One can dramatically increase conversions tremendously.
Related Read:
ThriveCart vs SamCart Vs PayKickStart – Detailed Comparison
Let's take an initial look at the basic differences you will find in all these platforms. We will cover all aspects in detail so that you get a better look. We are taking a look at the must haves for every e-commerce carting solution.
| ThriveCart | SamCart | PayKickStart |
| --- | --- | --- |
| It comes with over four different carting page templates | They offer users with 18 different templates for checkout pages. | PayKickStart covers the API necessary for making unique checkout pages. |
| They accept multiple currencies from online consumers. There are 16 different available options. | SamCart doesn't accept multiple currencies. | Their platform has support for over 32 currencies. |
| You can build a global audience with their support for ten languages. | It supports six different international languages. | The PayKickStart platform supports 12 languages. |
| ThriveCart enables payments from Paypal, Google Pay, Stripe and Authorize.net | SamCart supports Paypal and stripe. | They accept payments using five separate platforms including Paypal, stripe, EasyPayDirect and others. |
| ThriveCart comes with an inbuilt tax calculator. | They help with taxation through Taxamo. | They help with taxation through Taxamo. |
These basic differences help set the stepping stones for the rest of this guide. We are going to build on the different features and overall ratings.
Why is the Checkout Service Necessary?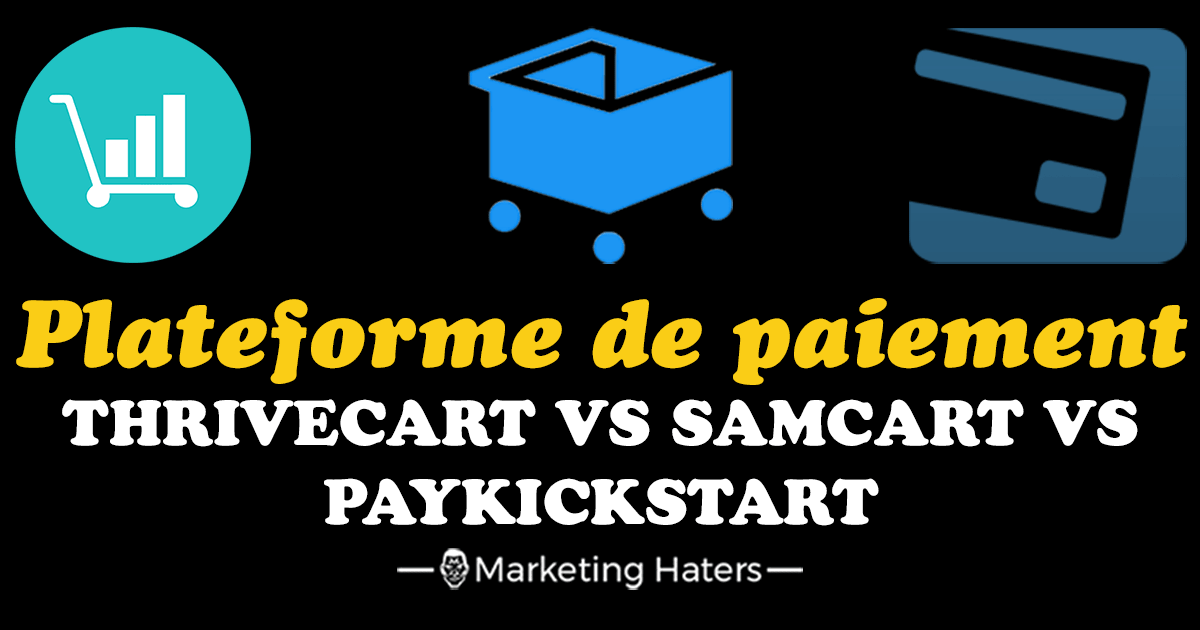 Many online businesses can't find a valid reason for having a checkout service. Selling things online is a little complex, but you can simplify it using such a platform. When consumers want to purchase something, they can take it to the payment portal. Accepting money through different sources becomes challenging. Services like ThriveCart, SamCart, and PayKickStart accept payment through portals like Paypal, stripe, UPI, credit cards, and other modes. They also bring other additional features like the following-
They come with a dedicated checkout page for every product.

You can accept payment from multiple modes and currencies.

It becomes easy to keep track and processing of all the orders

Users can offer newsletters and customer support.

These services make use of encryption and secure payment channels.
ThriveCart vs SamCart vs PayKickStart – Features
Let's take a look at the individual features of these premium products.
1. Thrivecart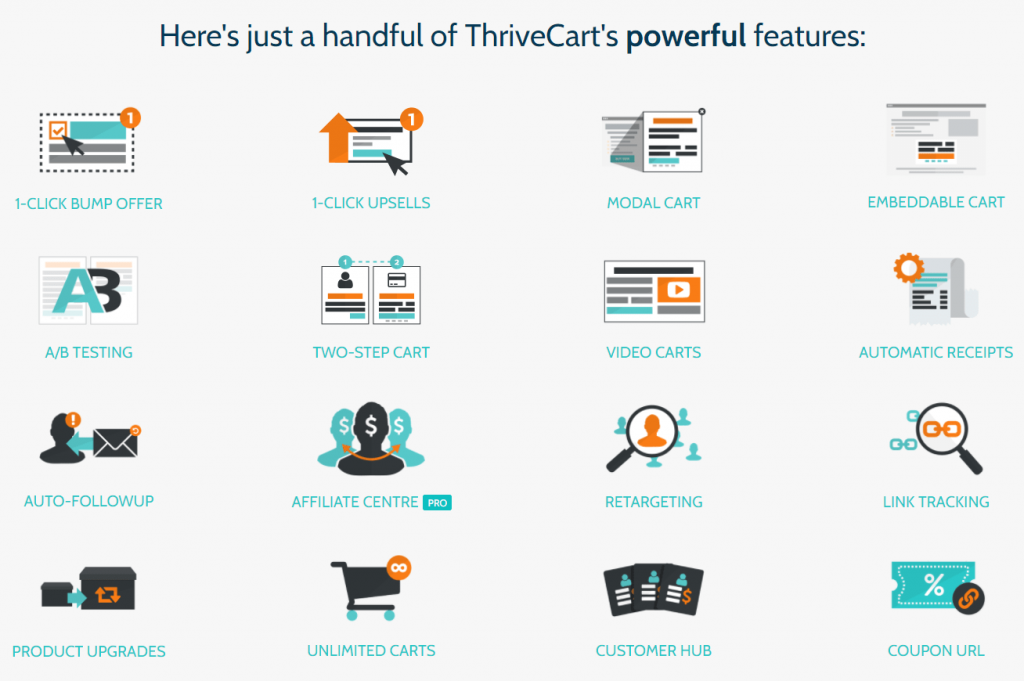 It comes with a drag and drop checkout page editor on your site.

You can add a subscription and members' proposition for increasing sales.

They make it easy to pay your sales and value-added taxes.

Users can create new offers every day in their stores.

The ThriveCart platform gets regular updates.

It offers you automation to ensure you can contact sales even when you're away.
2. SamCart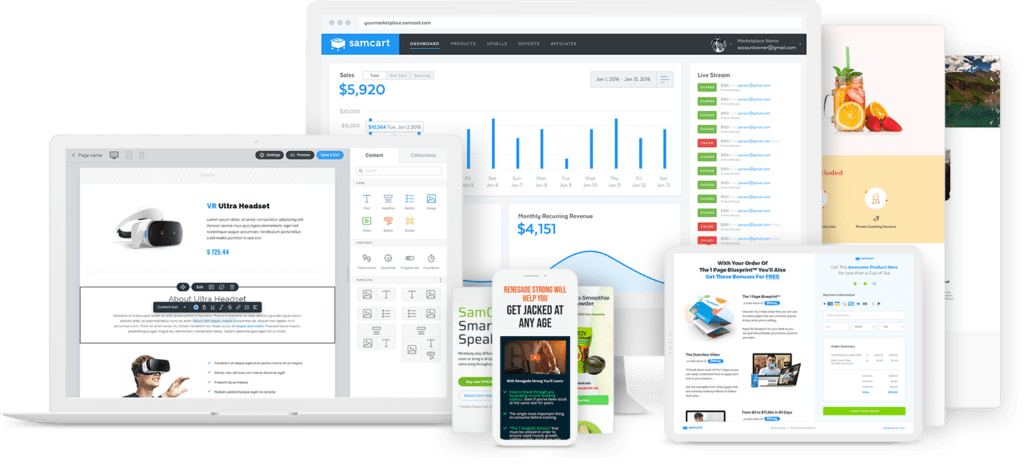 SamCart has a premium drag and drop builder for customizations.

There are multiple designs and templates available for easy implementation.

Smart pixel tracking helps you to know which promotions are working.

A cart abandonment feature allows you to engage people who do not purchase with items in their carts.

Their customer support team is available round the clock for your needs.
3. PayKickStart
They accept payments from 5+ sources on the internet.

Revenue retention is a must for online stores with PayKickStart tools.

It has many data analysis and reporting tools which are available to consumers.

PayKickStart is available on your smartphone as an application.

Improving customer experience is easy with its services.
ThriveCart vs SamCart Vs PayKickStart: Comparing the Products
Here is the direct comparison of these three carting systems. Read along to know more about them. We are comparing them based on the factors we state above.
1. Ease of Access
Accessibility plays a huge role in any purchase that you make. The three platforms are quite resourceful in terms of features. The ThriveCart dashboard gives you all the necessary information at a glance. Users can create multiple carts and connect with different sites. The receipts for all your sales are also available automatically.
SamCart brings you a 99.98% reliability and uptime guarantee. You also get zero transaction fees on your sales. They also have a drag and drop builder for your payment pages.
PayKickStart enables users to make sales without worrying about taxes, receipts, invoices, and mailers. Everything is completely automatic during the process.
2. Security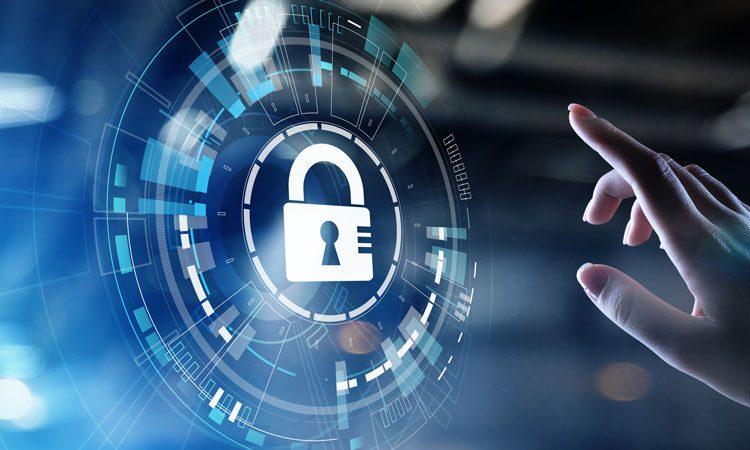 Any online business wants a secure online payment portal. It is a must for users who need to collect money every day. Overall it is sensible to note that these services are top of the line. We can guarantee that these tools are perfect for website owners.
ThriveCart brings instant secure URLs for your needs.
SamCart uses SSL and encryption tools for online transactions.
PayKickStart, on the other hand, is compliant with all EU and US standards.
3. Carting and payment pages
The payment pages are helpful to get more conversions. Users need these services to ensure they get a reliable transaction. No one wants to lose their money online. It is efficient to have a carting and payment option, so you get to work.
Thrivecart, SamCart, and PayKickSmart have multiple templates available online. You can make the page according to your needs. They are all effective to help you with coupons and discounts. It is essential to have a call to action. In many cases, you also get fulfillment services for your needs.
4. Integrations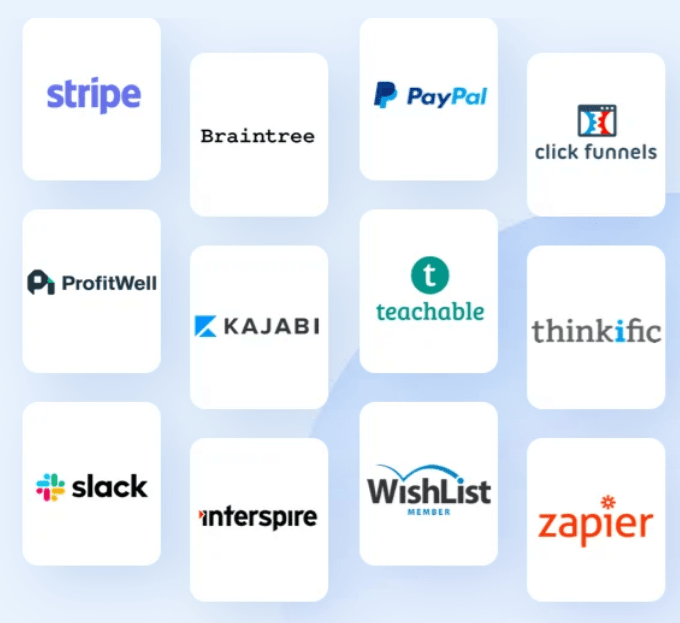 The charting software needs to integrate with multiple online tools. Your online device should connect with different plugins to get the best result. Some necessary services, like email automation, helps you send purchase confirmations. A few others will include analytical and shipping tools.
ThriveCart helps you get membership integrations, email, and Kunaki for fulfillment.
Samcart makes use of marketing automation tools, email, WordPress, and many others.
PayKickStart has the highest number of integration tools available. You will enjoy a stress-free processing experience with this service.
5. Tools for improving sales
All of us want to increase the reach and conversion of the website. Your online payment portal helps make sure you get the best results. ThriveCart helps you with retargeting the audience on your site. They also help with a subscription model on your e-commerce store. SamCart, on the other hand, offers marketing assistance. PayKickStart takes this further with regular data analysis. You can also create an affiliate system to promote products online. These are some amazing features whose combination makes an effective payment gateway.
6. Pricing
The pricing of your carting software is a major factor in many cases. Let's take a look at what we have to shell out to acquire the services of these amazing tools.
ThriveCart – $495 for ThriveCart Pro lifetime.
SamCart – starts from $49/month.
PayKickStart – starts from $99/month.
What to Purchase?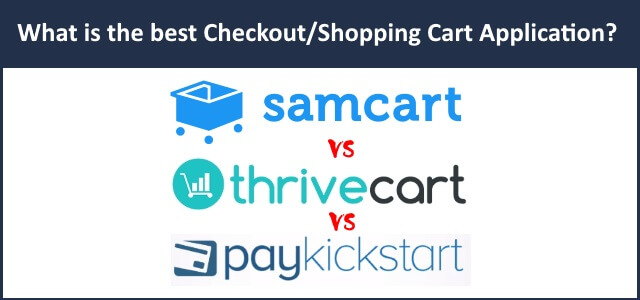 These three products are available at drastic price points. The services are available for different sets of users. We recommend the PayKickStart site for people who don't want any compromises at all for their online store. ThriveCart is a great platform but doesn't offer value for money. SamCart is a feature-rich alternative to PayKickStart which is available for an affordable price.
You May Also Like:
Conclusion:
A direct comparison between the three products is quite a common scenario. As a consumer, you have to make a choice as well. We hope this article was able to give you a few answers to the questions. All the products are effective in their respective fields. Have a safe selling experience.
Frequently Asked Questions
What is Thrivecart?
Thrivecart is software that helps you to promote and take payment for your digital and physical products. It doesn't matter what you are selling, you can sell physical products or digital products like ebooks, software, and subscriptions.
Does Thrivecart help to manage affiliates?
Yes, Thrivecart helps to manage affiliates, the affiliate program included in the Thrivecart Pro account powers thousands of customers' affiliate campaigns every day.
What payment methods does Thrivecart accept?
Thrivecart accepts many types of payment options like PayPal, Stripe, Authorize.net, Google Pay, and Apple Pay.
Does Samcart offer any free trial?
Samcart offers 14 days free trial. It comes with basic features so that users can explore and understand its features.
Will Samcart work with my website?
Samcart is a perfect addition to any existing website. It helps to add a powerful Samcart sales page to your website and converts visitors into paying customers.
Does Samcart offer a money-back guarantee?
Samcart comes with a risk-free 30 days money-back guarantee. To get a refund, you have to cancel your subscription within 30 days of the purchase.
Can I upgrade or downgrade the Paykickstart anytime?
Yes, you can now upgrade or downgrade at any time with no long-term commitment or contract.
What happens if I cancel and reactivate my account again?
If you cancel and reactivate your account again, you will get all your campaigns, funnels, products, and transactions. No data will be lost.
Does PayKickStart offer a free trial?
Yes, you can get 14 days of a free trial for its user so that they can try this tool. To avoid being charged, cancel the free trial before it ends.
Can I create unlimited courses?
There is no limit to course creation, you can create as many courses as many you want.