In this post, we have curated a  handpicked list of the 16 best AdSense alternatives to try in 2023 & beyond. Before rushing to the list of AdSense alternatives, let's take a sneak peek into why you need AdSense alternatives. 
Monetizing a website/blog by placing an advertisement is one of the legit ways to generate passive income. When you take suggestions for Ad Network, one name that everyone will suggest to you will be Adsense, but we all know they have a very complicated procedure that is not user-friendly. If you want to monetize your website/blog and are looking for Adsense Alternatives, we have got you.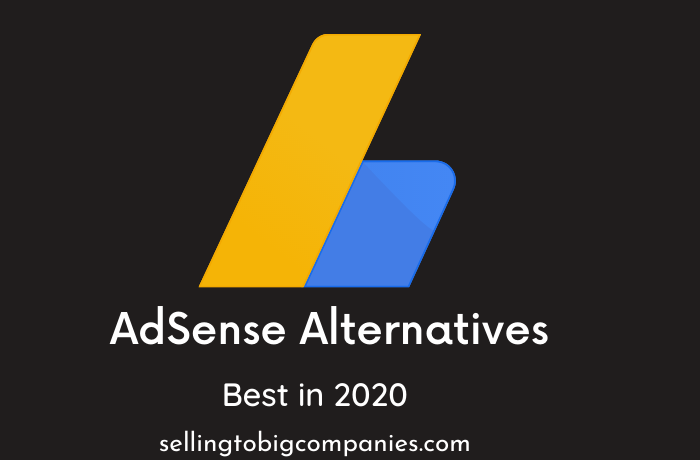 We will tell you why you must go for an Adsense alternative and give you the best recommendations from the market as well.
So let's dive in and find which is the best alternative to Adsense.
What Is Google Adsense?
Google Adsense is a top-notch advertising strategy that helps online publishers to make a profit by showing third-party advertisements on their posts and these advertisements are operated by Google. It is one of the most advertising networks online for webmasters and bloggers seeking to monetize their websites.
Businesses repay to advertise via AdSense and the site owners bit of that earning based on ad impressions and clicks.
Top 16+ Adsense Alternatives in 2023
Here is a list of the top 15 Alternatives of Adsense. Let's check out.
1. Media.net
A platform run by Yahoo and Bing, Media.Net is considered to be one of the best alternatives to AdSense. Media.net gives you earnings similar to that of Adsense, along with various forms of displays and native ads that work both on desktop as well as mobile.
Just like Adsense, Media.net also follows a strict policy for eligibility. To be partnered with this platform, your website must have top-notch content that is of high quality and professional as well. They also emphasize traffic sources, Media.net usually partners with websites that have a majority of their traffic coming from the U.S, U.K, and Canada.
Media.net is a direct rival to Adsense, and they offer similar features and payouts as AdSense. Payment is made through PayPal every month to users. The most significant advantage that Media.net has over Adsense is its exceptional revenue per thousand (RPM) impression rate.
They also have various designing and customizing options for the Ads to blend in with your site.
2. PropellerAds
Propeller Ads is a growing platform for bloggers that lets you generate revenue with their Ads. It is suitable for new bloggers as well as existing established bloggers as well. ProperllerAds specialize in pop-under ads; these are nothing but Ads that pop up under your existing window and only pop up when you are going to close the window.

Some bloggers might find these pop-under ads too aggressive; for such bloggers, Propeller ads provide other Ad options such as video ads, native ads, and banners. They also have an impulsive push notification ad type for their mobile and apps.
Unlike Adsense, you do not have to be an established blogger or fulfill criteria as such to earn through this platform. You don't need to have minimum traffic for this platform as well. It is much simpler, and you can benefit significantly with the help of this. The payout, however, is just $ 5 monthly and is paid through Paypal.
It is effortless to use, you can create an account, and you will be ready to start.
3. Amazon Native Shopping Ads
Amazon is another big-time competitor for Google when it comes to Ads network. They have a division known as the Amazon Associates Program, which is an affiliate program that works in a more modern way. One among many others that belong to this affiliate program is the native shopping ads, with the help of which you can earn through the native ads posted on your blogs.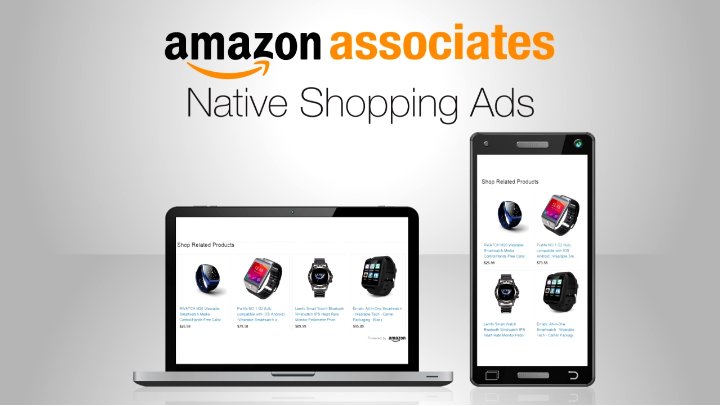 Amazon considers the surrounding factors of your blog before listing out native ads to you. This is a commission-based Ad; if a user clicks the particular ad on your blog and then ends up purchasing it, you will get a commission on it. This is a great channel to earn revenue, as results have shown a lot of users purchasing products on Amazon through these Ads.
Amazon has a gigantic list of products, and you need not worry about users clicking on your Ads to purchase products. Amazon pays the amount through direct deposit, the minimum amount being $ 10. The payment takes up to 60 days after the exhaustion of the month.
4. Adversal
Adversal is a fast-growing Ad network platform that has made native ads much more straightforward for users. Adversal has a very easy-to-use interface that makes the understanding of the whole process much smoother. It is also very intuitive; you can start or stop your Ads at any time as per your wish.
Not only do they specialize in Native Ads, but they also let you add their video ads and display ads to your blog. They have a full-functioning tag management system that prevents you from fraudulent product ads and much more.
To get started with Adversal, you are expected to fulfill some criteria like you must have your domain name, and your page must have a minimum of 50,000 page views in a month. They have a built-in CMP that helps you with monetization; you can freely use this tool without having to worry about anything.
5. Skimlinks
Unlike all other platforms, this is a unique one as it is into affiliate marketing. Skimlinks usually help you benefit from the links that exist on your blog. It scans all the links on the blog to see if it leads to any link leads to a site partnered with Skimlinks; if yes, you receive a 75% commission whenever any user clicks on it.
If in case a user clicks on the link and goes on to purchase a product, they will earn more significant revenue. Skimlinks are designed for bloggers who want to monetize their content and earn without actually displaying ads. This is highly beneficial for bloggers who are into product reviews.
Skimlinks has a minimum Payout of $10, and the amount is paid once every 90 days only.
6. InfoLinks
Infolinks is another useful yet unique tool for you that focuses outside of displaying ads. They are an in-text advertising platform. Infolinks tracks all your keywords and then promotes suitable ads for those keywords. Whenever a user puts his cursor over this particular keyword, a relevant ad will pop up on the side of it.
In-text ads are most appropriate for bloggers. The more words you have on your blog, the more keywords resulting in more Ads. Infolinks does not have any eligibility criteria; it monetizes any blog, be it old or new. Once you create an account, you can set up in-text ads very quickly.
Infolinks is used on more than 100,000 websites and blogs, and they are with some leading brands such as Netflix, Virgin Airlines, etc. Infolinks make the payment every 45 days, and you can receive your payment through PayPal, western union, or Payoneer.
7. Bidvertiser
Bidvertiser is a leading platform and a great alternative to Adsense, especially for those looking to monetize their blogs. Bidvertiser gives you ads based on three key factors, your location, keywords, and channels.

All their ads are mobile-friendly, and they have a variety of ads such as native ads, banner pop-unders, sliders, smart links, and much more. Their ads are customizable, and you can easily customize them to blend with your blog.
They also have an excellent Ad bid; this is a unique concept. You can auction a place on your website for an Ad. Bidvertiser will put it up for bid, and the competitor with the highest bid can place an ad on your blog; this will help you earn more; however, if there isn't enough competition for the place on your website, you might not get any ad or may get minimal earnings only.
Their minimum payout is just $ 10, and the payment is made every month through Paypal.
8. BuySellAds
If you are a well-established blogger who wants to earn more significant numbers, this is the right platform for you. If you have a website that has vast traffic coming in, then you can quickly get started with BuySellAds. They only consider clients who have traffic of more than 100,000 viewers every month.
They also check out your content and expect it to be of the highest quality written only in English. If you are successfully able to fulfill their criteria for joining and get started, you can earn a commission that is as high as 75%; this is much higher compared to the 62% offered by AdSense.
They do not display targeted ads, instead, they market your place and whoever bids the highest will be able to publish ads on the respective blog. This is a great initiative that lets bloggers earn more. They permit all sorts of ads such as banners, videos, etc. on their platform.
The minimum payment is just $ 20, and you will have your payment made through Paypal.
9. PopAds
PopAds are nothing but Pop-up ads. Browsing every day on the internet, you must be coming across hundreds of different pop-up ads of various niches; this is because these pop-up ads are positively trending right now and they also generate more significant revenue for websites and bloggers.
Popads has an industry experience of more than a decade, and they have upgraded themselves extensively to become a leading Pop up ads provider in the market.
This is much simpler compared to the premium platforms, you will need traffic of about 10,000 users a month to get started, and you can easily manage to use this platform. Their minimum payout is $ 4, and the mode of payment is througH PayPal.
Their payments are quick as well as they show real-time stats and charts on their platform.
10. RevContent
Revcontent is an excellent native ads platform that lets the Ad blend very well with your website. They provide ads in various formats such as video ads, display ads, as well as mobile ads. They are known to have the best publishers as well as clients; this way, they maintain a balance to reach out to the users and help the bloggers earn significant revenue.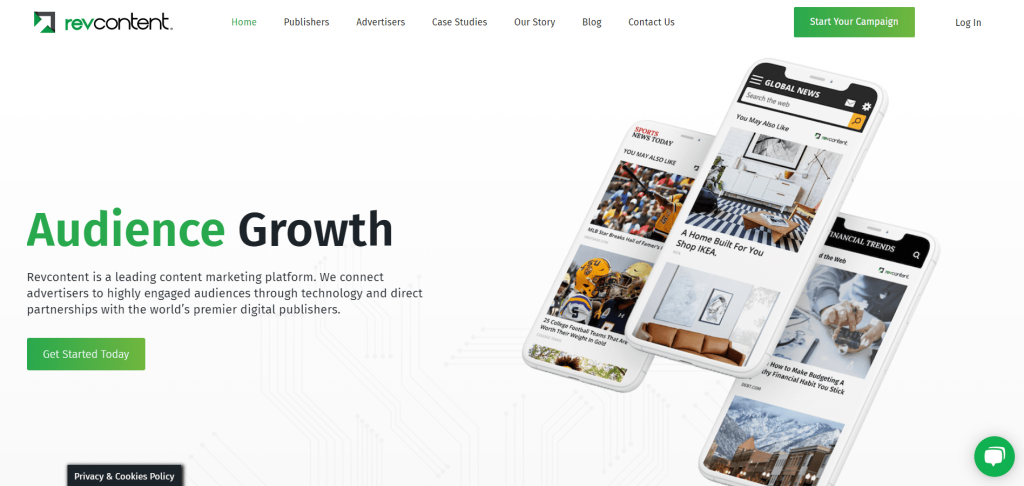 They are not very famous in the current market but looking at the way they are growing; you can soon expect them to be at the top. With over 250 billion content recommendations, this is one platform you wouldn't want to ignore.
It allows you to do customizations; this way, you can let ads blend with your blogs. You need at least 50,000 viewers every month and need to generate quality content consistently. The payment is made every month with the minimum payment being $ 50.
11. Sovrn Ads
Sovrn is an excellent AD LINK TOOL that lets you add links to your content by yourself. This is the best way for a blogger to get started with the monetization of his blog. This platform lets you create links for your products, for amazon products as well as any other e-commerce related product at ease.
You can also develop custom integrations like creating visual experiences as well as getting all sales-related data. With their dashboard, you can also keep an eye on the critical metrics related to your performance and work towards improving your strategy.
You don't have to worry about adding links if in case you do not want to add links by yourself, no issues. Sovrn will automatically find the keywords and add suitable links to it with which you can generate revenue.
It was formerly known as Viglink and is still famous by the same name, however, its an excellent and well-known platform and is a beautiful alternative to Adsense.
12. PopCash
Pop cash is an excellent pop-under ad network that gives you worldwide coverage. They prompt great content and protect you from fraud as well. They have a very easy-to-use interface that can get you started in less than 10 minutes. It's a positively performance-focused platform that provides you with worldwide coverage and 24/customer support.
They offer you payment through more than eight channels and have more than 50,000 active publishers working with them. You get hourly updates and daily reports on this platform. You get total control over your campaign, and you can create, start, stop, or delete your Ads as per your choice. With over a decade of experience in the industry, they provide a safe platform for users. Their payment is made through PayPal, and the minimum payment is $ 5.
13. Vibrant Media
Vibrant Media is considered to be an elite platform for earning through Ads. You can see a lot of premium ads coming from their platform as they have some huge clients who use this platform.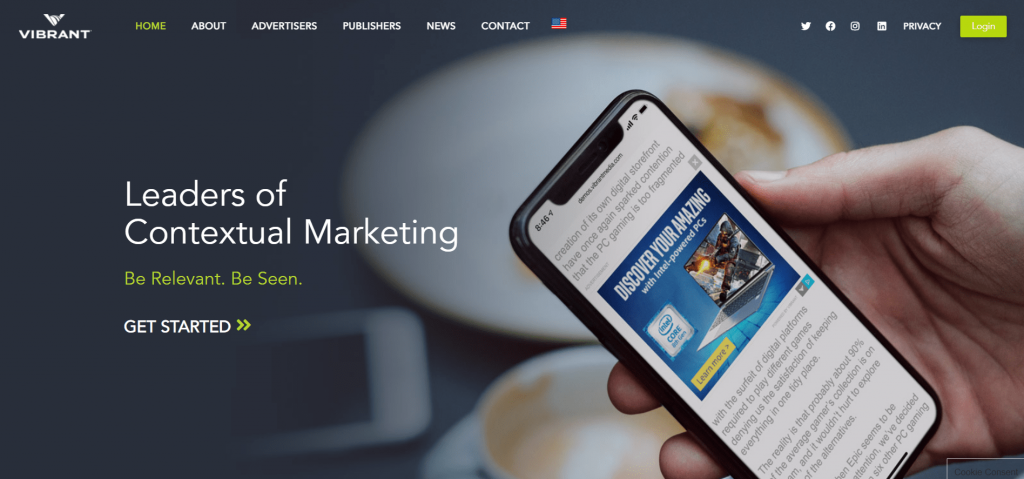 Having premium advertisers, come with eligibility criteria as well. You need to have a minimum monthly traffic of at least 500,000 page views. They are quite picky about the website they choose to promote Ads.
They have their very own technology that is being used to find relevant keywords on your blog and then give ads accordingly. They underline your keywords and add a link to it, which will then pop up whenever a user is hovering over the keyword. These pops are known to be very attractive and give you a more significant number of clicks.
They have other forms of Ads as well for you, though challenging to get partnered with, we suggest you give it a try and get Ads from this platform to earn highly.
14. Revenuehits
Revenuehits is a growing platform that lets you earn money through Ads. They offer contextual as well as geo-target Ads. You get an excellent variety of ads including pop-ups, banners, sliders, and much more. This is a performance-based network that gives you results based on specific actions and not only if a user clicks on the Ad. It has a straightforward user interface, and you can get started with this platform quickly.
They do not ask you to fulfill any eligibility criteria; you need not have any minimum traffic as well. They also have an anti pop up block technology that lets the users see the Ads though they must be using an Ad-block technology. There are four modes for receiving your payment, Wire, Paypal, Bitcoins, and Payoneer.
15. Adcash
Adcash is another leading ad serving platform that helps you earn money very well. They allow various types of Ads to be published in your blog, varying from Pop-under ads to display ads. Another significant benefit it has is its worldwide coverage.
They are said to be available in 196 countries; this is an excellent benefit for websites outside the United States since a majority of the Ad platforms focus on providing Ads based on the U.S. You can easily monetize your Ads and earn from whatever traffic is coming to your website.
This is one of the platforms to provide you with the most awesome Anti Ad block technology. An anti-ad-block technology is one that lets your Ad breakthrough software that hides Ads from users. A lot of the frequent internet surfers use Ad blocking technologies to stay away from Ads. With this Anti-ad-blocking technology, you can earn more significant revenue as their Ads will be visible to all.
16. Taboola
Taboola is the best alternative to Google Adsense. It is one of the most reliable and widely used platforms, which offers a 100% of fill rate around any geographical location. Taboola also offers a number of robust features, including customized widgets, in-feed units, promoted product listings, and many more.
The main places where you can effectively use Taboola are networking websites, social media, your personal website, and Google Sponsered search area. Everything will be handled on your central dashboard.
Also Read:
Conclusion:
As per our recommendations, we would recommend you go for Media.net. It is an incredible platform for users.
They provide not only great Ads for highly influential bloggers and media houses but also support new and smaller bloggers very well. Though they have a strict policy to get in, you don't have to worry as long as you have top-notch content.
We hope we have walked you through the best Adsense alternatives that will help you earn more revenue as well as give fame to your Blogs. Though AdSense is a top performer, many more underdogs in the industry will help you earn more and with fewer demands.
For more queries on this topic, you can write them down in our chatbox below. We are open to your feedback and suggestions as well.
Frequently Asked Questions:
Is it possible to run Ads from multiple platforms on my website?
Yes, it is possible and permitted to run Ads from multiple platforms as long as you don't violate the terms and conditions of both parties.
Is Adsense beneficial in the long run?
Adsense has blocked a lot of bloggers due to various reasons, and many claim that it has stringent policies that are unnecessary. As a single source of income, it is too risky for survival in the longer run.
Is it possible to run your Ads on the website?
Yes, you can run your ads on your website as long as it earns you something and does not get too annoying for the users.