Still, figuring out how to find longtail keywords? If yes, you have landed at the right place to clear your doubts.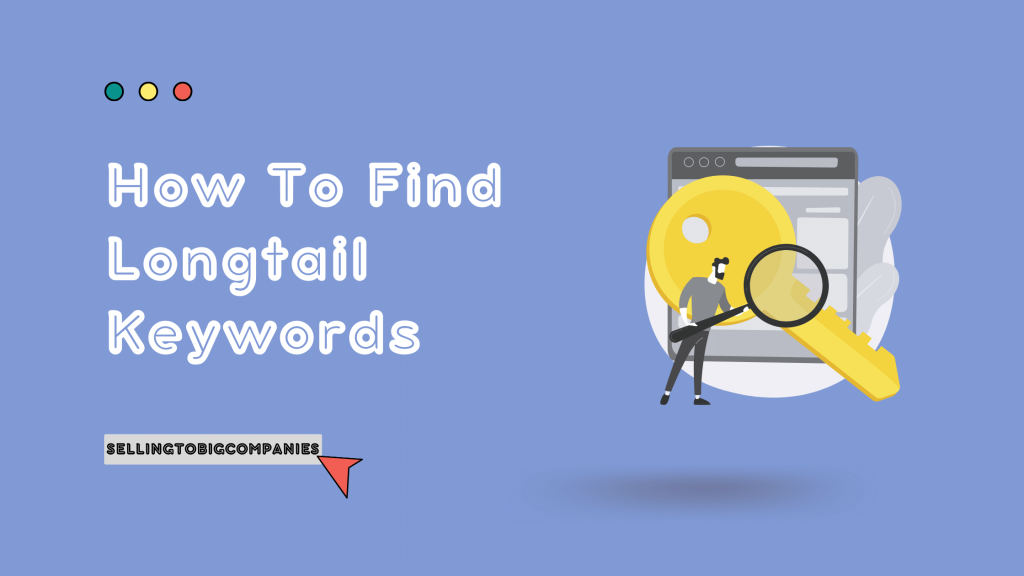 So, here in this post, we have listed we have handpicked some best tools to find Longtail Keywords. Let's get inside into it. 
Best Long Tail Keyword Finding Tool: In A Nutshell 
| | | |
| --- | --- | --- |
| S. No. | Long Tail Keyword Finding Tool | Price |
| 1. | Ahrefs Longtail Keyword | $99 per month |
| 2. | Hubspot Content Strategy Tool | $45 per month |
| 3. | Semrush | $99.95 per month |
| 4. | LongTail Pro | $37 per month |
| 5. | KWFinder | $29.90 per month |
| 6. | Ubersuggest | $12 per month |
| 7. | Answer The Public | $79 per month |
| 8. | Wordtracker | $27 per month |
| 9. | Google Trends | Free |
| 10. | GrowthBar | $48 per month |
List Of 10+ Best Longtail Keyword Finding Tools (2023) 
Here in this section, we have listed 10+ best Longtail keyword-finding tools. So without any hassle, let's get started.
1. Ahrefs Longtail Keyword
Note: You can also check out Ahrefs free trial here.
Ahrefs is one of the top SEO marketing tools which helps you to find longtail keywords. With Ahrefs keywords explorer, you can search for any word which defines your niche, and with the help of a search volume filter, you will instantly see the numbers of longtail keywords.
If your website is new and barely has any authority, use the Keyword difficulty filter that helps you to find the least competitive keywords. 
Price: Ahrefs pricing plan starts from $99 per month to $999 per month.
2. Hubspot Content Strategy Tool
Hubspot is an all-in-one SEO marketing tool that helps you optimize your website content, measure returns on your investment, and plan your SEO strategy.
This content strategy tool helps you discover keyword suggestions based on relevance, popularity, and competition. It also focuses on your cluster topics that the search engine prefers. It saves time and gets all the context you need to personalize, which converts the right customers to scale.
Price: Its pricing plan starts at $45 per month to $3200 per month.
3. Semrush
Semrush is one of the best online marketing tools known for its Keyword research tool that helps boost your traffic and find the best keywords to supercharge your digital marketing strategy.
With Semrush, you can effortlessly search for the keywords and find their ranking in all major search engines based on your geographical location, and find competitive intelligence for what keywords your competitors are targeting.
Price: Semrush price will start at $99.95 per month to $374.95 per month. Semrush also offers a 30-day exclusive free trial of their pro plan.
4. LongTail Pro
LongTail Pro is one of the best platforms for SEO tools that have been mainly used for finding the longtail keywords and CPC keywords for your paid ads campaign. You have to enter your single seed keywords and get upto more than 4000 longtail keywords from the Google planner data within a second.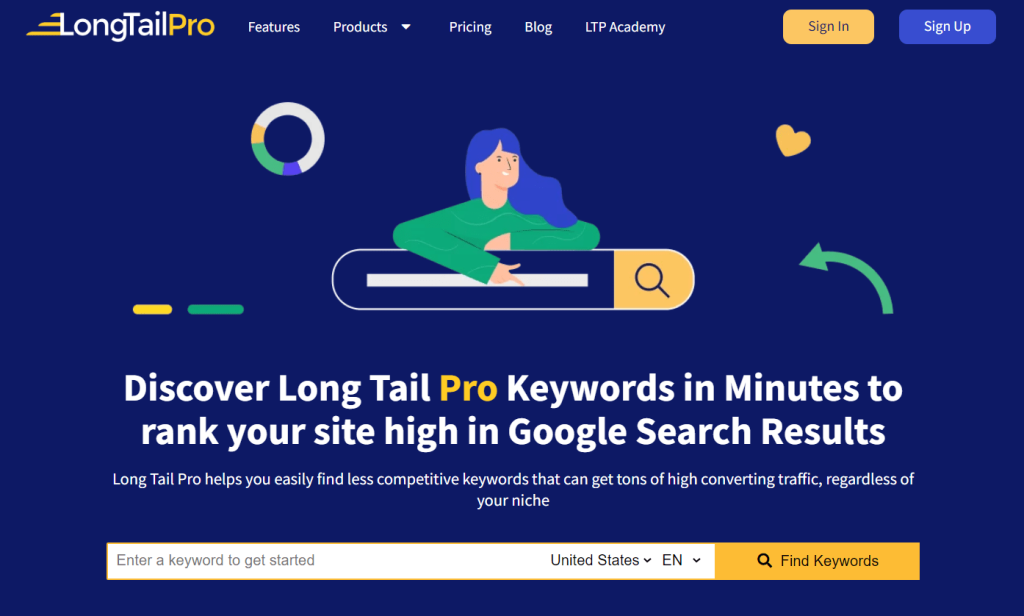 Some of the main features offered by LongTail Pro are rank value, keyword research, domain name finder, and daily keyword tracking, which determines keyword profitability.
With Long Tail Pro, you can immediately pull out keyword metrics to know how it works for your campaign and leads to profitable results.
Price: LongTail Pro pricing plan starts at $37 per month to $147 per month.
5. KWFinder
KWFinder is the best keyword tool you will ever need to find longtail keywords with low SEO difficulty. To analyze the keywords, just go for the keywords with high search volume and low SEO difficulties.
It offers quick search features with a clean interface that can generate thousands of low-competition keywords relevant to your site. KWFinder is a Google SERP that uses different longtail keywords, which you need to optimize for other search engines.
Price: KWFinder pricing plan starts at $29.90 per month and goes upto $79.90 per month.
6. Ubersuggest
Ubersuggest is a free SEO tool for generating new keyword ideas; it was recently acquired by Neil Patel, who has expanded its features.
Its keyword suggestion is based on Google Ads data and Google SERPs. Its SERP analyzer features give a view of over the top 100 sites which rank for a term, and its keyword overview shows the search volume data over the last year.
Price: 7 days of the free trial. Its paid version starts at $12 per month to $40 per month.
7. Answer The Public
Answer The Public is also one of the best for suggesting the long tail keywords because it generates the questions about your seed keywords on blogs, forums, and social media.
Answer The Public listens to autocomplete data from your search engine to start out questions and phrases that people are asking about your keyword.
Price: Its pricing plan starts at $79 per month to $199 per month.
8. Wordtracker
Wordtracker helps you deliver the most relevant keywords from Google, Youtube, and other social media. Its Niche explorer will help you identify the trending keywords in your field.
You can also access Wordtracker Academy for niche explorer for 12 searches up to free.
Price: Offers 7 days of the free trial. The paid version starts at $27 per month and goes up to $99 per month.
9. Google Trends:
If you want to find the most popular keyword in the past or right now, then Google Trends is the best choice for everyone. With Google Trends, you can easily find out whether the interest in a specific keyword is growing or declining and store two keywords against each other to see the popularity comparison.
Google Trends also filters interest on behalf of subregions and regions, which is very useful for you to target specific graphical areas. This is a very incredible and simple-to-use tool from Google.
Price: This tool is completely free to use.
10. GrowthBar:
GrowthBar is the best tool for creating SEO-friendly content. Its AI writing helps you to create quickly long-form blog posts. Its keyword database of more than 2 billion keywords makes it the world's biggest keyword database in the market.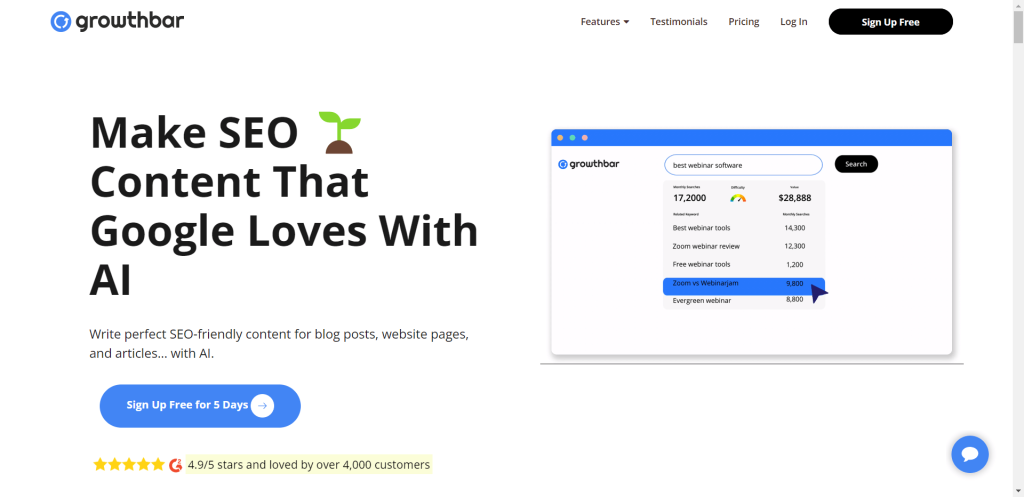 GrowthBar keyword data includes search volume, Google Ads CPC, related keywords, and proprietary metrics which help SEOs to know how profitable keyword ranking is. It also features competitor analysis, keyword rank tracking, and AI writing which helps writers to make blog ideas, meta descriptions, and long-form content within a single click.
Price: The pricing plan of GrowthBar starts at $48 per month to $199 per month.
Related Read:
Conclusion: How to Find Longtail Keywords (2023)
I hope this article will help you choose the best tool to find the longtail keywords for your content that helps you connect with your specific audiences.
Still, if you have any queries regarding this article, comment on your thoughts in the comment box below.