There are several integrated WordPress themes on the market that will work with various processes. Some people are at ease with this, but it does not provide the desired appearance and feel. Further editing is required to bring your concept to life. Several WordPress themes offer limited modification possibilities, which makes editing the way you like it even more difficult.
The most straightforward approach to generating the themes you desire is to use a WordPress page builder. You don't need to be a computing nerd to utilize one. It's just a drag-and-drop affair—no coding, Nothing. And there are hundreds of good ones out there. But, before you decide to make a purchase, you might want to consider reading through our take on the best page builders for WordPress available for you in 2023.
We will cover 6 of the best out of the tons of options. This guide is sure to assist you in making a well-informed decision and choosing the best one for you.
Best WordPress Page Builder: In A Nutshell
If you do not want to go through the entire article, then check this table which help you to choose the best WordPress Page Builder.
| | | |
| --- | --- | --- |
| S. No. | WordPress Page Builder | Price |
| 1. | Elementor Pro | $59 per year |
| 2. | Beaver Builder | $99 per year |
| 3. | Divi | $89 per year |
| 4. | Themify | $59 per year |
| 5. | Visual Composer | $49 per year |
| 6. | SeedProd | $39.50 per year |
| 7. | WPBakery Page Builder | $59 lifetime |
| 8. | Brizy | $9 per month |
| 9. | Page Builder Sandwich | $29 per year |
The 9+ Best WordPress Page Builder Plugins In (2023)
So here's the list of the best WordPress page builders available out there. We're doing a mini-review of all these WordPress page builders.
1. Elementor Pro
Trusted by over 14 million users across the globe. Elementor Pro offers tons of templates to pick from. After you've chosen a template, you can modify it in real-time using Elementor's live editing tool. Elementor allows you to switch between desktop, tablet, and mobile previews to build responsive pages.

With over 90 widgets at your service, you can add menus, sliders, responsive buttons, photos, headers, search bars, and much more.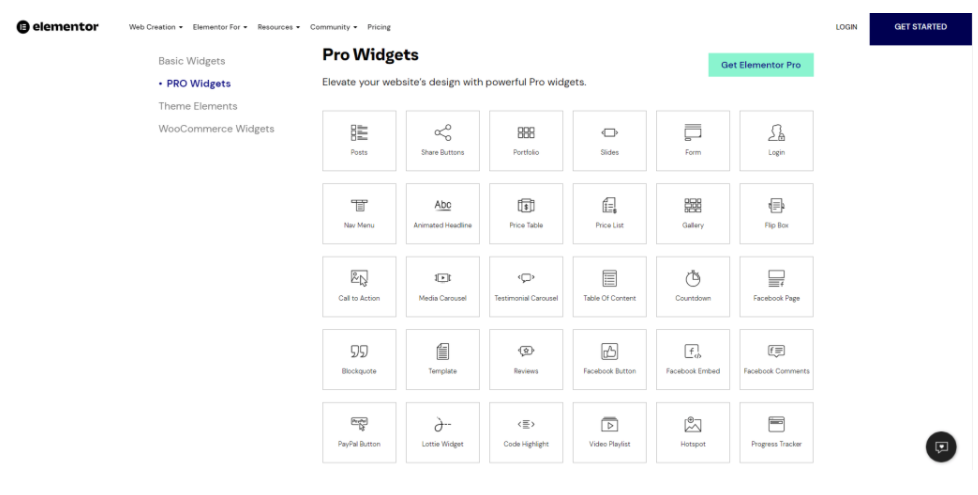 The program provides pixel-perfect design while still producing clean code and site templates that are easily customizable.
Related Read: Elementor Free vs Pro
Key Features:
Real-time drag and drop editor with responsive edition 
100+ widgets.
300+ designer-made templates with pixel-perfect design.
Over 300 Tutorials, Courses, Webinars, and more.
Professionally created add-ons to unlock thousand more templates!
Open-source API allows you to create your own templates.
1000+ fully designed website kits.
Pricing:
Essential Plan (1 Pro Website): $59/Yearly
Advanced Plan (3 Pro Websites): $99/ Yearly
Expert Plan (25 Pro Websites): $199/Yearly
Agency Plan (1000 Pro Website): $399/Yearly
Elementor offers a 30-day money-back guarantee on its plans.
---
2. Beaver Builder
Used on over 1,000,000 websites. Beaver Builder is a front-end website builder for WordPress.
Editing a page is fast and straightforward with Beaver Builder. Begin with a template or a blank canvas, then simply drag & drop content columns onto your theme. You'll be ready to publish after you've filled those columns with text, graphics, and other content. As easy as it sounds!
It works with all WordPress themes; however, its full potential can be seen with themes that have a full-width layout and a minimalist style. Beaver Builder is also user-friendly for developers, with clean code, a solid platform, and well-documented PHP, Cascading Style Sheets (CSS), and Java Script choices. One huge plus point of Beaver Builder is that businesses can use Beaver Builder on an infinite number of sites with a single license.
Key Features:
Well-organized and clean UI
SEO Optimized
Supports WooCommerce
Several landing page templates to choose from
Allows users to create, save and use the saved templates on unlimited websites.
Facilitates the popular bootstrap framework.
Assistant Pro – Productivity tool to export, import, and save templates and other assets to the cloud.
Pricing:
Standard Plan: $99/Yearly
Pro Plan: $199/Yearly
Agency: $399/Yearly
Ultimate Plan: $546/Year
Beaver Builder also offers a 30-day money-back guarantee on its plans.
---
3. Divi
With a userbase of 800,000+ Divi is yet another front-end drag-and-drop webpage builder that allows you to create special effects, add custom Cascading Style Sheets, and review modifications in real-time.

Its' split-testing method and the Magic Color Manager are two of its most distinctive features. You can use the latter to generate many versions of a page with varied colors, headlines, or full layouts and present them to different visitors to see which one performs better. Divi's Magic Color Manager is a color system that recalls and maintains your recently used colors for convenient access, as well as employing an algorithm to recommend new colors that complement your existing palette.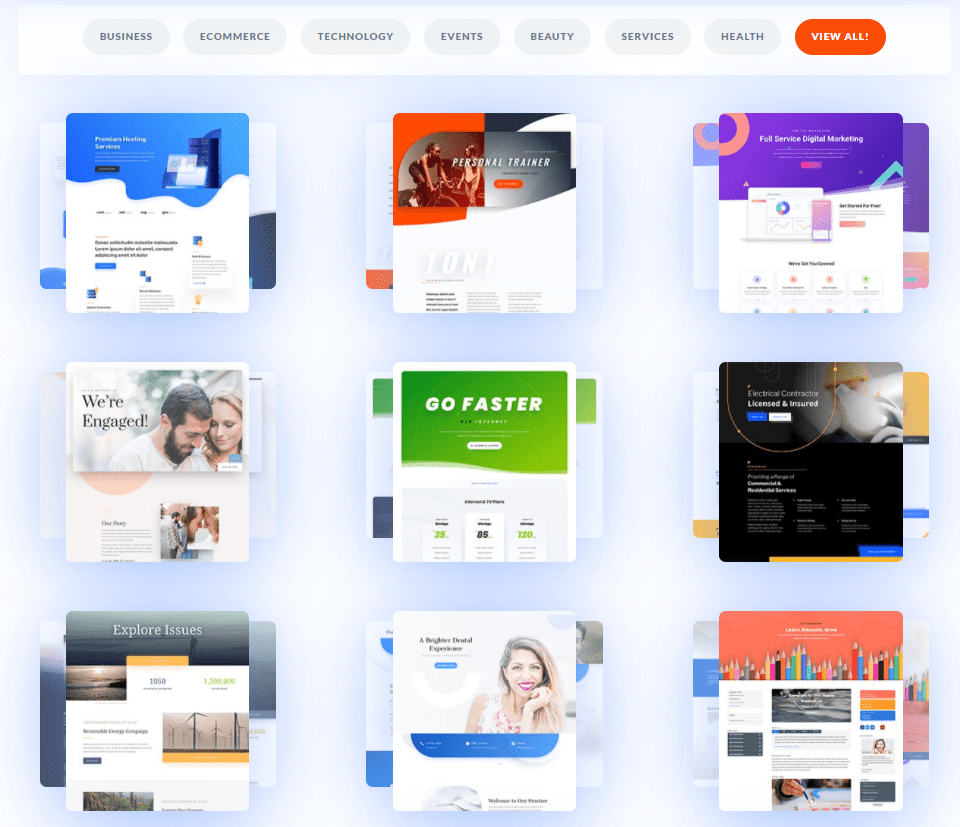 No matter if you're a freelancer who is just starting out or a well-established agency, Divi will bridge the gap between your requirements and fulfillment. With over 19,000 5-star reviews on Trustpilot, You can trust with a blindfold that your website will turn out amazing with Divi.
Key Features:
Responsive Editing
Custom CSS Control
40+ Website Elements
More than 800 Pre-made Designs
Over 100 Full Website Packs
Background blend Mode
Top-notch speed without bloating
Constantly updated with new features
Pricing:
When it's about pricing, Either you pay Divi for a yearly plan or a Lifetime Access plan! There is no in-between. Crazy right? Here are its plans.
Yearly Access: $89/Year
Lifetime Access: $249 (charged as a one-time fee)
---
4. Themify
Themify is a super powerful and user-friendly 'FREE' WordPress page builder. With it, you can change almost every element of your website. Themify Builder features both back & front-end edit mode, which allows you to drag and drop widgets to build unique layouts on the back end and further make changes on all those elements on the front end.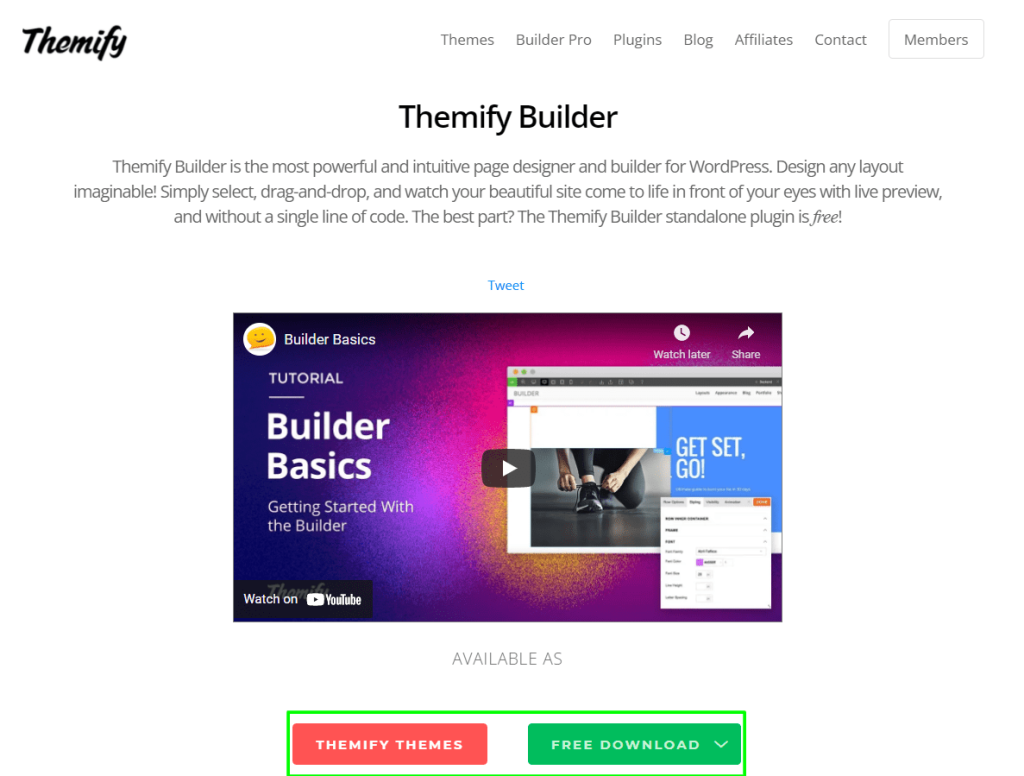 Another distinguishing feature of Themify is its column and row constructor that allows users to construct responsive grids that show differently on computers, tablets, and smartphones. Users also get access to over 60 motion effects that they can apply to objects that they want to stand out on the page.
Since its launch, Themify has helped more than 113,000 users create amazing websites.
There is more than just the free version. Refer to the pricing section for more!
Key Features:
42+ Themes to work on
Over 11 plugin
25 builder add-ons
5 Post-type builder add-ons
Pricing:
Themify plugin is FREE, as we said. But you can still unlock more by subscribing to the $89 Master Club. It has a substantial number of templates.
If you're using another theme on your website from a different provider, you can unlock a discount of 50% on the Theme Club membership. All you have to do is give your website's URL and a screenshot of your receipt from the other theme provider.
---
5. Visual Composer
Visual Composer allows you to transform the look of your whole website. In addition to web pages and blogs, you have the option to customize your website's headers, footers, and menus as well.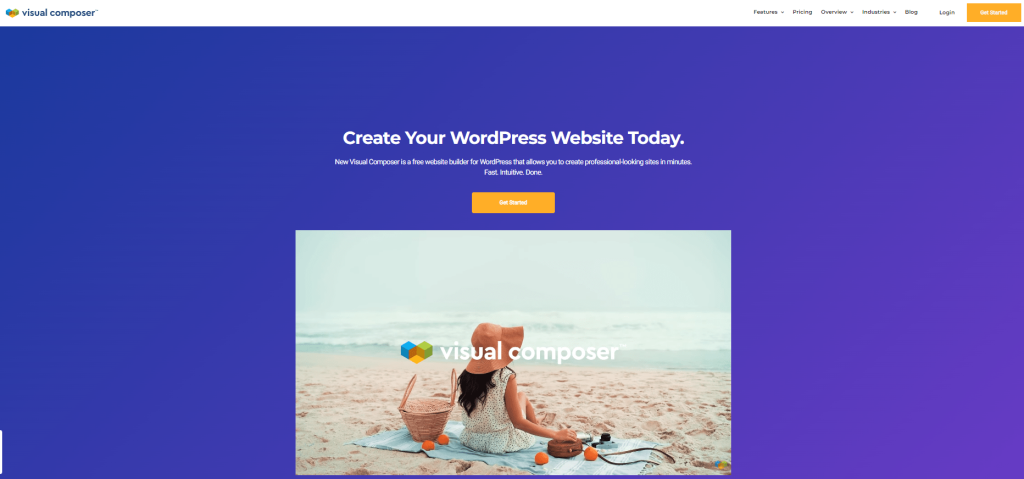 You can begin by using one of the Visual Composer's pixel-perfect ready-made templates, or you can begin by dragging and dropping items to create a page from zero. You can apply background effects, shadows, and animations to practically every element, as well as alter the spacing, edge, boundaries, and width.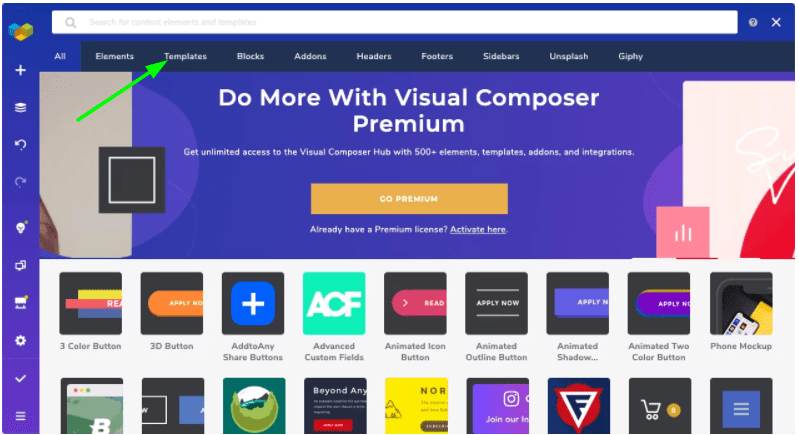 Although Visual Composer provides a wide range of tools to help any business develop a stunning WordPress site, the diversity of choices bends this plugin toward experienced designers. For Newbie website builders, it can be tricky to grasp.
Key Features:
Visual Composer Hub – A free cloud marketplace with weekly content upgrades that provides everything you could possibly need to construct a website.
300+ ready-made professional templates
Theme Builder – To build your own theme!
Responsive editor
Pop-up constructor
API for developers
Pricing:
Annual Plans:
Single Plan (1 website): $49
Plus Plan (5 websites): $99
Accelerate Plan (20 websites): $149
Agency Plan (1000 websites): $349
Lifetime Plan:
---
6. SeedProd
With over 1,000,000 clients, SeedProd allows users to quickly design excellent landing pages. Users don't need any coding experience to get the most out of SeedProd.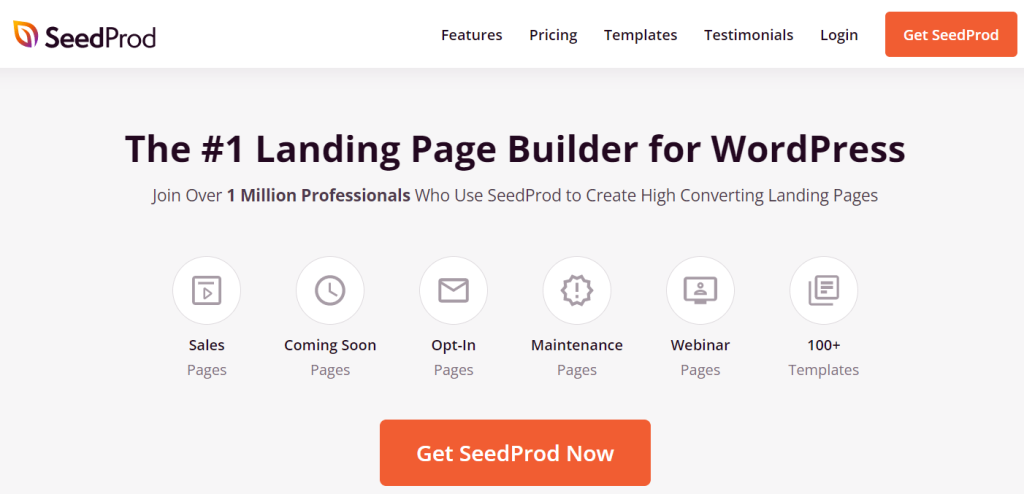 SeedProd's key features include designing blocks specifically designed for landing pages intended to maximize utility with the least bloat. It has a variety of landing page layouts, in-built "intelligent" sections with headers, and spam prevention against bots.
Rather than generic page construction, SeedProd focuses on landing pages with high conversion rates. While it provides a broad range of capabilities to assist you in creating better landing pages, other page builders can be a better alternative if you need a complete website service.
Key Features:
Landing Page-Specific Blocks
Real-time previews and editing
Mobile device previews
150+ Landing Page Templates
Bloat Free Code
Custom CSS
Domain Mapping
WooCommerce Integration
Spam Protection
Pricing:
Basic Plan (1 site): 39.50
Plus Plan (3 sites): $99.50
Pro Plan (5 sites): $199.50
Elite Plan (unlimited sites): $239.60
All plans are yearly and come with a 14-day money-back guarantee.
7. WPBakery Page Builder
WPBakery is one of the leading WordPress page builder plugins. It serves as a front and back-end page builder, which enables the creation of a responsive design. With lots of flexibility and templates makes it the best choice for everyone.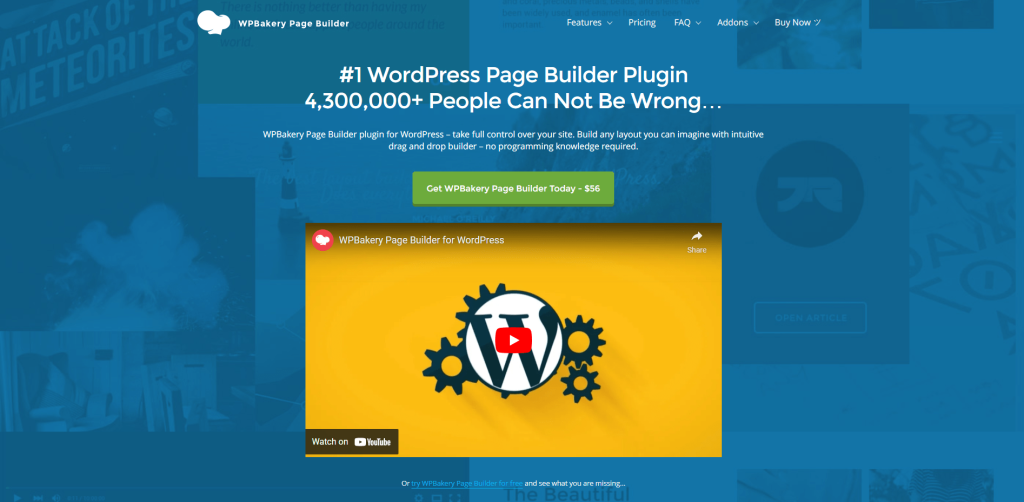 WPBakery has been around for a long time, so you may find an integrated layout, text blocks, icons, and diagrams. There are many third-party sellers which provide thousands of useful elements for particular appearances and more than 250 integrations with important plugins like WooCommerce.
Key Features:
More than 50+ content elements 

Advanced template library 
Robust grid builder 
WPBakery page builder can be used on any WordPress theme. 
24/7 customer support team 
Fully extendable by WPBakery page builder API
Pricing:
Regular Plan: $59 for a lifetime
5 Site Plan: $256 for a lifetime
10 Site Plan: 499 for a lifetime
8. Brizy:
Brizy is a relatively new WordPress page builder that was released on April 2018. Its page builder has more than fifty thousand active installations on the WordPress website. This platform is perfectly prepared for webshops with WooCommerce plugins.
Brizy is the fastest with loading times if you use themes like Astra. This tool loads your website very fast, but its page builder works very smoothly and quickly. It has an interesting feature which is a global block. You can also announce an event in a Global Block, and this announcement is automatically available on your website carrying that Global Block.
Key Features:
Global Styling Support 
Animated Slider 
More than 400+ templates 
Real-time editing 
Visual contact forms 
Drag and drop theme interface
Landing pages 
Pop up builder 
Pricing:
Personal Plan: $9 per month
Freelancer Plan: $29 per month
Agency Plan: $49 per month
White Label: $69 per month
9. Page Builder Sandwich:
Page Builder Sandwich is a free plugin but there is an option to upgrade it to the premium version. On-Page Builder Sandwich you can get thousands of vector icons, numbers of plugins, and shortcodes with the ability to add your own CSS.
With Page Builder Sandwich you don't have to worry about backend designing. Its drag-and-drop feature is pretty basic with its simple images and boxes. You can easily customize size and color with your mouse and you will see changes in real-time. This WordPress page builder is a somewhat lower version of Elementor and Divi, but it works well when you clear out the clutter.
Key Features:
Customized Google Maps 
More than 1700+ vector icons 
Add entrance animation for every element 
Ghost button and more stylish options for button 
More than 600+ plugins and shortcodes
Pricing:
One Website Plan: $29 per year
Five Website Plan: $49 per year
Unlimited Website Plan: $199 per year
Conclusion: Best WordPress Page Builder (2023)
Every builder listed above features a drag-and-drop capability that allows you to create web pages of your choice. The key to selecting the one among all these is to think about what makes it unique. We find Beaver Builder to be the most user-friendly and straightforward; while Elementor is a complete package, SeedProd, on the other hand, has an excellent conversion rate for Landing pages. We recommend going through all the features of each builder and figuring out which one will suit your needs the most.
Build magnificent websites from the ground up with the built-in templates that all of the above plugins offer, or create one from scratch. It's all about personalizing the templates to get the desired style and feel.
We hope this guide was helpful. We strive to bring the best WordPress-related content to our website. be sure to check our other blogs so you don't miss anything.
Frequently Asked Questions
Why Elementor doesn't offer a lifetime plan?
Elementor's team believes that it won't be able to provide premium content and update its theme as frequently if they roll out a lifetime access plan. The money that goes through purchases goes into its development. Read the whole thing here.
Which page builders offer Lifetime access?
Among the ones we have listed above, Divi and Visual Composer offer lifetime access plans.
Which page builder supports coding?
You can opt for Visual Composer, Divi, or Themify if you want to code as well as drag and drop while designing a website.
Which page builder is the most value for money?
We recommend Beaver Builder, Elementor, or Divi for users who want more features at an economical price