On the verge of migrating your old eCommerce store to your new eCommerce store using Cart2Cart? Before you do that, check out this exclusive coupon to save a few bucks on your migration with Cart2Cart.
Cart2Cart is a fantastic migration software that allows you to migrate your store within just a few hours. Your data will be transferred to your new store in just a few hours. Famous store owners & eCommerce agencies trust Cart2Cart to transfer their data. It also lets you estimate the pricing of migration before migrating.
If you feel Cart2Cart charges a lot for migration, then check out this exclusive Cart2Cart coupon offer to save money after completing a migration. I will also explain how you can claim these coupons without any hassle.
Let's get into all the details.
Available Cart2Cart Discount Coupon Offers (2023)
When you search for Cart2Cart coupons on the internet, you will see that many websites claim to offer coupon codes for them, but none of them are working as of now. Cart2Cart does offer some exclusive deals on special occasions such as New Year, Black Friday, Cyber Monday, Christmas, and so on.
If you can't wait for these offers, then you can simply follow all of their social media handles to get a 3% discount on all your future migrations. They also offer an additional 5% discount if you share their post on Facebook. To claim these offers, you need to talk to their managers via live chat after completing these actions.
If you want a bigger discount offer, then you can fill up a request Cart2Cart discount offer where you need to enter your email address, source platform, target platform, and your comment on why you should get a bigger discount. Once they approve it, they will give you a bigger discount.
How To Claim Cart2Cart Coupon Offer [Step by Step]
I've explained the available Cart2Cart coupon offers. Now I will explain how you can get these offers without any hassle. You just need to follow all these steps in the same order to get the discount.
Step #1: Visit the official website of Cart2Cart using this discount link. Click on the pricing option on the website. There you will need to select the source cart and select the target cart. After that, enter the number of products, number of customers, and number of orders you want to migrate, and then click on get estimates.
Step #2: It will show you the price for migration and the estimated time to complete the migration. Click on the "Start Free Demo Now" button.
Step #3: Now, you need to sign in or sign up to move forward. Use your credentials to sign in or if you don't have an account, then enter a valid email address and then click on the "Sign Up" button.
Step #4: Your free Cart2Cart will be created. Now you need to start the migration, and for that, you need to enter your source cart, source cart URL, and enter your target cart. Once you fill out all this information, click on the "Choose Entities" button.
Step #5: Now, you need to select up to 10 entities to start the demo migration. The demo migration will only take 10-15 minutes. You will see that you won't lose any critical information at that time.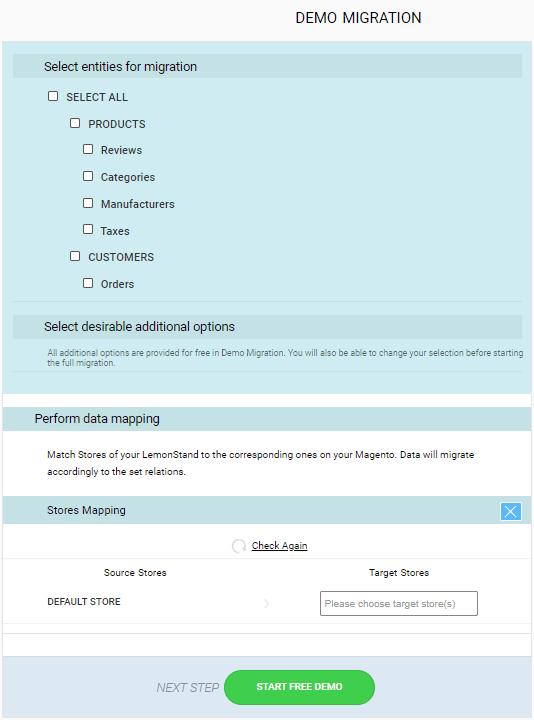 Step #6: They will ask you to make the payment to complete the entire migration. Enter the coupon codes you will get from the live chat at the time of checkout and get the discount applied to the pricing. Make the payment using your credit card details.
Once you complete your payment, you will only need to wait for the estimated time they showed you at the beginning for the migration to be completed. This is how you can migrate your online store from one platform to another.
Cart2Cart Overview:
Cart2Cart is the best cart migration automated platform that smoothly executes the most challenging portion of data migration is transferring data. It also helps you to save lots of resources and time and allows you to focus on the essential and major task which is important for your online business.
Cart2Cart is an automated migration platform that is specially developed to make the migration process across many shopping carts. You don't need to install any software on using Cart2Cart. The migration is conveyed on a committed server host. 
Cart2Cart Pricing Plan
There is no fixed pricing plan available on Cart2Cart. But if you want to use self-service migration where you don't need to do any technical stuff, then you need to pay $29 along with the migration price. If you don't want to do any migration-related work, just delegate it to Cart2Cart experts at just $299. They will do all the work for you at no additional cost to you than $299.
Cart2Cart offers migration among more than 85 platforms that include Magento, Shopify, OpenCart, BigCommerce, Squarespace, Volusion, Wix, WooCommerce, Zen Cart, osCommerce, PrestaShop, Shopware, VirtueMart, and so on. It shows you the estimated price and time in advance before even migrating.
It will help you in figuring out whether it is the right choice or not. The pricing and time of migration increase as the number of entities increases. Cart2Cat pricing is directly proportional to the number of entities you want to transfer from one platform to the other platform.
Pros & Cons Of Cart2Cart:
In this section we have listed the pros & cons of the Cart2Cart, so without any hassle let's have a look.
Pros:
Easy-to-use interface
Great migration speed
Personal account manager
No technical skill needed
Effortless 3-step migration
Professional solution
24*7 customer support team
Cons:
Need to pay extra for additional add-ons
Related Read:
Conclusion: Cart2Cart Coupon Codes 2023
Cart2Cart has already helped more than 150K customers migrate their store's data from one platform to another. You don't need any technical skills to do the migration because the experts at Cart2Cart will do that for you. Your selling will not stop even when the data is migrated to another platform. They also offer 24*7 live support to guide you through the complete migration.
They offer high security to ensure that your data doesn't get misplaced at the time of migration. I hope with this Cart2Cart coupon, you can save a few bucks on your migration. Let me know your thoughts on Cart2Cart in the comment section below.
FAQs On Cart2Cart
Can I try Cart2Cart for free?
Yes, you can use the services of Cart2Cart for free via the demo migration feature. With this feature, you can migrate a few entities from one platform to the other without paying anything.
Does Cart2Cart offer a money-back guarantee?
No, they do not offer any money-back guarantee because it can not be undone once the migration. That's why you should try out the demo migration feature to be sure.
Will Migration affect your existing store?
No, Migration will not affect your existing store. You can keep on selling your products even when the store's data migrates to the target cart.
What payment method does it accept?
Cart2Cart accept payment method through PayPal and all major types of credit cards like Maestro, MasterCard, Visa, and American Express.
How can I get my migration invoice?
You can get your migration invoice directly from the Cart2Cart official website. Login to your account and click on the My Payment option and hit the Generate Invoice button.
Is Cart2Cart a reliable Platform? 
Of course, Cart2Cart is a reliable platform to migrate your online store. It cant prevent and predict every issue but still, it is reliable.