If you are a beginner and don't know How To Use Ahrefs? If yes, you have arrived at the right place to get all your answers.
Ahrefs is the best platform that offers the best tools with robust features. If you are a new user or lack experience with using Ahrefs, we have selected the 9 best methods of using Ahrefs to get immediate value. 
So without wasting any time, let's see how to use Ahrefs.
What is Ahrefs?
Ahrefs is the best SEO platform which contains tools like keyword research, link building, site audit, rank tracking, and competitor analysis. It is best known for its backlink checker as it has the largest database of live links. Ahrefs uses crawling software to refresh your site to know how search engines see it. This helps you to know your site in a better way so that you can optimize it for the search engines.
If you start using Ahrefs, you will get the dashboard which helps you to track all your data. You need to only add a Url to get an eye on your domain health. It also shows the new links, errors, referring domains, and Url ranking. 
9+ Best Methods To Use Ahrefs In 2023
Here are some best methods to use Ahrefs for beginners in 2023. Let's dive into it.
Search Traffic Of Your Competitors.
See What People Searching For On Google
Find From Where Your Competitor Get Backlinks
Find SEO Issues That Hurt Your Website Performance 
Estimate Keyword Difficulty
Discover Competitor's Linkable Assets
Find Gap In Your Content Strategy
Find Numbers Of Quality Link Prospects
Detect Your Ranking For Numbers Of Keywords
1. Search Traffic Of Your Competitors
With Ahrefs site explorer, you can see how much traffic your competitor gets, allowing you to benchmark your traffic against them.
The most important thing is that Ahrefs only report the search traffic of your website it is not liable for referral traffic, direct traffic, and the traffic you get from a social network. 
Ahrefs estimates the number of traffic, and this estimation is slightly different from the actual number that Google Search Console shows. Still, these differences are consistent for all websites within one niche.
Here I will show you an example to make this point better. If Ahrefs is showing 30% less traffic than what your website actually gets according to Google Search Console, Ahrefs will report the same 30% less traffic than your competitors.
2. See What People Searching For On Google
One of the best things to grow your traffic on Google is to know what people are searching for, which means you need to study the popular searches of your business.
So to solve this, Ahrefs Keyword Explorer helps you benchmark the popularity of any search queries and help you find thousands of relevant keywords you want to target. Now you can thousand of keyword ideas with accurate search volume.
Clickstream data helps you refine the number of search volumes every month and ensure that matric is always up to date and accurate to analyze its ranking difficulties and calculate traffic.
3. Find From Where Your Competitor Gets Backlinks 
If you are an SEO professional, the most common thing is to determine where the top-ranking got their backlinks and how we get the same backlinks for our pages.
So for that, Site Explorer is absolutely the best tool for this situation. To know more about backlinks, you need to take the Rank #1 page of your desired keyword, plug the URL into the tool and go to the backlink report to learn more about your competitor's backlinks.
So you can get the in-depth site at the organic search and backlink profile of any URL or website.
4. Find SEO Issues That Hurt Your Website Performance
With Site Audit, you can crawl all the pages it finds on your website, provide an overall health score, flag all possible SEO issues, and provide solutions for fixing them.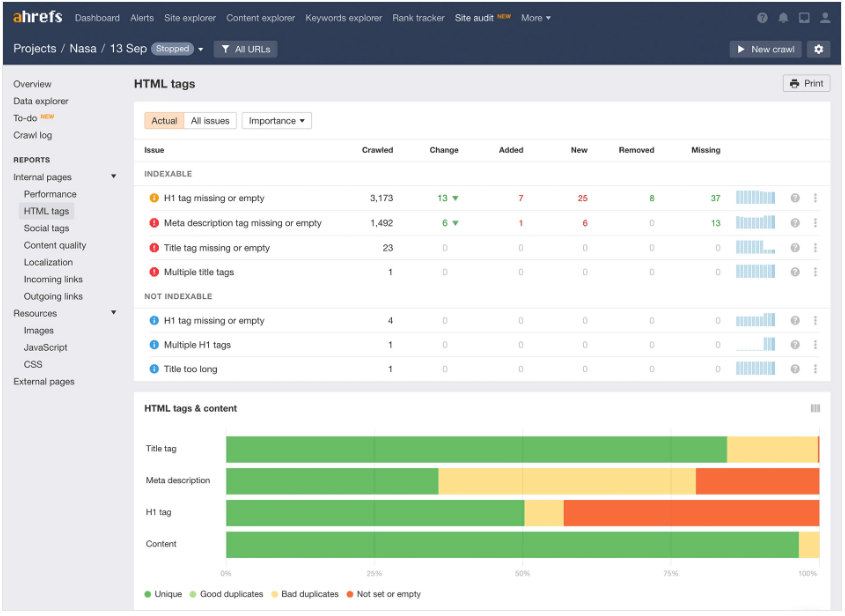 You can also set up your recurring website audit and monitor your SEO health score from time o time. The site audit is beneficial if you have many people in your company who make changes to your website that may accidentally break things.
5. Estimate Keyword Difficulty
Some keywords are accessible to rank, but some are very hard to rank, even for significant authority websites. So the question is, how do you know which keyword is easy to rank and which one is unattainable?
In Ahrefs Keyword Explorer, you will find a keyword difficulty score, which helps you score your keyword on a parameter from 0 to 100, which means the easy keyword to the hardest one to rank. 
Its keyword difficulty is helpful when you filter through tons of keyword ideas and find so-called low-hanging fruit. So we can say that working on keyword difficulty will rank your site on Google.
6. Discover Competitor's Linkable Assets
Everyone wants to grow the authority of their websites in the eyes of Google; for that, you to publish top-level content so that other people want to link from their own websites.
If you want to know what people in your industry are likely to link to, you need to study the top competitor and see which of their pages attract the most links. You can do this by plugging competitors' websites into site explorer and accessing the best buy link report.
You can try this with your top competitor. I am sure you will find some patterns that attract backlinks in your industries.
7. Find Gap In Your Content Strategy
Now you can find a gap in your content strategy when your competitors rank for the critical keywords that bring a lot of traffic to them while your website doesn't target those keywords.
With site explorer's content gap, you can look for the keywords your competitors are ranking and won't. You can try this with your own competitors you will definitely find some important keywords or topics that you haven't targeted yet now.
8. Find Numbers Of Quality Link Prospects
Let's say that you are performing SEO for a productivity app. It wouldn't be very helpful for you to get a full catalog of all the websites that specify productivity apps someplace in the article. So this happens so you can reach them out and attempt to arrange and receive a link from another site. 
This is completely what Ahrefs content explorer helps you with. You need to search for a productivity app, where you will find more than 78000 pages that recognize this phrase in their content. However, you don't need too many, you can utilize the filter in the content explorer so that you can shorten the list to the top pages only. 
9. Detect Your Ranking For Numbers Of Keywords:
So it is fairly new that there is a good chance that your site ranks in Google for a bundle of keywords. It may not automatically rank on the first page, but there are more pages of search results that it may be covering. 
The organic keyword details in site explorer show you almost all of the keywords of your website which is ranking on Google. To check the ranking of the keywords, put your competitor's websites into the site explorer, and you can get all the keywords that are ranking for with their ranking history. If you have a bunch of keywords that you want to have an eye on them, add these keywords to the Rank Tracker. 
Related Read:
Conclusion: How To Use Ahrefs In 2023
I hope that this article will help you know how to use Ahrefs, which will help you rank your websites on Google.
Still, if you have any queries or doubts, you can comment on your thoughts in the comment section below.