Are you looking for the best SEO Chrome Extensions? If so, then you have landed at the right place.
Chrome extension is very helpful when you are looking for an idea to improve your SEO strategy and gives analytics data of competitors. Chrome extension will help you look at the SEO issue on the page and give suggestions on how to solve it.
Here in this post, we have listed some best SEO Chrome extensions that you should check once. Let's get started. 
Why Chrome Extension Is Best For SEO? 
Chrome Extension allows you to customize your browser and gives you full access to the cool features which make your work easier. There is a number of extensions that are available on your Chrome Web browser. This extension runs on many web languages such as HTML and CSS. 
The Chrome Extension offers a quick snapshot of vital on your fingertip or offers services that streamline your per-day SEO tasks.
List Of 9+ Best SEO Chrome Extensions In 2023 
In this section, we have handpicked the best SEO Chrome extensions. So without wasting any time, let's have a deep dive into it. 
1. Mozbar Chrome Extension
Mozbar is a free chrome extension that will help you to do all your SEO on the go and makes it easy to link matrics. It will help you show the link metrics for domain and page as you search page authority, a number of backlinks, and domain authority.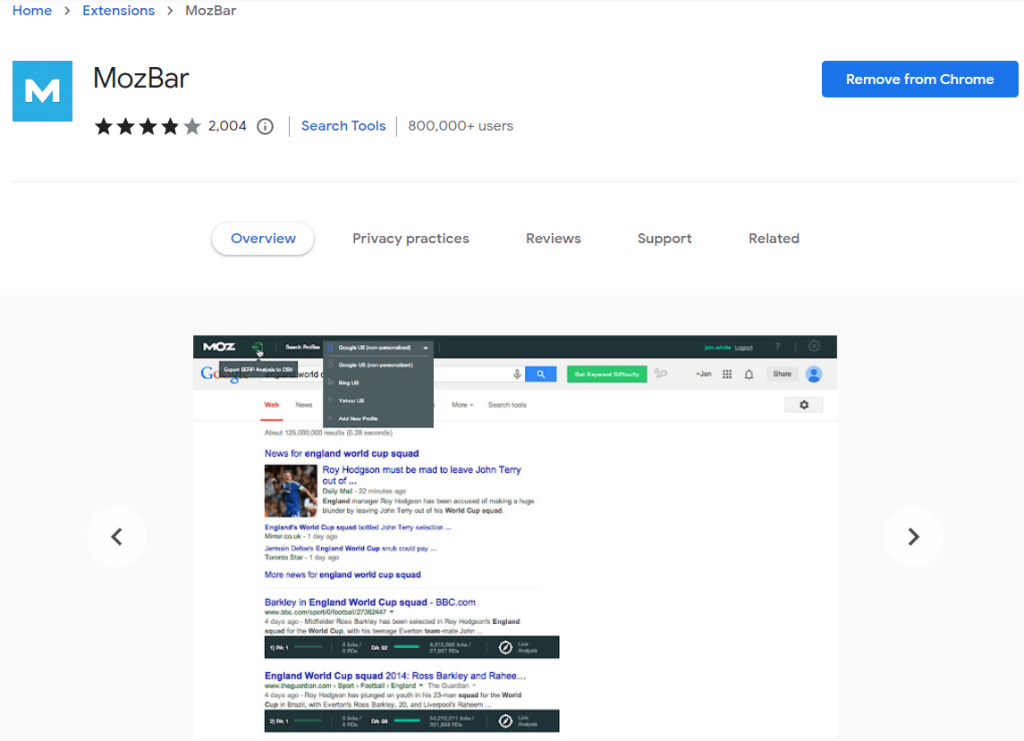 It also helps you find and highlight the internal and external links and follow the link.
MozBar Price: Moz offers 30 days of the free trial, then paid plan starts from $99 per month to $599 per month.
2. Similarweb Chrome Extension
Now, with the Similarweb browser extension, you can have the power to have an exclusive view into any website performance to get a strong insight as you surf. It is a popular extension that helps you to see the strategy and statics for any website while searching on your browser with a click.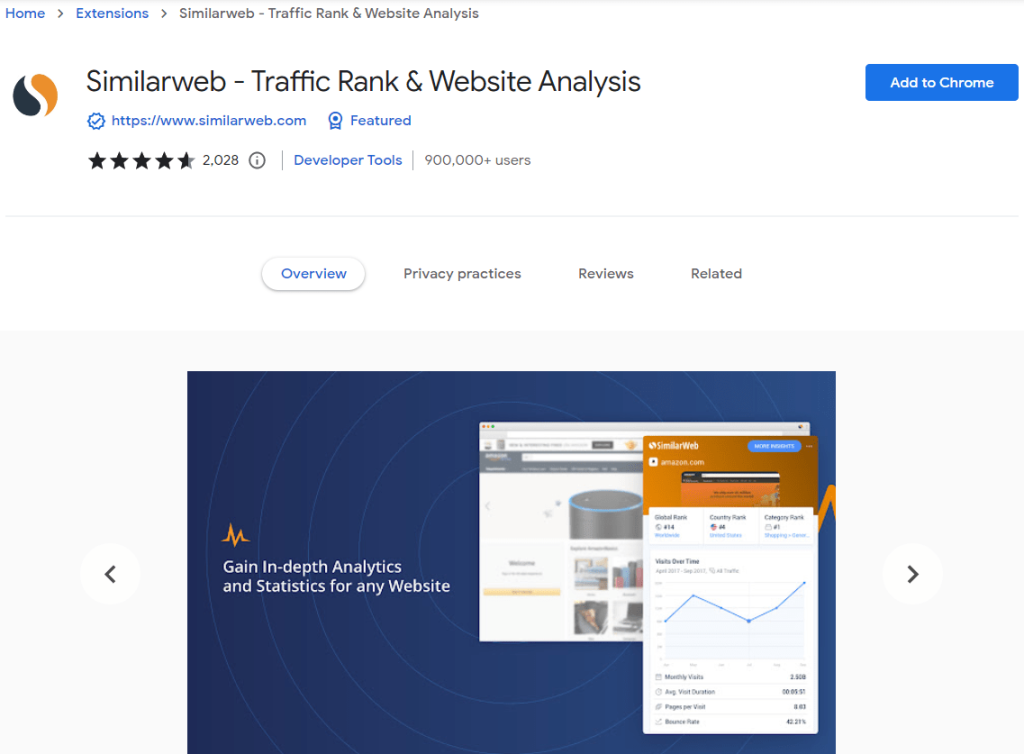 Similarweb Price: Free.
3. Redirect Path Chrome Extension
Redirect Path is a free Google chrome extension that is used to check the individual redirect path of a URL, whether it's a new structure or if you have deleted the old content this extension will help you to know that something goes wrong.
The Redirect Path will help you get the potential issue's attention, like flagging up 301, 302, 304, and 500 HTTP Status Codes.
Redirect Path Price: Free.
4. BuzzSumo Chrome Extension
The BuzzSumo Chrome extension is one of the most powerful tools that help you check the actual timeshare for any web page you are browsing. This extension helps you show the number of engagements on Twitter, Facebook, Reddit, and Pinterest. BuzzSumo checks the backlinks you have on your page and aid in future SEO decisions.
BuzzSumo Price: Free Plan, 30 days free trial, and paid plan starting at $99 per month to $299 per month.
5. Hunter Chrome Extension
With the Hunter chrome extension, you will easily find the email address behind the website that you are browsing and save them all. Its domain search is the most powerful email-finding tool. Click the Hunter extension icon in chrome to find the email address you have visited.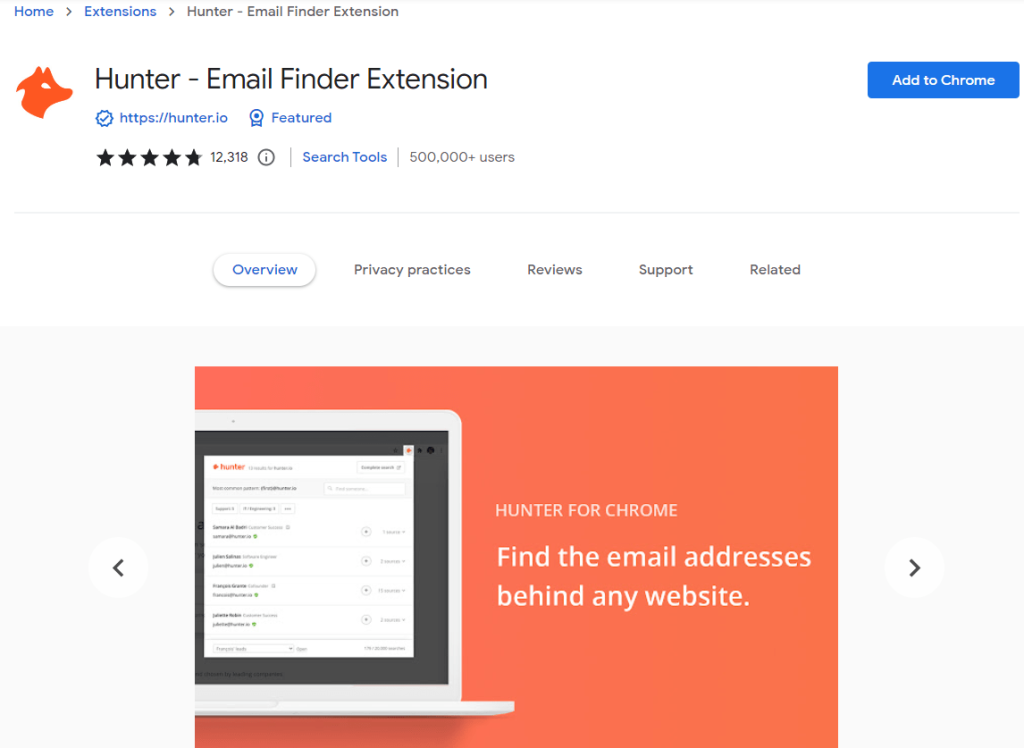 Hunter Price: Free plan and paid plans start at $49 per month to $399 per month.
6. Ahrefs Chrome Extension
Ahrefs offers a free browser extension that helps you to give a piece of valuable information regarding SEO data about websites or pages that you have visited. It helps you examine the website's properties and produce keywords and rankings that improve SEO on your website.
Ahrefs Price: Start at $99 per month to $999 per month.
7. Keyword Everywhere Chrome Extension
It is a free chrome extension that helps you research a keyword and shows monthly search volume, more than 10+ sites & CPC. Keyword Everywhere saves a lot of time that you spent on copying data from one site while finding a search volume from another.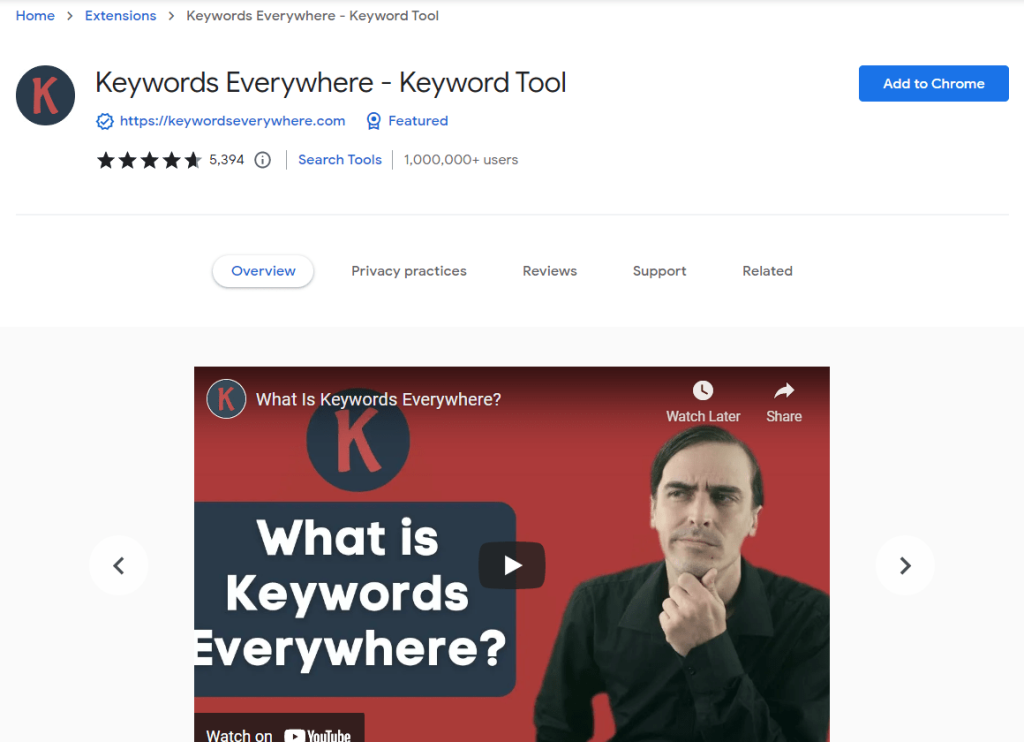 Keyword Everywhere Price: Available free versions and paid versions start at $10 to $100.
8. Ubersuggest Chrome Extension:
Ubersuggest is a free and powerful chrome extension SEO tool that shows you monthly keyword search volume, competition data, and CPC. This extension not only provides you insightful data connected to a particular keyword on search engines. As you install this chrome extension, you have to go search engines and perform a search, and you will see the data of the search term and keyword.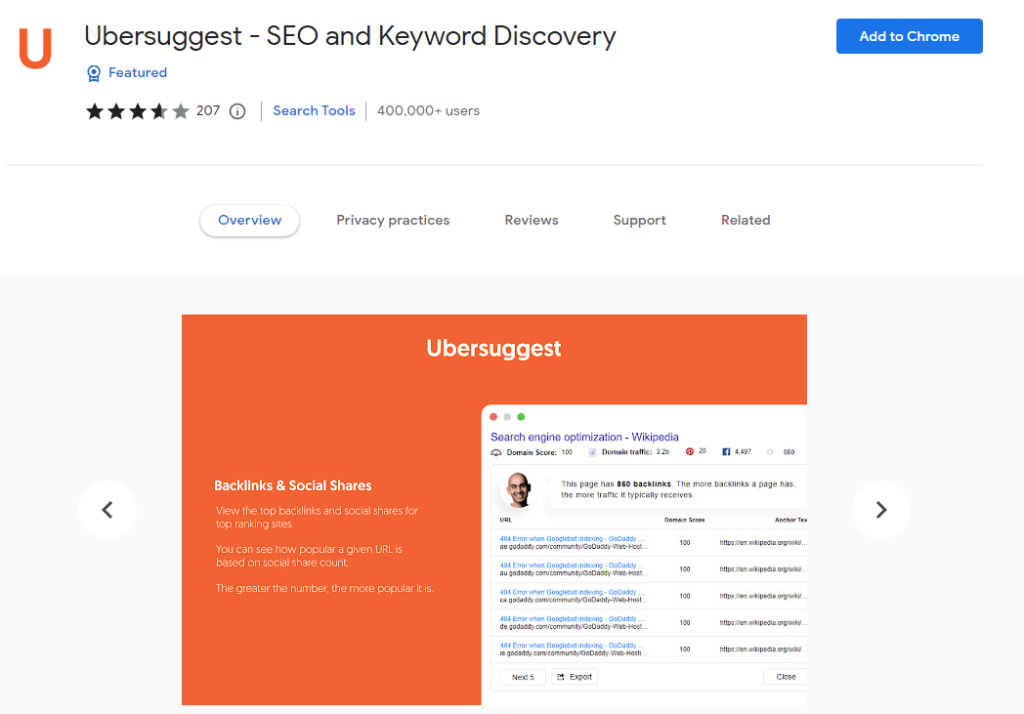 Ubersuggest Price: Pricing starts at $12 per month to $40 per month.
9. GrowthBar Browser Extension:
GrowthBar is a smooth chrome extension that provides you with quick access to the critical SEO data point for any website. It also unlocks the keywords and growth channels for which you are working for. It helps you to explore the best-performing keywords, domain authority, Facebook ads, keyword ranking difficulty score, page word count, and so on.
GrowthBar Pricing: Its pricing plan starts at $48 per month to $199 per month.
Related Read:
Conclusion: Best SEO Chrome Extensions (2023)
I hope this article will help you choose the right SEO chrome extensions, and you don't use all of them, you have to find anyone who works well for you.
Still, if you find any difficulties, you can comment on your thoughts in the comment box below.