Semrush is like a helping hand for a digital marketer. Using it, you can discover the ranking keywords and check your website's performance.
By utilizing the tools provided by Semrush, you can build an effective strategy to increase traffic to your website and boost sales. In addition to monitoring your competition, it allows you to surpass them in search results.
The main worry a business has about SemRush is the cost. However, it comes with advanced features, and in the long run, it will be worthwhile.
The number of people subscribing to these plans is growing day by day. There has been a recent change in SemRush's plan, confusing the actual pricing plan for SemRush. Do not worry. We address all your concerns in the article.
Here's a complete overview of Semrush's pricing structure.
Semrush Pricing Plan
With SemRush, you can choose from various monthly and yearly plans. According to the unique needs of your business, the number of users, and the additional tools you require, you can choose one of three pricing plans based on your requirements, namely the Pro, Guru, or Business plan. Semrush also has a free trial of Pro and Guru plans which you can check out here. To guide you in choosing the right SemRush package for your business, we will provide detailed analyses of each Semrush package below.
Pro Plan
SemRush Pro costs $119.95/per month. With this package, you should be able to set up a marketing strategy on a budget acceptable for any number of in-house marketers, startups, and freelancers. Various features go along with it, such as keyword analytics, SEO, and reporting, in addition to 40+ advanced tools.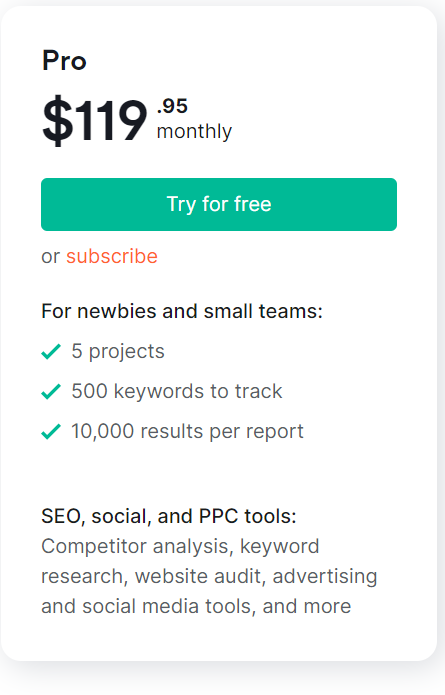 In comparison to the more expensive plans, it certainly has some limitations, but for the price, you can get started with your digital marketing campaigns pretty quickly.
The included features of SemRush Pro enable you to manage PPC, SMM, and SEO projects.
It allows you to track up to 500 keywords for each project. Although this plan provides you with a lot of flexibility, you can only track the metrics of up to three projects within your site.
Guru Plan
A good reason has led to many SemRush users choosing this plan. With this program, you can track 15 projects and their performance metrics, track 1500 keywords, follow and analyze 100 social profiles, and follow and analyze 15 different projects. SMBs, growing teams, marketing agencies, and their agencies are the perfect fit for this plan. A monthly fee of $229.95 includes all Pro features and tools to help you with more advanced tasks.
You will be given access to SemRush Guru after purchasing it so that you can access the company's historical domain analytics data and keyword analytics data.
The topic research tool offered by SemRush Guru also comes with an unlimited version. Unlike in the Pro version, where topic ideas are limited, you can generate as many topics as you need. The SemRush search bar lets you enter a topic, and SemRush will suggest subtopics relevant to it. This tool streamlines the creation of content.
Business Plan
You can use the SemRush Business plan for only $449.95 a month. This plan is an excellent fit for large agencies, e-commerce projects, and businesses with extensive online presence looking for an effective solution. You will have full access to all the features offered by SemRush. With this, you can utilize various tools to maximize your marketing campaigns and strategies using various advanced digital marketing tools.
With SemRush Business, you can analyze domains and keywords in great detail. It lets you handle 10,000 analytics requests daily and shows up to 50,000 results per report. In addition, you can track 5,000 keywords simultaneously and manage 25 projects per account.
One feature exclusive to SemRush business plans is product listing ad research. Using this tool, you can see how your competitors' Google Shopping ads perform and what keywords they target. It also helps you determine how a specific keyword triggers your competitors' ads.
Which Plan Is Best For You?
Below we have given the Semrush pricing comparison table which helps you to choose the right one for you.
| | | | |
| --- | --- | --- | --- |
| Features | Pro Plan | Guru Plan | Business Plan |
| Best for | For mid-size agencies & business | For mid size agencies & business | For large agencies |
| Pricing | $119.95 per month | $229.95 per month | $449.95 per month |
| API Access | ❌ | ❌ | ✅ |
| Keyword, Domain, Backlink Analytics | ✅ | ✅ | ✅ |
| Historical Data | ❌ | ✅ | ✅ |
| Projects | 5 | 15 | 40 |
| Content Marketing Platform | ❌ | ✅ | ✅ |
| Mobile Ranking | ✅ | ✅ | ✅ |
| Target per Project | 1 | 10 | Unlimited |
| Plagiarism Checks | ❌ | 5/month | 10/month |
| SEO Content Templates | ❌ | 800 | 2000 |
| Reports per Day | 3000 | 5000 | 10000 |
| Looker Studio Integration | ❌ | ✅ | ✅ |
| Scheduled PDF Report | 5 | 20 | 50 |
Conclusion: Semrush Pricing (2023)
SEMrush packages don't have time limits. The subscription plan can be switched anytime, or you can cancel it anytime. As a result, users with businesses that are growing will have an advantage over other users.
Regardless of how small your business starts, the product can scale easily to meet your growing needs. You can get a refund if you're unhappy with the service.
Frequently Asked Questions: 
What is the refund policy on Semrush? 
You can get a 7-day money-back guarantee on Semrush, to get a refund you need to contact its customer support team. 
What is the payment method on Semrush? 
You can make payments on Semrush through wire transfers, money orders, and credit cards like American Express, Visa, Discover, and UnionPay. 
What is the pricing currency? 
All Semrush prices are in US dollars.